It's that time of the year again. World Wrestling Entertainment's biggest event of the year is just around the corner. Today I look at five of the best Road to Wrestlemania builds in history chronologically. Wonder if some of your favorites made it? Lets find out.
Randy Savage vs. Ricky Steamboat ("Wrestlemania III")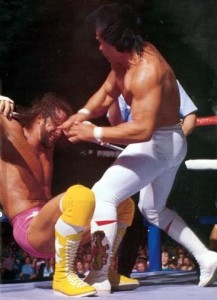 Following "Wrestlemania II", Intercontinental champion "Macho Man" Randy Savage was riding a wave of momentum; but had the world looking to take him down and become a champion themselves. One of those men happened to be Ricky "The Dragon" Steamboat. Following a bout between the two that ended in a count-out in favor of the challenger, Savage attacked Steamboat with a ring bell. The unwarranted assault ended with Steamboat's larynx being injured.
Less than two months later, Steamboat (who could barely talk thanks to Savage's attack) saved the champion's "Wrestlemania II" rival and Ms. Elizabeth admirer George "The Animal" from suffering the same fate as "The Dragon". For the next two months, Savage and Steamboat waged war around the country, culminating in a match that looked to steal the show at WWF's biggest event ever. Like the conclusive match between the two became an instant classic, the visceral storyline that led to Steamboat and Savage tearing the house down should ever be forgotten.  
Undisputed Tournament ("Wrestlemania IV")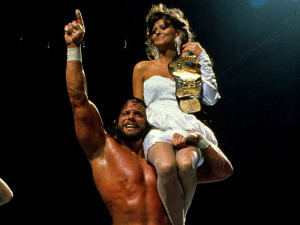 Before "Wrestlemania III", Andre The Giant took it upon himself to enter the dark side and attack WWF champion Hulk Hogan. The reason for Andre's turn was as simple as Hogan never giving the man undefeated for fifteen years a shot at Hogan's championship – a title Hogan had held for three years at that point. The rivalry seemingly culminated at "Wrestlemania III" where Andre fell to the power of Hulkamania. But this was not true. Andre continued to chase Hogan and the title, becoming a mercenary for "The Million Dollar Man" Ted DiBiase in the process.
Hogan and Andre would face each other for the title ten months following their "Wrestlemania III" clash at "The Main Event". There, Andre controversially defeated Hogan thanks to a referee being paid off. Instead of keeping the title he had worked so hard to attain, Andre sold the belt to DiBiase. WWF officials and President Jack Tunney refused to allow such a travesty to occur, vacating the title and creating a WWF title tournament featuring fourteen of the best WWF wrestlers for "Wrestlemania IV".
The four-hour event featured another rematch in the Hogan-Andre rival, a battle royal won by Bad News Brown, and the biggest story of the evening featuring Randy Savage going through four exhausting battles to defeat DiBiase (who only had to wrestle twice thanks to Hogan-Andre III ending in a count-out).
The road to "Wrestlemania IV" and the show itself used the monumental main event storyline from the previous year's event of the same name to craft a highly anticipated tournament, produced two legitimate main event stars in Savage and DiBiase, freshened the WWF title picture, and laid the groundwork for "Wrestlemania V".
Mega-powers Explode ("Wrestlemania V")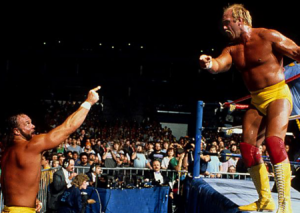 By "Wrestlemania IV", Randy Savage had turned over a new leaf and joined forces with Hulk Hogan to form "The Mega-powers". With the help of Hogan, Savage was able to do the seemingly impossible and actually become the new WWF champion at "Wrestlemania IV". Though Savage was the champ, all eyes were still on Hogan. Not only that, but Savage's valet Ms. Elizabeth – who helped unite the two – started managing Hogan. Though Savage's disgust for "The Hulkster" began when he saw his lady accompanying Hogan to the ring, Hogan's actions made things worse.
During the 1989 Royal Rumble match, Hogan accidentally eliminated Savage from the incredible battle royal. A few weeks later, Ms. Elizabeth was caught in the action's crossfire and taken out by a flying "Macho Man". Rather than stay with Savage and help him win, Hogan carried Ms. Elizabeth to the back for some medical attention. At that moment, Savage snapped. The same jealous, insecure "Macho Man" that caused George "The Animal" Steele to attempt to "save" Ms. Elizabeth showed himself again. This angry Savage attacked Hogan in the doctor's area of the arena, threatened to stab Hogan with a pair of scissors, and even shoved the intervening Ms. Elizabeth when she tried to stop her man from doing something he'd regret.
Hogan would soon challenge Savage to a title match at "Wrestlemania V", giving us a bloody, incredible battle that saw Ms. Elizabeth actually save Savage from meeting the steel ring post face first before the inevitable conclusion occur with Hogan's hand raised in victory. Though the "friend turns on friend" storyline is old as wrestling itself, very few times has it been utilized so effectively as the build to Hogan and Savage's clash at the biggest stage of them all.
Brother vs. Brother – Bret Hart vs. Owen Hart ("Wrestlemania X")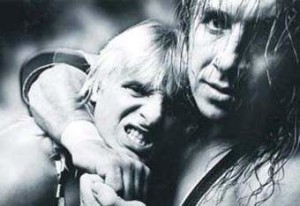 At the 1993 "Survivor Series", the Bret Hart-led team of Hart brothers took on Shawn Michaels and Jerry Lawler's Knights. The match saw the Hart clan run through Michaels and the Knights, with only Owen Hart being eliminated from Team Hart thanks to an unfortunate collision between himself and Bret. Owen blamed Bret for the elimination after the match, causing hostility between the brothers throughout the holiday season.
Thankfully for the Hart family, Bret and Owen patched things up and formed a tag team to challenge The Quebecers for the WWF Tag Team title. During the 1994 "Royal Rumble", the Hart brothers got their shot; with Bret taking control for his team and essentially costing his brother his first taste of WWF gold. That same feeling of disgust Owen felt for his brother at the "Survivor Series" overcame him and exploded in the form of a kick to the back of Bret's hurt left leg.
For the next several weeks, Owen restarted his campaign to fight Bret, but his elder refused to air family laundry in public; let alone wrestle his brother in a heated contest. After weeks of prodding, Bret eventually agreed to face his brother at "Wrestlemania X".
The factor that made this feud so special was the simple fact that you could understand and sympathize with both wrestlers.
Bret was the elder brother who recognized where his little brother was coming from in regards to Owen's jealousy, but saw what fighting his baby brother would do to their family. Owen reasonably hated that the two stages where Owen had a chance to prove himself and become a champion – "Survivor Series" and "Royal Rumble" respectively – Bret was responsible for his failure in a possible subconscious effort to make sure his brother did steal Bret's spotlight. But what made Owen the hated person in this fantastic rivalry wasn't the fact Bret was loved by mostly all, but because Owen refused to let his jealousy subside in hopes of keeping the family peace. 
Brother vs. Brother – Undertaker vs. Kane ("Wrestlemania XIV")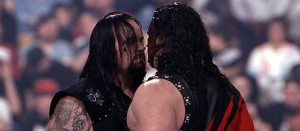 If the Hart brothers tried to keep things realistic and logical, the battle between brothers Undertaker and Kane was absolutely absurd. But that didn't make it any less exciting and entertaining. Only a month after "Wrestlemania 13", Undertaker's former manager Paul Bearer claimed that 'Taker's long-believed dead brother Kane was actually alive following a house fire that took the lives of their parents. It would take another six months before anyone saw any truth to Bearer's claims. That proof was a seven-foot masked monster dressed in red and black. Kane was truly alive, and his first attack left Undertaker unconscious and confused.
Like Bret Hart four years earlier, 'Taker refused to fight his brother no matter how much Kane wanted revenge for the fire his big brother seemingly caused. To show just how much hatred flowed through his fiery veins, Kane attacked his elder brother during his Casket Match with Shawn Michaels at the "Royal Rumble" pay-per-view. The attack saw Kane stuff 'Taker into the casket and set said casket on fire.
While the feud was still pretty realistic coming into the "Rumble", the tone quickly changed when Undertaker used his mystical powers to avoid being burned alive. Undertaker would return weeks later, literally walking through fire to confront his brother and proclaim that he would, "…walk through the fires of Hell to face you, Kane."
The weeks leading up to their battle at "Wrestlemania XIV" saw obvious signs of desperation in Kane after Undertaker "went to Hell" and conversed with his parents to renege on his vow to not fight his brother. Trying to show how powerful he really was, Kane created lightning and set a ring crewmember on fire.
In reality, the supernatural battle heading into "Wrestlemania XIV" was a perfect precursor to the clash of the titans Undertaker and Kane had at the event.
Next week, I'll present the final five.