2013 is quickly coming to an end and the world of wrestling has seen some incredible talents prove themselves and become champions. After many hours of scrutiny and a criteria based on victories (both title and non-title), memorable matches, and what they did to help their respective companies thrive, here are the top five wrestlers of 2013.
5. Adam Cole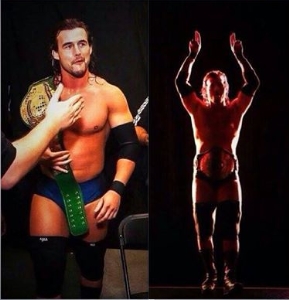 The tail end of 2012 was remarkable for one of Independent wrestling's top prospects. After winning the Ring of Honor Television championship, Adam Cole shocked the state of California by besting Kevin Steen in a barbaric Guerilla Warfare match to become the new Pro Wrestling Guerilla Heavyweight champion. While times in ROH were getting tough (with a loss of the TV title and subsequent defeats in title bouts), Adam Cole was succeeding in companies like PWG. The abilities of Cole gained the attention of World Wrestling Entertainment's watchful eye, earning the then-23 year old Cole a tryout. Rather than move on to the big leagues, Cole opted to resign with ROH and ply his trade in an effort to achieve the greatness he never would attain going to WWE so early in his career.
Cole's patient attitude started to crumble in ROH as he wrestled Mark Briscoe, Jay Lethal and Tommaso Ciampa in matches to crown a new ROH World title after the championship was vacated due to an injury of the last champion, Jay Briscoe. Confidence bordering on arrogance made him a success in PWG. Using that same "win by any means" mentality, Cole defeated Michael Elgin in the tournament finals, becoming the 19th ROH World champion in history. Thanks to being a champion in two of North American wrestling's premiere companies, Cole spent the rest of 2013 raking up wins against highly-respected wrestlers such as Chris "Kassius Ohno" Hero, Jimmy Jacobs, Drake Younger, and his old Combat Zone Wrestling rival Sami "Solomon Crowe" Callihan. The sky looked to be the limit for Cole during 2012. In 2013, Adam Cole became one of wrestling's brightest stars.
4. Cheerleader Melissa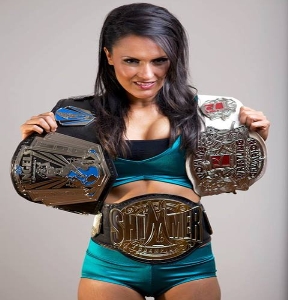 For fans of women's pro wrestling, SHIMMER has become the premier wrestling federation featuring ladies from around the globe facing each other in potential dream matches. Since the company's first event in 2005, "Future Legend" Cheerleader Melissa made a name for herself feuding with fellow women's wrestling standout MsChif. Between making her name in America, Melissa went around the world to prove her superiority. That attitude caused an accident that would change the life of not only Cheerleader Melissa, but also Saraya Knight (mother of WWE's/NXT's Paige). A leg injury caused by Melissa on Knight almost ended Knight's career. Knight recovered and came to SHIMMER looking for revenge. By then, Melissa was the SHIMMER champion. Knight attacked Melissa backstage before their title bout. Later in that night, Saraya defeated her rival for the gold.
Melissa refused to be denied heading into 2013, setting up the first SHIMMER Steel Cage match in history featuring herself and Saraya Knight for the SHIMMER title on the line. The barbaric bout (at Volume 53 – the first SHIMMER iPPV in history) ended with Melissa standing tall as the first two-time SHIMMER champion. Melissa spent the next several weeks and months accomplishing successful title defense after successful title defense. SHIMMER/women's wrestling veterans like Mercedes Martinez and LuFisto were beaten by the champ. Relative rookies Courtney Rush and Leva Bates couldn't break through to championship status thanks to Melissa. Even Joshi star Hiroyo Matsumoto couldn't wrest the title from Cheerleader Melissa.
Beyond SHIMMER, Melissa won the vacant Pro Wrestling Revolution Women's title by defeating Sarah "Sarita" Stock; became the first River City Wrestling Angels champion, beating Angelina Love; and named the Pro Wrestling Illustrated top women's wrestler in the "PWI Female Top 50". She even buried the hatchet with Saraya Knight to end their six-year-long feud.
In no company featuring a roster of all women or the ladies being sprinkled in as a special attraction did someone dominate like Cheerleader Melissa. They don't call her the "Future Legend" for no reason.
3. Bully Ray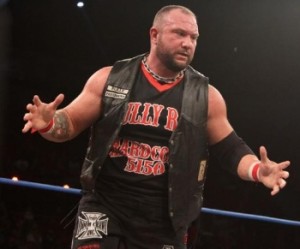 No one on this list can claim to be one-half of the greatest tag team of the late twentieth century. They also can't claim to have attained the love of Hulk Hogan's daughter. Bully Ray (the former Buh-Buh/Bubba Ray Dudley) can say he is associated with both of those aforementioned achievements and then some. Ray, though not trusted by Hulk Hogan thanks to his villainous antics, was accepted by Hogan during the early part of 2013 when the renegade Aces & Eights group kept attacking TNA wrestlers. Ray teamed with the likes of Sting to push back the A & E on a weekly basis while winning the heart of Brooke Hogan. Ray, though fighting on the side of TNA, had high hopes. Bully Ray wanted to become a World champion. At "Lockdown", Bully Ray found himself aligned with the Aces & Eights in his effort to defeat Jeff Hardy for the gold.
Disregarding the love he created between himself and Brooke, Ray revealed himself as the Aces & Eights' leader. If not for getting Hogan to trust him, Bully Ray would've never gained a TNA World title opportunity. For the next several months, Ray used the numbers of Aces & Eights to his advantage in retaining the championship. The likes of Hardy, Sting, and Ken Anderson fell to the champ. It would take a man with desperation to prove himself and fire in his heart to overcome Ray. That man was Chris Sabin, ending Ray's 130-day reign as champion. Sadly for Sabin, Bully Ray and the numbers game came back to the haunt Ray's opponent inside a Steel Cage. In the same vein as Sabin, a desperate AJ Styles bested Ray for the championship as the Aces & Eights crumbled around Ray. Now the hunter, not the hunted, Bully Ray ended the year looking to avenge the group he helped make a force in the company.
Though not the most honorable wrestler on this list, Bully Ray was the man to beat in Total Nonstop Wrestling with or without the TNA World title.
2. John Cena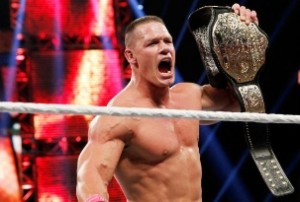 The name "John Cena" and the word "redemption" would be perfectly suited for each other when looking at Cena's 2013. After suffering a painful loss to Dolph Ziggler at the "TLC" event during December of 2012, Cena overcame the odds of Ziggler, AJ Lee and Big E. Langston to defeat Ziggler not once, but twice on Raw in both singles and Steel Cage matches. Cena would enter the 2013 Royal Rumble match, last eliminating Ryback to earn his shot at either the WWE or World Heavyweight title. The decision was easy – the WWE title being held by man who defeated him one year earlier at "Wrestlemania XXVIII", The Rock. Not only could Cena end his championship drought, but also avenge a loss to "The Most Electrifying Man in Sports Entertainment". Learning from his past mistakes that centered on arrogance, Cena bested The Rock for the WWE title to solidify himself as the man once again.
But the rigors of wrestling at a high level for so long were starting to catch up to the WWE champion. During his feuds with Ryback and Mark Henry, and the variety of matches the champion and challengers waged war in, Cena suffered a variety of injuries that left many wondering how long Cena could go on. By "Summerslam", John Cena was wrestling with a triceps tear that gave Daniel Bryan the perfect opportunity to become the new WWE champion.
Cena, leaving for surgery, promised to be back sooner than later. Being a man of his word, John Cena not only came back quicker than expected, he returned to champion status in his first match back by defeating Alberto Del Rio for the World title. Tired of the World championship being looked down upon, Cena made the challenge to WWE champion Randy Orton for a unification bout that would end with only one top champion in WWE. The match ended with Cena taking a sick fall head first into a table, ending his year on a sour note just like 2012.
Though Cena didn't become the second man to unify two of WWE's top championships, the year leading up to the historic moment was one of pride and perseverance; respect and, most importantly, redemption. It's hard to doubt just how good John Cena was in 2013.
1. Kazuchika Okada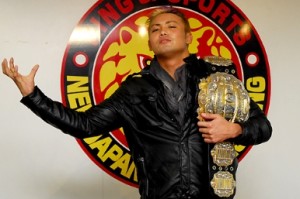 The former Total Nonstop Wrestling grappler debuted in 2004. During his time in Mexico, the U.S. and, most notably, Japan, Okada became the man associated with "potential". Every company he worked for promoted Okada as the next big thing in Puroresu (Japanese wrestling). By 2012, Okada was on top of the wrestling world having won New Japan Pro Wrestling's IWGP Heavyweight title. The victory lead to a four-month reign that was ended by the man he defeated for the gold, Hiroshi Tanahashi. It quickly became evident that these two men would become synonymous with each other and the IWGP Heavyweight title.
In January at "Wrestle Kingdom 7" (New Japan's "Wrestlemania"), Tanahashi trumped "The Rainmaker" once again in a match that ranks high on anyone's list as the best wrestling match of 2013. It would take Okada winning the 2013 New Japan Cup (defeating a stable mate in the process) to earn one more shot at Tanahashi. This time Okada refused to come up short. The bout was similar to their last encounter, but the outcome entirely different. With one arm, Okada put Tanahashi down with his Rainmaker clothesline. From that moment on, Okada solidified himself as the man to beat in not only New Japan, but also all of wrestling. IWGP Junior Heavyweight champion Prince Devitt, Minoru Suzuki, Satoshi Kojima and Karl Anderson were all bested by "The Rainmaker" throughout 2013 in exciting matches rivaling anything the rest of the world.
But the match everyone was waiting for was another rematch between Okada and Tanahashi. At the second annual "King of Pro-Wrestling" event streaming live on Internet pay-per-view, Okada proved his superiority over Tanahashi one more time in an epic match. Okada's incredible talents were regarded highly by wrestling fans and Japanese media alike. Potential can only get you so far. In 2013, Kazuchika Okada showed the true depths of the greatness he contains.