Background: A few weeks prior, a potential sexual deviant Kurt Angle tried to attack Torrie Wilson. The Big Show would be Wilson's white knight, knocking Angle off of a ledge and leaving him partially paralyzed. With Angle out of action, he was given a chance to be the "Smackdown!" brand's general manager. Still furious over how things went down, Angle put Wilson in a No Disqualification match with Torrie's admirer, Rene Dupree.
Smackdown!
Oklahoma, OK
April 27, 2004
Torrie Wilson vs. Rene Dupree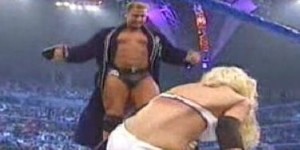 Immediately grabbing Torrie after stroking her hair, Dupree slammed his fearful opposition to the mat before doing his French Tickler dance. Wilson found the strength to throw some kind of strikes until Dupree got underneath her for a body slam attempt. The crowd started going crazy; not because Torrie was about to get hurt, but due to the fact John Cena was coming out to save the day. Rene Dupree headed for the hills to avoid the onslaught of John Cena.
Winner: No Contest (1:34)
Is It A Classic: Other than the crowd going absolutely bananas for everything, there's nothing to see here other than Dupree's French Tickler making Torrie giggle in fear.