Background: Lita and Trish Stratus, over the course of four years, became synonymous not with just each other, but more importantly, the WWF/WWE Women's Division. For the second time in history, two women headlined Monday Night Raw in a one-on-one contest for the WWE Women's title. This is coming off of a pay-per-view encounter that saw Lita break Trish's nose, but not Stratus' reign as Women's champion. Trish had to wear a protective covering after that aforementioned encounter.
Raw
Charlotte, NC
December 6, 2004
Trish Stratus vs. Lita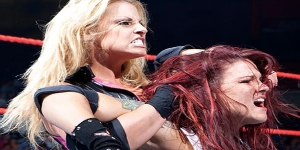 Stern collar & elbow tie up ended with both women tumbling to the floor. When they reentered, Trish turned this thing into a brawl. Lita rallied back, stopping the Matrish, almost pinning the champion. Dumping Trish on the floor, Lita threw caution to the wind and almost broke her neck again by landing face first against the padded concrete when executing a tope.
Lita rolled into the ring, forgetting that Trish was still outside. When Lita went to grab the champion, Stratus whacked her with the face protector. The champion stood over her challenger, insultingly shoving and slapping Lita. The fans booed as Stratus used the ropes to choke Lita. Stratus switched gears, grounding her challenger in a seated full nelson. The challenger fought her way off of the mat, meeting Trish on the top rope. Superplex by Lita brought a loud, "Aw!" from the fans, but not a three count for the challenger. Lita got up, looking for a clothesline, but took the Chick Kick instead … for a near fall!
Mounting the staggering Lita near the turnbuckles, the champion started raining down punches. Lita slipped underneath Stratus' legs in between punches, powering bombing Trish before scaling the ropes for her Moonsault. Stratus stopped the Moonsault, but not a sunset flip. Both women got up, with Lita looking for a snap DDT. Using the top rope to hook her right arm, the champion sent Lita to the mat when the challenger whipped backwards. Immediately, Trish went for Stratusfaction. Showing great leverage, the challenger flipped Stratus into the Twist of Hate. Instead of going for the pin, Lita climbed the ropes. Lita Moonsault connected … to give Lita the three count! We have a new champion!
Winner: Lita (6:45)
Is It A Classic: What a fantastic match; even with the small amount of time given for a main event. There was a reason why Lita and Trish were considered the vanguards of ushering in the golden age of the company's Women's Division; and matches like these were bona fide reasons for such a dubious honor.