Background: Following a match between New Japan stars Ricochet & Will Ospreay, Vader gave his opinion on the match and modern day wrestling in general that started not only a heated discussion about Vader's claims, but also an actual match between the vocal "Mastodon" and Ospreay.
Uprising
Bethnal Green, London
August 12, 2016
Vader vs. Will Ospreay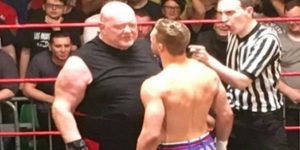 Showing a mix of guts and stupidity, Will Ospreay turned his back on the big man while flipping him the bird. Vader took his chance to clobbered Will from behind before stomping him into the mat. The man who was being jeered by the fans in Vader momentarily gained the crowd's approval by knocking the referee out of the ring. And just when it seemed Vader had the fans on his side, "The Mastodon" pitched Will to the floor and onto the entrance ramp. Security came out to hopefully gain some order when Ospreay came running down the aisle to somersault on top of Vader and security. Fired up and prone to posing, "The Aerial Assassin" allowed Vader to recover. Ospreay tried to follow up when Vader grabbed and pitched him into the steel ring post. As if that wasn't enough, Vader beat his opponent until they were at the top of the entrance. Grabbing Will by the throat, Vader pitched Ospreay off the stage, through a table!
The fans were booing as medics and referees went to check on Ospreay. After a good amount of time, Ospreay made it to his feet without heeding the doctor's orders. Barely able to stand, Will literally dragged himself into the ring to officially start his match as the original referee never rang the bell beforehand. Vader continued his onslaught featuring avalanche splashes, Irish whips, forearms, stomps and crotch chops to add insult to injury. Vader couldn't believe when the lariat didn't put Ospreay away; causing him to argue with the ref. Vader's anger got the better of him, allowing Will to recover and dropkick the big man from behind. The referee got caught in the collision, but that didn't stop Ospreay from scaling the ropes for something big. Suddenly, Pete Dunne ran out to attack Ospreay with his Drop Dead finisher. Why? To showcase his alliance with Vader. Not letting things go down this way, Ricochet ran out to knock not only Dunne out, but also Vader with the help of Ospreay. With Vader prone, Ricochet hit the shooting star press to set up Ospreay's version … that gave Will a near fall!
As Dunne clobbered Ricochet on the floor, Ospreay got a running start. "The Aerial Assassin" leapt over the top to wipe out Dunne before reentering the ring. Vader grabbed Will coming in, executing a choke slam … to gain a one count!
But Ospreay was too hurt to follow up, taking another choke slam that gave Vader a pin fall victory.
Winner: Vader (6:44)
Is It A Classic: This had no chance of being what one would consider a prototypical wrestling classic, but it could be a memorable spectacle – and that's exactly what everyone got. It was a unique, once-in-a-lifetime encounter that should be nothing more and nothing less.