Background: Thanks to his relationship with Sable and her disgust with Stephanie McMahon, Vince McMahon decided his daughter wasn't doing a good enough job as "Smackdown's" General Manager. To force his offspring into unemployment, Mr. McMahon ordered Stephanie to face him in an "I Quit" match.
No Mercy
Baltimore, MD
October 19, 2003
Vince McMahon vs. Stephanie McMahon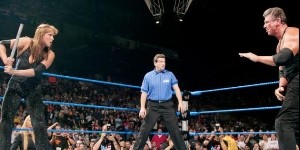 Vince's wife and Stephanie's mother Linda accompanied Steph to the ring while Vince's mistress Sable backed her man. As Vince yelled at his wife, Steph took the opportunity and looked to put her dad in a sleeper hold. The massive male McMahon easily slung his daughter down and before shoulder ramming a rising Stephanie. Vince verbally berated Linda for not convincing his daughter to quit before this match began. Vince was just brutalizing Steph with forearms and knees aimed at her face and abdomen respectively. When Sable slapped the rope-dangling Stephanie, Linda gave chase. Stepping between his wife and his mistress was Vince as the crowd booed loudly. Stephanie looked to mount a comeback when she was yanked into a big clothesline that sucked the wind out of the crowd. Though she was being twisted and abused, Stephanie refused to say she quit. Clawing her way out of Vince's grip, Stephanie slowly rose to her feet. Sable quickly went under the ring, grabbing a metal pipe. Linda yanked Sable off the apron, but the pipe still landed in the ring. Vince tried to attack Linda, only to be slapped into a pipe shot to the groin by Steph!
Winding back, Stephanie almost took Vince's head off with the pipe before hitting him again in the grapefruits. When Stephanie failed to pin her father, he started begging her to stop the pain. Of course this was a trick, resulting in Vince getting popped again! Stephanie went for the pin after double pipe striking her father … gaining a near fall!
Once again it was Sable getting involved that caused problems. But this time it was Vince who was the recipient of interference gone wrong as Stephanie pulled Vince into the bulldog … for a near fall!
Stephanie, with pipe in hand, rushed Vince in hopes of caving his skull in, only to rung into a choke slam! Vince wasn't done, using the pipe to knock the wind out of his daughter before using a chokehold while utilizing the pipe. Though she couldn't breathe, Stephanie still refused to quit. Linda had no choice but to throw the towel in to forfeit this match in favor of her husband.
Winner: Vince McMahon (9:24)
Is It A Classic: If there's one thing the McMahons know about crafting a match it's delivering the spectacle. This isn't a great technical affair, but the emotion was there and it was almost too disturbing to watch at times. A lot better than people give it credit it for.