A month prior, World Championship Wrestling looked to ride the wave of sports celebrities entering the ring. The result was a financial success for the company as the pay-per-view featuring basketball stars and polar opposites Karl Malone and Dennis Rodman became one of WCW's highest grossing events ever. So how do you follow up? With another celebrity. But instead of gravitating to the world of sports, WCW management made a deal with Jay Leno. Can a show featuring Jay Leno be terrible, or just the final spectacle from a wild night of action in the Black Hills of Sturgis, South Dakota? Most importantly, will this show be a classic? It's time to review WCW "Road Wild 1998".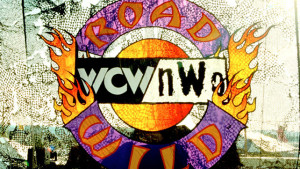 Road Wild
August 8, 1998
Sturgis, SD
Right:
Facing the Fear: So WCW's attempt at creating a spectacle in the Black Hills of South Dakota kicked off with a match featuring two individuals that fans had no reason to cheer or boo as Meng and The Barbarian – formerly a tag team called "The Faces of Fear" under the "Dungeon of Doom" faction banner – clashed after splitting up (for some reason that was never explained). What appeared to be on paper and should've been a terrible encounter wasn't actually half bad. Meng looked to chop his old partner down while The Barbarian showcased his impressive strength by muscling Meng off the mat time and time again for suplexes including a belly-to-belly superplex. Rather than keep to his strategy, The Barbarian initiated another fistfight, leading to Meng locking in the Tongan Death Grip for a pin fall victory via the submission.
The post-match antics really got the fans going as fellow Dungeon of Doom member Hugh Morrus (Bill DeMott) joined The Barbarian and Jimmy Hart in a three-on-one beat down. Thankfully for Meng, "Hacksaw" Jim Duggan and his dreaded 2×4 hit the ring to make the save to the delight of the crowd who enjoyed chanting, "U-S-A!" in unison. This match was better than it had any right of being, didn't overstay its welcome and would become a tone setter (for better and for worse) for the night.
The Conspiracy Lives: WCW Cruiserweight champion Chris Jericho had accidentally (maybe intentionally) angered everyone he came in contact with, from wrestlers to the fans. WCW officials, upset over the fact Jericho cheated Dean Malenko out of his final Cruiserweight title shot as long as Jericho was the champion, opted to make Malenko a referee in a match featuring the champ taking on Juventud Guerrera in a return match after Jericho defeated and unmasked the luchador. Thankfully for everyone watching, Jericho and "Juvi" went to the ring in hopes of stealing the show. After nearly two hours of mostly crap, it wasn't too hard for the two to accomplish the feat of being the best match of the night.
Jericho, between his time jawing with the fans and mocking Malenko, focused on working over the torso of his challenger in hopes of locking in that Lion Tamer Boston crab. Guerrera, winded, had a hard time mustering up an offensive strike; leaving him open to simple attacks such as clotheslines that would down the challenger and force Malenko to come closer and closer to giving Jericho the victory. But in Jericho's opinion, Malenko's counts were a little too slow for comfort. Guerrera took advantage of the arguments that were breaking out between the referee and his opponent, recovering and coming after the two. Jericho avoided whatever "Juvi" had in mind, causing a collision between the challenger and the referee; blinding Malenko. Being forced onto the ropes, Jericho kicked the stunned Malenko away in hopes of attacking Guerrera – who was getting a running start from the other side of the ring. Malenko was in Juventud's path, so he decided to avoid another collision by flapjacking Guerrera into the air. Flying toward Jericho, "Juvi" yanked the champion off of his perch with the hurricarana to shockingly pin Chris Jericho to a huge ovation.
As noted earlier, this was easily the best match of the show as they mixed the highflying action known for the Cruiserweight division with some "Southern style" tactics to get the fans into this one. Why couldn't every match have this type of work ethic on this show.
Wrong:
Welcome to Our World: The tag team of Disco Inferno and Alex Wright (dubbed "The Dancing Fools" because, obviously, they love to dance and they look like fools when doing so) took on former ECW and WCW Tag Team champions The Public Enemy in a standard wrestling match. By The Fools' side was Tokyo Magnum doing his best Alex Wright imitation. The two teams tried to actually wrestle and were doing rather well as the fans enjoyed the action. Then something happened. The Fools decided they had enough and simply left following a trashcan attack by Wright (Alex wasn't disqualified immediately). As everyone looked on dumbfounded, Wright and Inferno returned with a table. For some reason, The Fools wanted to turn this match into a Street Fight. You know, the type of match The P.E. thrived in. Somehow, the match became a fight with no rules as both teams bashed each other with weapons including a metal kitchen sink for the next fifteen excruciating minutes.
What should've made the match better (changing the stipulation to acclimate Rocco Rock and Johnny Grunge) just went on and on and on with guys doing nothing impressive other than showing how many brain cells they wanted to kill in one evening. Add that to the fact the match didn't end with the big triple table spot where Rock elbow dropped Inferno through three tables, but a miscommunication moment where Magnum simply splashed Inferno instead of Grunge to give Johnny the pin. Too long and incoherent.
What's Betta Than Nothing: Raven wanted to control the former Mortis in Kanyon. Perry Saturn hated Raven and wanted to save Kanyon from the same fate he suffered by following Raven – being attack and ostracized. So what happens in this match without rules other than a winner can only be had by a pin fall or submission? Three men fighting each other around the area in the most nonsensical brawl possible in front of a crowd that didn't care. Triple sleeper? No one cared. Dive off the stage by Saturn? Ha, who cares? Terribly contrived moments/spots? Give them a reason to care!
Following what happened just minutes ago (the tag team Street Fight), this match looked incredibly tame for a No Disqualification/Raven's Rules affair. They tried to make the match memorable by doing incredible spots, but it didn't help the story of the match – which made no sense as one minute Kanyon seemed to be under the influence of Raven, then broke free of the mind control to work with Saturn, only for Saturn to help Raven before beating up Raven. This should've been a lot better than it was. Instead it was just a painfully below average Triple Threat match. Oh, and then there was the ending where Raven's followers Horace and Lodi mistimed everything like the Three Stooges, leading to Saturn using his Death Valley Driver on Raven for the pin fall. Lets just move along.
A Standoff: Psychosis and Rey Mysterio Jr. were two of the most exciting wrestlers in the world thanks to their penchant for daredevil-like dives and incredible highflying counter wrestling. So what happened here? Rey Mysterio being thrown around like a rag doll by the larger Psychosis while Psychosis posed after every maneuver. Mysterio tried to get the apathetic (possibly and more than likely drunken) crowd into this by reversing maneuvers to execute dropkicks and sunset flips. Yet any time Psychosis was in control, the match made no sense as he couldn't figure out what portion of Mysterio's body he wanted to work over before deciding to simply pose instead. The match mercifully ended with Rey utilizing a hurricarana to pin (and spike Psychosis' head in the mat) his fellow luchador. It's hard to figure out what went wrong here, but this match had no reason to be this bad, slow, and rather stupid.
I'm the Real Champ, Sucka: Chavo Guerrero was suffering from a mental breakdown at this point in his career, including the addition of a second to his act called "Pepe the Horse". Pepe was a stick horse, mind you. Guerrero attempted to steal (literally steal) Stevie Ray's Television title belt; claiming to be the real champion. Ray looked to prove Chavo wrong by means of physical assault that would only be legal in a pro wrestling ring. Ray didn't feel any of Chavo's offense, participated in a chase sequence around the ring, and eventually used his Slapjack finisher (a terrible looking Pedigree) to squash Chavo in less than three minutes. Nothing to see here – just move along.
Really, They Asked Someone to Pay For This: The highly anticipated brother vs. brother fight that might've been the culmination of a feud featuring Scott Steiner turning on his brother Rick to join the New World Order didn't happen here as previously announced. Why? Because Rick attacked Scott with a chair on Nitro and put him out of action for two weeks. Seriously, who thought this was a good idea to jip the fans out of a highly promoted bout on pay-per-view? To make matter worse, fellow injured N.W.O. member Buff Bagwell wheeled a hospital bed-laying Scott Steiner onto the entrance stage, only for Rick to chase both men to the back after the announcement was made the match scheduled for tonight would happen at the next pay-per-view. Talk about a double slap in the face. And people wonder why the WWF was turning the tide in the wrestling popularity contest at this point.
Really, They Asked Someone to Pay For This (Part 2): Lets just summarize this quickly by using this statement: Steve "Mongo" McMichael vs. Bryan "Crush" Adams. Not only was there no reason for this match to be on pay-per-view, there was no way this match could be any good. And boy did they live up to that notion. Miscommunications were aplenty as both men stumbled around the ring like two bulls in a china shop unable to find the other and land a real attack. Referee incompetence occurred just in time for Vincent ("Virgil" in the WWF) to grab a chair and jump onto the apron in hopes of hitting McMichael to help his fellow N.W.O. lackey. Of course "Mongo" ducked and Vincent hit Adams to accidentally set up McMichael's tombstone piledriver for the three count. Please, just stop the pain.
What to Do With Your Most Popular Wrestler: Put him in a battle royal where he's playing second fiddle to the in-fighting between the two New World Order factions – Hollywood and Wolfpac. Instead of giving the fans the match that was building for two months – Goldberg vs. The Giant – WCW hosted the first "N.W.O. Invitational Battle Royal" so men like Sting and Lex Luger could trade punches with the likes of Scott Norton. And two of the biggest stars, Kevin Nash and Scott Hall, were eliminated almost instantly (with the former leaving the ring on his own accord to chase after Hall). And what was the end result of this match? Goldberg pinning The Giant. Yep, the same thing could've happened in a one-on-one bout rather than a excruciatingly boring battle royal where everyone mostly walked in circles before being tossed out of the ring by Goldberg.
Leno Wins! Leno Wins! Leno Wins: After Eric Bischoff, President of WCW, hijacked "The Tonight Show", Diamond Dallas Page decided to stick up for the show's host Jay Leno; causing a war of words between himself and Hulk Hogan that resulted in a challenge being made for Hogan to team with Bischoff to take on DDP and Jay Leno. It goes without saying this match had no chance to be decent. Page and Hogan spent most of the match doing the most elementary of exchanges while giving the spotlight to Leno for short periods at a time. Eventually things broke down, a miscommunication happened that caused Hogan to hit his partner and musician Kevin Eubanks – who composed a lot of "The Tonight Show's" music – used the Diamond Cutter to put Bischoff down for a Leno lateral press. That's really all the recap you need because the majority of the match was Hogan either running away from or choking DDP.
Yes, this match was better than the one featuring actual athletes Karl Malone and Dennis Rodman the month before. Yes, Jay Leno and even his second Kevin Eubanks were a lot more conscience of what they could and couldn't do than people gave them credit for. And yes, the match was a lot better than it could've been thanks to Hogan and DDP doing most of the heavy lifting. Does that make the bout any less terrible? No. Everyone knows professional wrestling isn't real, but in this fictional universe where we are to believe that Hulk Hogan defeated men like Andre the Giant and DDP ravaged men like "Macho Man" Randy Savage, there's no way someone could suspend their disbelief for any amount of time when Jay Leno had Hogan in an "unbreakable" wristlock after training for ten days or Eric Bischoff had Page crumbling in the corner thanks to his roundhouse kicks.
Results:
1. Meng defeated The Barbarian
2. The Public Enemy defeated Alex Wright & Disco Inferno in a Street Fight 
3. Saturn defeated Kanyon and Raven in a Triple Threat match
4. Rey Mysterio Jr. defeated Psychosis
5. Stevie Ray defeated Chavo Guerrero Jr.
6. Steve McMichael defeated Brian Adams
7. Juventud Guerrera defeated Chris Jericho to become the new WCW Cruiserweight champion
8. WCW World Heavyweight champion Goldberg won a Battle Royal that featured Curt Hennig, Kevin Nash, Konnan, Lex Luger, Scott Hall, Scott Norton, Sting and The Giant
9. Diamond Dallas Page & Jay Leno defeated Eric Bischoff & Hollywood Hogan
Is it a Classic:
Not one for hyperbole, it still must be written that this has to be one of the worst pay-per-view wrestling events in history; not just in WCW, but in all of wrestling (and that's saying something considering the "Souled Out" review). Not only do you have a freak show main event (though better than its predecessor from the month before, but still bad), matches that underwhelmed or were just plain terrible, but also bait & switch moments, the company's most popular act being put in a battle royal for no reason other to accomplish the same thing a singles match could've, and a terrible crowd that didn't care until enough alcohol was flowing that they could entertain themselves. Avoid this show at all costs unless your idea of fun peaks at watching drunken bikers wave their hands in the air as if they just don't care during The Public Enemy's entrance.