Following the events of World Championship Wrestling's "Halloween Havoc" event, the WCW World Heavyweight title scene was in shambles. Former champion Hulk Hogan was robbed of his championship thanks to the actions of The Giant and the Dungeon of Doom. With every person on the roster and then some believing they deserved a shot to be the champion, WCW officials announced the biggest Battle Royal in WCW history featuring sixty wrestlers fighting it out to win the vacated championship. Can a sixty man Battle Royal be any good, or will this show need a great undercard to save it from being utterly unforgettable? Lets find out if WCW's inaugural "World War 3" is a classic.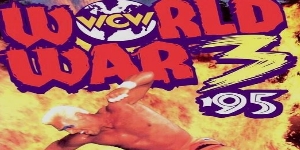 World War 3
Norfolk, VA
November 26, 1995
1. Johnny B. Badd defeated Diamond Dallas Page
2. Big Bubba Rogers defeated Jim Duggan in a Taped Fist match
3. Bull Nakano & Akira Hokuto defeated Mayumi Ozaki & Cutie Suzuki to successfully defend the NWA Tag Team title
4. Kensuke Sasaki defeated Chris Benoit to successfully defend the WCW United States title
5. Lex Luger defeated Randy Savage
6. Sting defeated Ric Flair
7. Randy Savage won the World War 3 Battle Royal to become the new WCW World champion
Right:
He's A Ten-Plus: In the month leading to this bout, "The Diamond Doll" Kimberly was growing tired of the way Diamond Dallas Page was treating her (or mistreating her). Just to prove how much DDP loved his lady, the man with thirteen million dollars put his "doll" on the line for a Television title shot.
During the opening minutes, it was obvious Kimberly didn't appreciate the position DDP had put her in, refusing to put up the "10+" sign when DDP started working over Johnny B. Badd's arm while pulling at the champ's long hair. Badd took control for a short period of time until Badd took the action to the floor and DDP used Kimberly as a shield so he could cheap shot the champion. The challenger spent the next several minutes working over the champion until his focus moved to Kimberly in hopes of getting a "10+". Instead, Kimberly refused and left her man frustrated enough to completely miss a kick to the avoiding Badd's ribs, landing on the man back-of-the-head first.
After a series of attacks, the red-hot Badd looked at Kimberly for the question of whether or not he deserved a "10+". To the glee of everyone watching, Kimberly obliged and showed her loyalty to Badd. Johnny B. used the momentum of Kimberly's actions to help him gain several near falls, only for DDP to catch Badd and almost put his lights out with a gut-buster. Everything seemed to be going the challenger's way when he got predictable and Badd was able to connect with that patented left hook. With DDP out on his feet, Badd executed a slew of highflying maneuvers topped off with the slingshot leg drop to not only retain the title, but also win the girl. Kimberly gladly left with the champ.
Absolutely phenomenal opener featuring two highly underrated wrestlers. DDP and Johnny B. Badd had some fantastic chemistry. Though they lost the hot crowd midway through, their action at the end had the fans counting each near fall until they popped for the finish. Great work all around by Badd, DDP, and Kimberly.
Continuing the Tradition: The blustering onslaught of Bull Nakano and Akira Hokuto kicked off the evening's third bout as both of their opponents were dropped. Poor little Mayumi Ozaki was being obliterated by the heel contingent, getting hair whipped, slammed and splashed between Nakano's chokes and refusal to feel any pain. Using a slick DDT on Hokuto allowed Ozami to tag out and lead a charge against their opponents that Nakano put an end to by power bombing Cutie Suzuki. Though Nakano regained the advantage, she lost it just as quickly, missing a beautiful moonsault that set up two pairs of double team double stomps. The crowd popped hard, finally getting behind Suzuki and Ozaki before they made a crucial mistake of trying to double team suplex Nakano, only for Bull to double suplex them.
The fan favorites were struggling thanks to Nakano and Hokuto's barrage of highflying attacks and impressive strength. Though they were down, Ozaki and Suzuki weren't out; leading to a series of high impact maneuvers you'd see on an average independent show today. The end eventually came following a series of moves from Hokuto with the assist from Bull. After Ozaki took the doomsday device, her body felt the pain of Nakano's massive leg coming off the top rope before being pinned.
In the same vein as their counterparts (and even Nakano herself), the Joshi showcased things you'd never seen in an American wrestling ring featuring women; wowing the crowd in the process. This definitely rivaled the opener for Match of the Night thus far.
A Japanese and A Canadian Fight Over A U.S. Title…: A week before this event, Kensuki Sasaki defeated Sting to win the U.S. title. As the announcers talked about some strange selling of WCW's ownership properties to Sonny Ono thanks to Bobby Heenan, the challenger did his best to lay the champion's chest open with knife-edge chops. Sasaki eventually fired back, leading to the champ taking Benoit down for some mat action focusing on the opponent's left arm. When things picked up again, Benoit knocked the champ to the floor for a tope that eventually set up his series of suplexes – both snap and German versions. Sasaki survived the challenger's onslaught including the flying headbutt and the frankensteiner, firing back with a one-arm tornado bomb. Though Benoit kicked out of Sasaki's follow up pin, the challenger was in a bad way. Sasaki took advantage of this, executing a sick Lariat to successfully pin and defend his championship.
An okay match under the watchful eye of an apathetic crowd. If only they had more time to fully craft the story they were going for, this would've been a classic.
I Warned You: It seemed Ric Flair was finally on the up and up leading into the fall. In his war against the Four Horsemen, Flair asked Sting to team with him; but Sting reasonably didn't believe him. It would take a two-on-one beating by the Horsemen on Flair before Sting believed this wasn't an elaborate set up. Sadly, it was an elaborate set up for the Horsemen to attack Sting at "Halloween Havoc 1995".
Following up the turn of Flair on Sting was this match where Sting spent the first third taking chops, not feeling the strikes and slamming Flair around the ring until "The Nature Boy" made a quick exit. Flair's insistence to leave actually helped turn the tides when avoided a Stinger Splash that slammed Sting abdomen against the steel guardrail. Rather than stay on Sting's midsection and work over the hurt area, Flair went after Sting's leg when he tried to make a fighting comeback.
Sting took everything Flair had, including the figure four leg lock, hulking up before using some of his patented strikes. Utilizing a superplex, Sting hooked the stunned Flair in the Scorpion Deathlock for a submission victory.
This match is like a fifteen minute abridged version of Sting vs. Flair's greatest hits. That doesn't make it a bad or disappointing match, but doesn't feel as inspired as their previous battles. It's an entertaining affair, but not necessarily memorable.
Wrong:
Taped Forearm Fighting: So, Big Bubba Rogers (Big Boss Man) and "Hawksaw" Jim Duggan had a problem with each other. Being the tough men that they are, they challenged each other to a taped fist match where the only way you could win was by knocking the other man out. Sounds like fun, right? Not really. Duggan and Rogers brawl through all three rings while throwing everything but the kitchen sink at each other, but something just didn't feel right. The crowd was dead and didn't even care when VK Wallstreet came out to hand Rogers a chain before taking a 2×4 to the ribs. When Duggan turned around, Rogers clocked him between the eyes to put "Hacksaw's" lights out.
Asking Too Much From Too Little: Though Hulk Hogan stated at the top of the show that Randy Savage's arm injury was a fake, it was obvious in this bout with Lex Luger following Luger's heel turn at "Halloween Havoc" that Savage wasn't in good shape. This led to a quick, Savage-controlled bout ending with a hurt "Macho Man" submitting thanks to an arm bar. Knowing these two men would wrestle later in the night and Savage was actually hurt reinforced the fact this match should've never happened.
Undisputed Controversy: Of course, the main event was the three ring, sixty-man battle royal to crown the undisputed WCW World champion following the controversy at "Halloween Havoc" where The Giant defeated Hulk Hogan for the WCW World title, but really didn't win the title. While the concept sounded fun, the reality was there were too many bodies split between three rings on three different screens. To top off the schmooze of a battle royal was the ending.
The Giant yanked Hulk Hogan under the bottom rope as the referee watched Randy Savage eliminate One Man Gang. Of course the referee didn't see why Hogan got yanked out of the ring, but still believed he was eliminated because he was on the floor (even though Savage himself fought on the floor at one point during the bout). Hogan, being the sportsman that he was at the time, complained and had the fans turn on him because he refused to let Savage have his moment. What a way to end the show on a sour note.
Is It A Classic: While the show's definitely a lot better than I remember it, the event is only mediocre at best. The top three matches (Badd-DDP; the women's bout; Sting-Flair) are very good, but not necessarily something you'd go out of your way to see. The main event is a pure disappointment even though there's no way it could've been better than bad. But it isn't as terrible a show as you'd expect from WCW during the horrible year that was 1995.