Be Prepared For One More Shot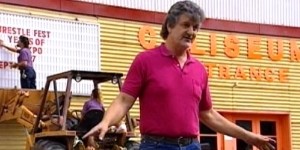 Through the greatness of wrestling documentary "Beyond the Mat", a new generation of pro wrestling fans was introduced to former multi-time NWA champion Dennis Stamp … as he jumped on a trampoline while wearing a Speedo. Dennis Stamp, though mostly retired from in-ring competition, talked about how he stayed in shape just in case one more opportunity at the big time came calling. While not the WWF(E) or WCW (or even ECW), Dennis Stamp was confronted with a big chance by refereeing one of Terry Funk's many "retirement" matches in Funk's hometown. Stamp's argument about not being booked for the show initially and Funk begging his friend to work the event has become a running joke amongst wrestling fans to this day some fifteen-plus years later.
But Stamp's proclamation about being ready for "one more shot" in wrestling has been proven true before, during and after the movie's release. Only five years earlier, Bob Backlund – who was past his prime and working in front of a generation of fans who didn't exist during Backlund's heyday – shockingly won his second WWF Heavyweight title. Three years after "Beyond the Mat's" release, Hulk Hogan returned to the company that made him famous and actually overcame the much younger, more technically proficient Triple H. One of the most recent showcases of people ready for "one more shot" was Dwayne "The Rock" Johnson coming back to WWE and becoming the company's World champion once again.
In wrestling, just like life, there's a chance that another opportunity will arise that only those prepared are able to advantage of; having one more shot at glory, accomplished dreams, and even a chance to referee a match shown on the silver screen.