Fight For Something Greater Than Yourself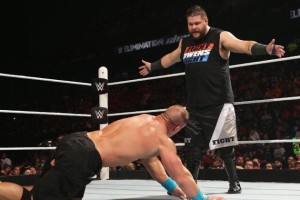 The week of May 31st, 2015 was (and still is as of this writing) the biggest weeks of the career of Kevin Owens thus far. The former Ring of Honor World champion and current WWE NXT title holder had the opportunity to take on the 21st century's answer to Hulk Hogan: multi-time WWE champion John Cena. Owens, who decimated the man he once called a best friend to win the NXT title two months to the day after his debut in the company, took it upon himself to challenge WWE's biggest dog. The interaction between Owens and Cena set the stage for a war worthy of a marquee billing. But why did Kevin Owens – rather than bide his time in NXT defending his championship like so many prior champions before moving to the main roster alongside the likes of John Cena and former NXT alumni Neville, Bo Dallas and current WWE World Heavyweight champion Seth Rollins – enter unfamiliar terrain and confront a man already worthy of Hall of Fame status? Because Kevin Owens fights for something bigger than himself.
Since his first appearance on WWE television/WWE Network, the NXT champion has gone out of his way to remind the world that his existence is solely rooted in making a better life for his family; his wife and two children. For Kevin Owens, fighting and winning doesn't simply affect his pride, but the lives of those dependent on him. The former "Mr. Wrestling" fights because no one else will fight for his family with the same vigor, ferocity and utter brutality than he himself did against everyone who has stepped in his path including John Cena – the man who fell to Owens in their first battle. If you don't believe in or fight for something, you'll fall for or fall to anything. Kevin Owens knows why he fights? What do you fight for?