Patience, Planning & Opportunity Will Create Success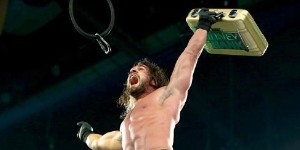 It's been said by many throughout history that opportunity graces those who are prepared, yet have the patience to wait for that opportunistic moment to arise. In professional wrestling, there's no better example of opportunity and patience going hand in hand than WWE's "Money in the Bank" briefcase. Created in 2005 as an addition to the "Wrestlemania 21" card, the "Money in the Bank" match is essentially a Ladder match where the potential winner has to climb a ladder and retrieve an item dangling from the ceiling. Usually Ladder matches are reserved for big title bouts, but the "MitB" version dangles golden potential for any would-be winner.
Instead of a title belt hanging from the rafters there's a briefcase containing a WWE World Heavyweight Championship opportunity where the owner can "cash in" his title shot any time, any where in a 365 day period. The end result has been stellar for those who planned properly and bided their times. Men like Edge, Rob Van Dam, CM Punk, Dolph Ziggler, and Daniel Bryan won their first WWE World title thanks to the briefcase and some spectacular timing. Most recently, Seth Rollins closed the biggest event of the wrestling year – "Wrestlemania" – by doing something never done in the past by using his "Money in the Bank" contract to turn the one on one main event into a Triple Threat match before curb stomping his way to glory.
If you're patient and prepared, when opportunity arises you will be ready. If you don't believe me, just ask the men whose lives changed after retrieving a single briefcase.