Do Not Commit Adultery or Have Your Genitals Chopped Off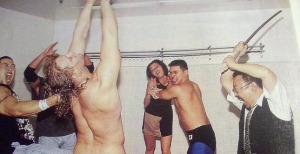 In 1998, Val Venis entered the World Wrestling Federation after having an extensive career in the porn industry (see what I did there). It wouldn't take long for Val's sexual appetite to get the better of him. Rather than go after the single women either backstage or even watching him from the audience, Venis found himself taking a married woman to bed – Mrs. Yamaguchi. Mr. Yamaguchi headed the Japanese contingent known as Kaientai. Even worse is the fact Val filmed his sexual conquest and aired the end result (a smiling Mrs. Yamaguchi lying next to Venis) for the world, and Mr. Yamaguchi, to see.
Now you would think Mr. Yamaguchi would either divorce his wife or seek revenge. Of course, Mr. Yamaguchi chose the latter with one of the most disturbing plans ever uttered on television (wrestling or otherwise), "I choppy choppy your pee-pee!"
Shockingly enough, Mr. Yamaguchi was almost successful. With the help of his Kaientai group, Mr. Yamaguchi tied Venis so he couldn't stop the inevitable. Little did Mr. Yamaguchi know that Val would get some help from an inner and outside source. Thanks to fear of getting "The Big Valbowski" chopped off, Venis suffered, "…a little shrinkage," before the lights went out and caused Mr. Yamaguchi to miss. Who was responsible for turning the lights out? John Wayne Bobbitt, that's who. Bobbitt, who infamously suffered a similar fate in the early nineties thanks to his then-wife, saved his friend from an unwanted castration.
So if you ever have the audacity to sleep with someone's wife, be prepared to have your pee-pee chopped off; especially if you're not friends with John Bobbitt.