"You Gotta Want it, Man!"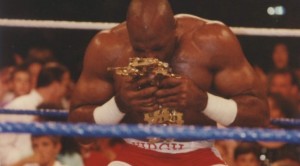 Former WWF/WWE wrestler Virgil has been making waves in the pro wrestling world as of late; not due to his in-ring abilities or being heralded as one of the greats during the "Rock N' Wrestling" & "The New Generation" eras of wrestling, but his antics on social media, radio shows and New York subway stations. For those who don't remember (or even know), Virgil was once known as the man behind the money. "The Million Dollar Man" Ted DiBiase – whose character was based off of his nickname – apparently purchased the Nashville born wrestler, forcing him to perform duties ranging from assisting DiBiase during his matches to cleaning off horse feces from his boss' shoes during his off time.
As the years progressed, Virgil grew tired of the humiliation and eventually broke free through one of the few ways possible in the world of professional wrestling: by fighting. Virgil would overcome his "master" and reign supreme … for a short while before being relegated to a status similar to the Jack Swaggers of the wrestling world today (just without a World title listed on his wrestling résumé). Even though he was lower on the card, Virgil continued to inspire. One great moment came during a promo Virgil cut before his match with escaped convict Nailz. "Too legit to quit," Virgil told the viewing audience during his shadow boxing sparring session that if you strive to be the best or even survive, "You gotta want it, man!"
And that's how we should all look at our lives. You want the best in life? Well, get out there and show that you want it, man! Look no further than Virgil's life in 2015. The man wants to be a millionaire and has not only created a "GoFundMe" campaign for the cause, he's also been hitting the pavement to spread the message of his goal. If you want to be successful in life, you have to go that extra mile just like Virgil.