It's the most romantic day of the year, Valentine's Day. Though professional wrestling is known for being about two or more brutes entering a squared circle and fighting each other, the truth is love has found its way into the ring time and time again. To celebrate this day, lets look at the five greatest romantic couples in wrestling history.
Jimmy Garvin & Precious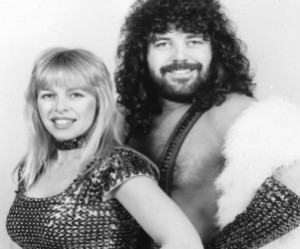 Future "Fabulous Freebird" and all-around party guy "Gorgeous" Jimmy Garvin attracted the ladies attention any and everywhere he went. But it was in the Dallas, Texas-based promotion World Class Championship Wrestling did Garvin finally meet someone good enough to handle his crazy lifestyle, and understanding what he was capable of when taking on the best of the best in wrestling. After spending time with his valet Sunshine, Garvin found himself being humiliated by the fan favorite wrestling family, the Von Erichs (specifically Fritz Von Erich's son, David).
Disgusted over the constant indignation, Gavin found another "Sunshine". "Sunshine II" – eventually renamed "Precious" – became Gorgeous'" new valet and the person responsible for some of Garvin's biggest career moments. Precious instigated fights for Garvin in not only WCCW, but also in the American Wrestling Association and Jim Crockett Promotion's territory under the National Wrestling Alliance banner. From Chris Adams to Ric Flair, everyone who came face to face with Jimmy Garvin in defense of his lady were left a changed man.
Unbeknownst to the wrestling world as to why the two got along so well, Garvin and Precious were actually married and truly working harder than anyone together to make a better life for themselves and their future family.
Adrian Street & Ms. Linda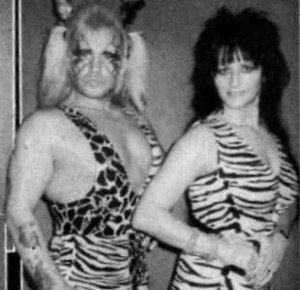 Before there was Goldust and Marlena, there was "Exotic" Adrian Street and Ms. Linda. Street, who started wrestling in 1957, was at odds with local fans that attended wrestling events in both England and America. Finding himself as a genuine negative attention gainer, Street took things as far as he could go during a time when wrestling fans – and society in general – looked at homosexuals in a horrible light. Adrian Street refused to be scared of how his in-ring effeminate actions would cause people to react, dressing in bright colored tights drenched in glitter to match his brightly coated face make up.
Twelve years after beginning his journey as a wrestler, Street met his eventual wife and manager Ms. Linda. Linda, seemingly very into the act Street would utilize to rile up fans, became Adrian's valet and helped her man put opponents in position for Street's kisses and pin falls. The pair were hated around the world not only for Street's homoeroticism, but also the belief that Adrian had garnered the attention of a beautiful woman that should be with a straight man instead of hanging around "The Exotic One".
As wrestling fans matured alongside society, Street and Ms. Linda became widely accepted as innovators and vanguards in the world of professional wrestling/sports entertainment. So much so that many fans heralded the announcement of Street finally proposing and marrying his valet almost four decades after they became wrestling's most hated couple.
Jimmy Jacobs & Lacey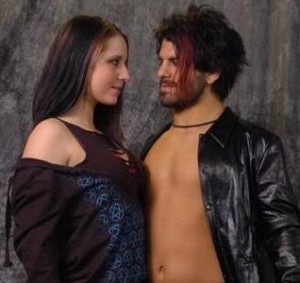 If you've asked if there's ever been a perfect parasitic relationship in wrestling, Jimmy Jacobs and Lacey would be your answer. In 2005, Jacobs found himself and his tag team partner BJ Whitmer being controlled by a hopeful manager of champions in "The Lovely" Lacey. The Minnesota native's managerial intentions raised the ire of Whitmer while Lacey caused Jacobs' heart to swoon. When BJ broke away from the trio, Lacey used Jacobs' infatuation to convince her hopeful boyfriend to avenge her name. Jacobs would spend the next year and a half sacrificing his body and heart to make Lacey love him.
But it wasn't until a series of "romantic" dates together where Lacey let her guard down did she see just how great of a guy Jacobs was. The end result wasn't a happy one, though. Jacobs, having finally gained the girl, didn't find satisfaction in just being Lacey's love. To make him feel more like a man instead of the sniveling wrestler hampered by puppy-dog love, Jacobs used Lacey's body to spearhead his Age of the Fall faction that hoped to cast down the shackles of oppression in society. Eventually, Jacobs took things too far and made Lacey a sacrificial lamb that would be saved by Jimmy's rival Austin Aries.
Though the Jimmy Jacobs-Lacey relationship didn't have a storybook ending, it perfectly reflected true instances of love and loss for many wrestling fans that experienced the love ballads take place.
Triple H & Stephanie McMahon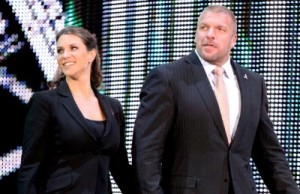 Like several real-life wrestling couples throughout history, the relationship and eventual marriage of Triple H and Stephanie McMahon began thanks to a storyline. After drugging the daughter of WW(E) owner Vince McMahon and taking her to Las Vegas, Triple H set up a ceremony that ended with Stephanie marrying "The Cerebral Assassin" instead of Steph McMahon's on-screen boyfriend, Andrew "Test" Martin. Like her father, Stephanie eventually realized she liked the dark side of wrestling; opting to stay with Triple H and create a power couple that ran wild in the company. They reformed the controversial D-Generation X faction after Stephanie assisted Triple H brutalize her own father in a No Disqualification bout; helped Triple H defeat the giant Big Show for his WWF Heavyweight Championship; forced Mick Foley into semi-retirement; and even convinced her father to help her husband become the first villain to successfully defend the WWF Heavyweight Championship at "Wrestlemania".
The years on-screen that followed weren't the best for Triple H and Stephanie as their marriage eventually crumbled and actually turned rather violent. But outside of the ring, Triple H and Stephanie McMahon's relationship couldn't have been better. They truly joined as one in marriage in 2003, becoming a true power couple in World Wrestling Entertainment and the heir apparent to the throne of pro-wrestling's commanders and leaders just like Vince McMahon and Linda McMahon before them.
Randy Savage & Ms. Elizabeth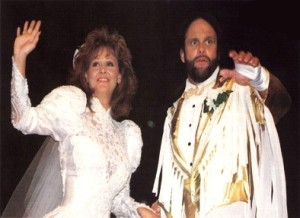 Though there have been many a wrestling couple that has come and gone, none epitomized growth, change, and joyous love better than the "Macho Man" and his lovely lady Ms. Elizabeth. But their relationship wasn't all peaches and cream as many fans like to remember. During their early days on television, Randy Savage proved to be an overprotective brute that hated the thought of someone even looking at his significant other. Savage's temper and continued mental (and at times physical) abuse of Elizabeth drove her away and Savage ended up scurrying into the arms of someone just like him – "Sensational/Queen" Sherri.
Sherri enjoyed being by Savage's side until he lost to the Ultimate Warrior; attacking the "Macho Man" until someone came to save him. That someone was none other the woman that Savage let get away, Ms. Elizabeth. In front of an emotional crowd, the beaten Savage finally understood the errors of his ways and made sure Elizabeth was treated with the utmost respect from him and anyone in the locker room. Eventually art would mirror life with Savage and Elizabeth trading marriage vows in front of the wrestling world during "Summerslam 1991".
While "Macho Man" Randy Savage and Ms. Elizabeth separated from each other both on-screen and off, finding love elsewhere before their untimely deaths, wrestling fans still hold the pair as the truest representation of everything that was right about wrestling and romance mixing.