Professional wrestling is known for its pomp and pageantry, larger than life characters and acrobatic action unlike anything seen in other forms of entertainment. But pro wrestling is also known for creating some of the worst nicknames for individuals hoping to stand out in a populated crowd. In what will surely be the first part of an ongoing series, here are five of the worst nicknames in wrestling history.
"Booger Red" (The Undertaker)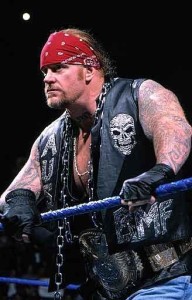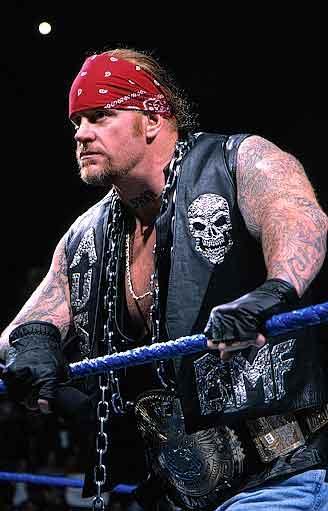 You know The Undertaker has been subjected to a ton of nicknames during his lofty career – "The Demon from Death Valley", "The Phenom", "Big Evil" just to name a few. But during The Undertaker's days as the "American Bad Ass", riding his motorcycle to and from the ring while rocking a bandana, leather jacket and a song by Kid Rock's of the same name The Undertaker's latest persona classified under, commentator Jim Ross attempted to add another pseudonym to the already long resume attached to the once "Deadman" – "Booger Red".
The title didn't roll off the tongue for wrestling fans trying to figure out what a booger red could be. Many believed since The Undertaker had turned villainous, "Good Ol' J.R." was insulting the natural red headed grappler by calling him out for his nasty ways. After some research, it became obvious Ross' attempted sports history/southern word definition lesson failed to transcend the lewd, almost immature minds of fans before the days Google searches revealed any and everything someone wanted to know.
"Above Average" (Mike Sanders)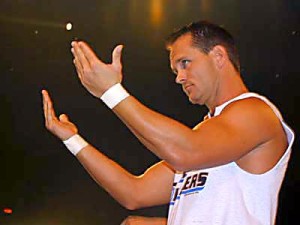 After succeeding in World Championship Wrestling's "Power Plant" training school, Mike Sanders became nothing short of a preliminary loser throughout the final golden years of the company's existence. With the roster in flux during the year 2000 and the company needing to elevate/establish younger, more inexperienced talent, Mike Sanders was given a chance not only to be on TV, but also lead an entire faction alongside former World champion Kevin Nash. But what about Sander's skills to hold such a lofty position? Sadly for Mike, his nickname represented his physical abilities, look, and overall package – "Above Average".
Sanders wasn't good, or excellent, or perfect, or even brimming with extraordinary potential. Mike Sanders was just a plain ol' "C-plus" wrestler who lucked into a position better than his abilities could've taken him naturally.For some wrestlers, being the best is all that matters. For Mike Sanders, displaying skills that would get him a little further than a typical, mid-tier level wrestler was enough. But there's something to be said about being realistic regarding one's potential.
"The Silverback" (Mark Henry)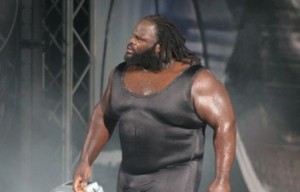 It's not unusual for nicknames to be used by more than one person in wrestling, mixed martial arts, or any sport in general. Skip Sheffield of WWE's wrestling talent show NXT would later become known as "Ryback". Prior to the name change, Skip considered himself similar to a silverback gorilla. But before Ryback started showcasing his hunger on WWE programming, there was another wrestler connected to the jungle. That man was none other than Mark Henry.
Now, for those who don't know (or can't tell by the picture), Mark Henry is a rather large African American male who is as dangerous as he looks; just like a silverback gorilla. If you haven't realized why comparing Mark Henry to a silverback gorilla is wrong, let me spell it out for you – it's racist! For hundreds of years, individuals of African descent have been insultingly accused of appearing and acting like primates (and not in a evolutionary type of way). It's one thing for a nickname to reflect a grappler's intensity and strength. It's another thing when you give someone a nickname that is borderline/overtly racist.
"The New Horror" (Sami Callihan)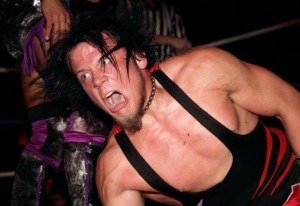 In 2006, the wrestling world was formerly introduced to a rather short, not very intimidating appearing individual. Slowly but surely, the perception of this man changed as he embraced who he was outside of the ring and projected it to every crowd he performed in front of. Sami Callihan (the future Solomon Crowe in WWE/NXT) soon became his generation's Kevin Sullivan (being a short, stocky, hard-hitting wrestler that seemed to be more in touch with his dark side than any of his fellow grapplers).
So what better way to tag yourself as a brooding, dangerous figure than by attaching "horror" to your name? Callihan, being the horror movie buff that he was/is, didn't take into account when nicknaming himself that ring announcers and commentators alike wouldn't take the time to precisely annunciate "horror". During many an event, Callihan wouldn't be called a "The New Horror", but a synonym for a prostitute. Sami, smartly, ditched the tongue-twisting moniker, using the nickname "Callihan Death Machine" to strike fear in the hearts of his opponents and fans that once confused him for being a lady of the night or a Buff Bagwell-level gigolo.
"Nature Boy" (Buddy Rogers/Ric Flair)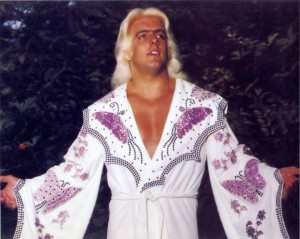 During his first decade as a wrestler, Buddy Rogers set the standard of what it meant to be a great grappler. But physical presentation was starting to infiltrate itself into professional wrestling and Rogers looked to set himself apart from the barrel-chested wrestlers by bleaching his hair and maintaining his toned, lean body. Rogers would later become known as the "Nature Boy" during his physical transformation.
In 2002, "Stone Cold" Steve Austin publicly questioned the most famous "Nature Boy" in Ric Flair about what his nickname meant. "Do you like nature?" Austin asked Flair on a live episode of "Monday Night Raw". "Do you like boys…? Don't answer that!" It's a question many fans have asked for years without knowing what Ric Flair (and to a lesser extent Buddy Rogers) meant by calling himself a "Nature Boy".
Come to find out, the "Nature Boy" phrase originated from a song of the same name by Eden Ahbez that tells the story of an enchanted boy roaming through the forest before finding the true meaning of life through love. Nat King Cole would cover the song a year later, making it a late-forties hit.
Though the song that gave birth to one of wrestling's greatest nickname is pretty snappy, the meaning behind the "Nature Boy" and the "Nature Boy" nickname itself still sounds terrible and will be forever remembered by fans as something that sounds like the description of a forest frolicking pedophile.