In 2011, Women Superstars Uncensored was riding the huge wave growing on the independent scene featuring all-women wrestling shows. Rather than showcase matches featuring women clashing in the ring, WSU looked to take things to the next level by mixing sports entertainment with its talented roster. The result was must-see shows thanks to the controversial, yet enamoring storylines. But one thing that never changed was it's high level of talent. No better example of that was the WSU champion Mercedes Martinez and her opponent, former WWE Diva Serena Deeb. Could Lexxus truly do the seemingly possible? Was Martinez able to trump another challenger? But the biggest question is whether or not this event is truly a classic.
4th Anniversary
March 5, 2011
Union City, NJ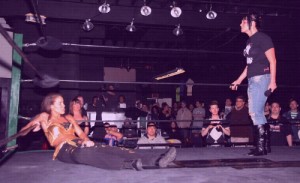 Right:
Breaking Iron: What's better than showcasing rising talents that could possibly become main eventers that'll carry a company for the next four years in the opening match? When aforementioned talents actually have the ability to steal the show very early into the broadcast. Athena, who made her WSU debut on a few months earlier, took on Leva "Iron Woman/Blue Pants" Bates in a match where Bates attempted to turn a grappling contest into something more high-flyer friendly. As the commentators rambled about Athena training under Booker T. (commentators who barely had any idea who these women were and went on tangents about nothing regarding the match itself), Athena took control of the match with high impact slams, handspring forearms and seated abdominal stretches while antagonizing the pro-Bates audience. The crowd gave Bates the energy to fight from her grounded state, throwing kick after kick when her pin attempt following the tilt-a-whirl DDT didn't end this battle. Smartly, Athena rolled to the floor to avoid a sure pin fall after the Code Breaker. When Bates looked to grab her, Athena dropped her with a roundhouse kick. Quickly scaling the ropes was Athena before she sailed with her O Face/Corkscrew Stunner to put Leva on her back for the three count.
A nice little opener that showcased the potential of both women who looked like true stars in the making.
Battle of the Losers: Though the announcers seemingly couldn't fully explain why these two were so furious with each other, the story was rather simple: Jennifer Cruz and Jamilia Craft were forced to be tag team partners a few months prior. The end result was failure and while Cruz wanted a second attempt at making a successful team, Craft looked elsewhere – resulting in bad blood and this match. Craft came in like a house of fire, fighting through the Pearl Harbor job performed by her opponent until she ran into a big forearm. As "You Can't Wrestle" chants rang out in Cruz's direction, Jennifer lost her advantage thanks to a missed guillotine leg drop. Craft would fire off some right hands, take a big discus forearm and catch Cruz with a belly to belly suplex to pick up a big win over someone with a 2-9 record. While not as bad technically compared to the previous match (Roxx vs. Niya), the plodding, spotty offense left a lot to be desired once Cruz took over. But Craft's fire and the crowd actually getting into the simplistic story being told made this an easy match to watch when things were more even.
Settle the Personal Score: Once again, the commentators had the hardest time trying to figure out why WSU Hall of Famer and former WWE/F Women's champion Jazz had issues with the former WSU champion Alicia. The simple answer is Alicia had a title shot in her figurative back pocket and Jazz wanted to prove that she deserved the title opportunity – so now you have a match. Jazz easily powered her competitor around the ring during the early minutes until Alicia decided quick offense like arm drags and hip tosses could set up some even more high impact attacks such as her running butt bump in the corner. Jazz opted to get a little dirty to turn the tides, dropping Alicia throat first across the middle rope when Alicia approached her. The former WWE star kept the neck and throat work going; almost choking Alicia out as the fans rallied behind their former champion.
Alicia survived the submission-based onslaught of her tremendous opposition, giving Jazz a taste of her own medicine with the sleeper. Though Alicia couldn't get the best grip of the hold possible, she did lure Jazz into a false sense of security by backing into the corner, yakuza kicking Jazz out of nowhere for the rather anticlimactic pin fall. A solid match featuring the aforementioned shocking finish. With a stacked card, this match didn't get as much time as it deserved; but the two ladies did a very good job with the time given.
Winning Thy Name is "Vanity": Another repair of WSU rookies in Allysin Kay and Kristin "Vaine" Astara came in swinging for the fences early; creating an early dynamic where Kay attempted to ground her opponent for submissions and quick pins as Astara utilized her legs to counter arm bars, head locks and attempted slams. Astara was so leg-based crazy that she even attacked Kay's legs. Firing herself up, Kristin started throwing forearms and roundhouse kicks to finally put herself in the driver's seat before utilizing a uranage to pick up the three count.
While it's not the type of match that would set the world on fire, the two ladies wrestled a competent bout where they didn't mess up a bunch of maneuvers (though the psychology was spotty during the tail-end).
Killing the Killer Babes: The 2011 WSU Hall of Fame inductee April Hunter entered the ring alone for her match with Lexxus and Amber – collectively known as "The Boston Shore". Hunter, who was planning to team with Traci Brooks, was left partner-less until her old tag team partner stepped up to help: Nikki Roxx. Hunter and Roxx – once dubbed "The Killer Babes – had the stature and size advantage compared to their opponents. Rather than be intimated, the smallest girl in the ring in Lexxus tried to prove she was just as strong as her opponents. The end result was Lexxus and her partner struggling to get any momentum while unsuccessfully trying to match power with power. Realizing that being power wrestlers against power wrestlers wasn't for her, Lexxus took the low road by illegally kneeing a rope-bouncing Roxx.
The crowd watched intently before going into full support mode in hopes of getting Nikki into this match after feeling clotheslines and rear chin locks. Amber and Lexxus used quick tags to keep Nikki isolated and on their side of the ring, but the tenacity of Roxx gave her the chance to fight through the two-on-one situation before tagging out. The red haired Philly native was on fire, using a spinning heel kick to sweep Amber into a unique submission. Lexxus reentered to stop the submission, setting up a cradle by her partner where Amber grabbed a fistful of tights to hold April down for the rather shocking pin fall victory. Once the stalling and "comedy" concluded, this was a nice little tag match that gave Nikki something to hang her hat on while establishing the potential of The Boston Shore stealing victories from the jaws of defeat by any means necessary.
Making Waves: Australian native and The Incredible Hulk's greatest foe when it comes to physical comparisons Kellie Skater made her WSU debut by taking on the returning Barbie – who hadn't been seen in the company in years and seemingly was shopping alongside Alicia for ring outfits. Though she was being considered a disappointment by the commentators during her first run in the company, Barbie showed tremendous aggression to offset Skater's technical prowess. Skater spent the first few minutes stuck on the mat or being clotheslined down before making a punch-kick heavy comeback that saw her gain some power from her infamous protein shake. Kicking Barbie in position, Skater picked up the pin fall victory via her reverse blockbuster, Skate or Die. Very similar to the Kay-Astara match in that it wasn't particularly special or fantastic, but got the job done and didn't drag thanks to the strike exchanges and Skater's penchant for comedy.
Raining on an Army: Jessicka Havok initially looked to make a name for herself in WSU by siding with Rain and her group. But after a while, Havok turned on the faction; beating and driving fellow stable mate Amber O'Neal out of the company. Rather than come in and attempt to fight fire with fire against the larger Jessicka Havok, Rain smartly tried to take the match to the canvas where height didn't matter with leg-based offensive and submission impact attack such as a cravat bulldog. Sadly for Rain, Havok's strength was enough to easily stop whatever Rain had in mind, eventually putting Rain on the mat for torso-targeted submission maneuvers; with a smattering of illegal chokes and mounted punches.
Though Rain was being picked apart, she refused to say die and kept fighting through pin and submission attempts following some of Havok's offense. The crowd that was mostly quiet for the match started piping up when Rain avoided a shoulder ram in the corner and launched a dropkick flurry that started her comeback. The fight spilled to ringside where Rain lost her focus thanks to the fans' adulation; giving Havok not only the chance to recover, but also do a little mouthing off before shockingly finishing the WSU veteran with Oklahoma Stampede-Air Raid Crash combination. Another very good bout. In front of a better crowd this match would've come across as bigger than it did. But Rain and Havok worked hard to get them into the match and it paid off nicely with Havok's biggest WSU win to date.
Ivory Spirit: In the chasing of a dream, Sassy Stephie entered the ring for her 4th anniversary celebration as a wrestler in hopes of becoming the new WSU Spirit champion. To do so, Stephie would have to go through Cosmo Club's Brittany Savage (something Steph had come close to accomplishing months ago, but was hindered by the Club and Savage's second in command, "The Boy Diva" Rick Cataldo). Cataldo was immediately sent to the back by the referee, giving the challenger a chance to launch an offensive onslaught against the stunned champion. Just when it seemed Sassy Stephie was going to make short work out of the champion, Savage simply caught an incoming boot and yanked her to the mat. The fans were fully supporting Stephie as she attempted to fight her way off of the mat or fight through the pin attempts following Savage's dropkicks aimed at the chest and back of her challenger. The champion turned her strike-based barrage into a series of submission holds that couldn't stop Stephie as she had hoped. Pulling a Savage, Stephie caught an incoming leg minutes later; causing a collision between Steph and the referee that resulted in the ref going down.
The unintended action gave Cataldo a chance to return and bring in a chair. Before Savage could use the weapon, former WWF/E Women's champion and WSU Hall of Famer Ivory hit the ring to stop whatever Savage had in mind, decked Cataldo (who was in awe of Ivory, literally bowing down to her) and helped the challenger hit her "Kiss My Sass" finisher to pin Savage and end her title reign. A solid, yet rather short match that the crowd was fully into and loved the finish even if it was a little convoluted.
"Straight Edge" Wasn't Better Than You: In the months leading up to this historic main event, not only did Serena Deeb spear her way into an undefeated streak in WSU, but also attacked and cut a chunk of the champion's hair. Martinez, having defended the title thirty-six times over the course of her two-year long reign, entered the building with a pair of scissors in hand. There was no feeling out process as Mercedes took the fight to her challenger early, attempting to chop the wind out of Deeb. But the "Latina Sensation's" aggressiveness got the better of her, allowing the challenger to turn the tides by simply avoiding a running attack and slamming her to the mat by her hair. Smartly, Deeb kept the fighting champion grounded while working over Martinez's upper and lower back with unconventional rear chin locks, body slams and even some high knee drops. Feeling enough damage had been done to set up her Spear, Serena exploded out of the corner a little too early.
Mercedes fought through the pain, utilizing some huge maneuvers including a super bulldog and the falcon arrow to potentially execute her Fisherman Buster finisher. Like the Mercedes, Serena took everything the champion could dish out – responding in kind before she shocked the crowd by hitting the Spear. Thankfully for Martinez, Serena's hastiness to go for a pin allowed Mercedes to grab the nearby bottom rope to stop what was a sure three count coming. Rather than stay on top of her fighting opposition, Serena decided she wanted to let history repeat itself by grabbing those scissors. Martinez fought out of the precarious predicament, sunset flipping Deeb into the Fisherman Buster in the ring's middle for the pin fall.
Following the match, Alicia attempted to cash in her title shot on the tired Martinez, but ended up being attacked by Jessicka "I'm coming for your title, Mercedes" Havok. Every match before the main event, no matter how good it was, paled in comparison to what was seen during the marquee bout. There was no nonsense, no shenanigans, just good old fashioned wrestling that the crowd ate up. The post-match confrontation between Martinez and Havok unknowingly set the stage for what would become the game changer in WSU history. This match is a must-see.
Wrong:
Rocky Road: Former WSU champion and TNA star Nikki "Roxxi" Roxx continued the show by taking on another relative new comer to wrestling in hot stepping Niya during the event's second bout. Niya, while showcasing unbridled athleticism, didn't have the technical prowess to hang with someone like Nikki; unintentionally and embarrassingly missing attacks … frequently. One moment saw her counter a suplex with a DDT, but was unable to fully get Nikki up and had Roxx land on her while attempting to roll through. The finish was just as sad when a top rope diving Niya missed a clothesline by a mile – to which Nikki, who visibly couldn't believe her opponent didn't such a stationary target, simply picked up Niya, hit her Barbie Crusher finisher and pinned the dancing queen to end this botch of a contest.
You Can't See Me (or Anything Else): Thanks to the ankle injury Tina San Antonio suffered, WSU Tag Team champion Marti Belle entered the building with both belts and no partner to take on three other teams looking to tear her apart. Thankfully for Belle, Jazz was up for another fight. So what's worse than a fight that goes around a poorly lit arena featuring terrible camera operators? An arena-wide fight featuring not enough cameras to keep up with eight women swinging weapons at each other. As Jazz and Cindy Rogers attempted to wrestle, everyone else brawled around ringside and the crowd as the camera crew refused to keep up with the action (and the production crew couldn't create a split screen). Add that to the fact one of the cameras went out of focus and the camera operator refused to fix the problem. Jazz mercifully ended this one by pinning Rogers following a Michinoku Driver to earn her spot as one of the WSU Tag Team champions. Move along, people; there's nothing to see here.
Results:
1. Athena defeated Leva Bates
2. Nikki Roxx defeated Niya
3. Jamilia Craft defeated Jennifer Cruz
4. Alicia defeated Jazz
5. Kristin Astara defeated Allysin Kay
6. The Boston Shore defeated Nikki Roxx & April Hunter
7. Kellie Skater defeated Barbie
8. Jessicka Havok defeated Rain
9. Jazz & Marti Belle defeated Jana & Latasha , Amy Lee & Cindy Rogers to win the WSU Tag Team Championship
10. Sassy Stephie defeated Brittany Savage to win the WSU Spirit Championship
11. Mercedes Martinez defeated Serena Deeb to retain the WSU Championship
Is It A Classic:
The main event was excellent. The other important matches on the card (Havok-Rain, Steph-Savage) came together well, as did the opening bout. But the rest is just solid and not really memorable, or terrible and not worth your time. If you can check out main event (ClickWrestle is the perfect place), then do so because if there's one thing definitely worth your time from this show, it's Martinez vs. Deeb.