The clock is ticking down fast and 2012 is almost gone. Here's a look back at the top ten matches that occured in pro-wrestling during 2012.
10. AJ Styles & Kurt Angle vs. Christopher Daniels & Kazarian (Total Nonstop Action "Slammiversary"; Jun 10th; Orlando, FL)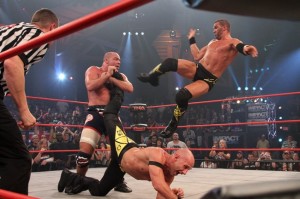 What led to this match happening was only the beginning of something that would reinforce my joy for not watching TNA on a weekly basis anymore. But one of the early and few good points during the eventual "Claire Lynch" storyline was this bout over the TNA Tag Team title. It didn't take long before everyone realized they were in for a treat as all four men refused to slow down for almost fifteen minutes. AJ Styles played the Ricky Morton for his team, and refused to say die in the process. When Styles was able to wipe out Daniels, Angle put the finish touches on Kazarian by making him tap out.
It was obvious these four men knew the position they were put in and did the best with the time they had to create a memorable encounter. With the four names involved, it's not too shocking they completed their goal.
9. World-1 International (PAC & Ricochet) & Masaaki Mochizuki vs. Mad Blankey (Akira Tozawa & BxB Hulk) & Low Ki (Dragon Gate USA "Mercury Rising 2012"; Mar. 31st; Miami Beach, FL)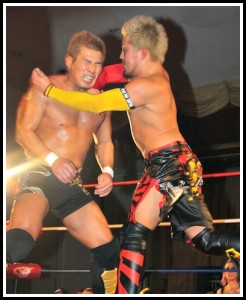 As per every "Wrestlemania" weekend since 2006, the men of and associated with Dragon Gate come together to deliver a Six Man Tag classic. This year featured less Japanese imports, but more of a story heading into bout instead of just being a highly anticipated exhibition like previous years. One night earlier, Low Ki bested PAC; as did Tozawa to Mochi. Though he is respected on the Indy scene, Ricochet came in with something to prove. For the bout's majority, Ricochet took and gave a beating. The action was almost fifteen minutes deep when the plateau broke and everyone went wild. Kicking and striking combinations set up double and triple team combinations that would wow anyone and make you believe that what you were watching wasn't real. Tozawa and Mochi continued their war, leading to the end where Akira executed the High Tension Suplex on Mochi to win the bout for his team.
This match definitely lived up to the hype and carried on a wonderful tradition that started six years ago.
8. Austin Aries vs. Bobby Roode (Total Nonstop Action "Destination X"; Jul. 8th; Orlando, FL)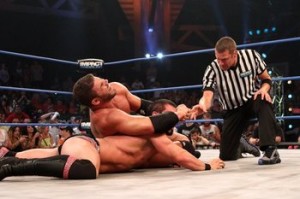 Heading into the event, Austin Aries became TNA's longest reigning X Division champion in history; but the champ wanted more. For Aries, the next step was the TNA World title and its titleholder Bobby Roode. To get the shot he wanted, Aries – who had become quite the fan favorite in TNA – had to relinquish the championship he held longer than anyone in TNA history. Aries came into the building with an extra level of confidence that helped him control the opening minutes of the bout. Using the shady tactics that made him the longest reigning TNA World champion in history, Roode turned the tides and helped craft a story full of old school, babyface/heel heat-grabbing tactics, high impact offense, and emotional near falls until the final bell where Aries' hand was raised in victory.
The joy of the crowd witnessing a moment they thought they'd  never see as Aries clutched his newly won TNA World title definitely gave TNA its moment of the year. But before that, Aries and Roode delivered something truly special that no one saw coming when the summer of 2012 rolled around.
7. Sheamus vs. Daniel Bryan (World Wrestling Entertainment "Extreme Rules"; Apr. 29th; Chicago, IL)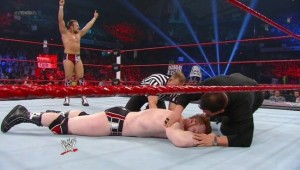 A few weeks earlier, Daniel Bryan entered WWE's biggest show of the year as the WWE World champion. In eighteen seconds, Bryan's world was shattered by a Brogue Kick from Sheamus that ended Bryan's title reign. Knowing that the loss was a fluke, Bryan worked his way into another title shot that would force Sheamus to beat Bryan two times in one night if he wanted to walkout the same way he did at "Wrestlemania" – in a Two Out of Three Falls match.
The first fall centered on the power struggle of both men trying to find a point of interest to utilize their arsenal to attain two victories. Almost fifteen minutes deep, Bryan sent Sheamus left shoulder first into the steel ring post when his patented Lebell Lock didn't put Sheamus away. Locking in the submission again, Bryan used the art of losing a fall to gain one by getting himself disqualified for not relinquishing the hold when Sheamus got to the ropes. Two minutes later, Bryan evened things up by making Sheamus pass out in the Lebell Lock.
Though the arm work was fantastic, Bryan never counted on Sheamus' warrior spirit being the determining factor in Sheamus not losing another fall. With one arm, Sheamus punched, kicked and moved his way out of the horrible situation Daniel put him in. With Bryan dazed, Sheamus unleashed a desperation Brogue Kick to retain his title.
This easily made up for everything that went "wrong" at Wrestlemania as both men told a beautiful story of heart over arrogance, cunning and strategy. If anyone questioned the talent of either man, here's proof that WWE has gold in Daniel Bryan and Sheamus.
6. Undertaker vs. Triple H (World Wrestling Entertainment "Wrestlemania 28"; Apr. 1st; Miami, FL)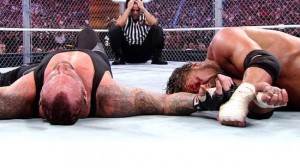 One year earlier, the Undertaker bested fellow WWE veteran Triple H in a match that while Undertaker won, something was taken out of him. "The Man From the Darkside" wanted to prove that Triple H didn't change him as a person thanks to beating "The Game" gave him in Atlanta, GA. When Triple H finally accepted the match, he demanded it be held in the confines of Hell in the Cell. Not only would those two men be in the cell, but also Triple H's best friend and the man whose career the Undertaker ended in Shawn Michaels as the special referee.
It didn't take long before 'H and 'Taker showed how brutal they planned on getting by slamming each other against the steel cell, the metal ring steps, and, of course, their own bodies. As the action became more and more barbaric thanks to sickening chair shots and both men refusing to stay down for the three count, Shawn Michaels showed his want for this bout to end before someone got seriously injured. While Shawn became instrumental in the match's conclusion because of his spot, he also tried to put both men out of their misery through either negotiation or his patented Super Kick.
The Undertaker avenged his "loss" from the year before by beating Triple H to the point where he had to be helped out of the ring – by Undertaker and Shawn Michaels. The match was promoted as "the end of an era." When it was all said and done, the three men involved left it in the ring like never before and bowed out like only three of the biggest names of the last two decades could.
5. Kevin Steen vs. Michael Elgin (Ring of Honor "Glory By Honor XI"; Oct. 13th; Mississauga, Ontario, Canada)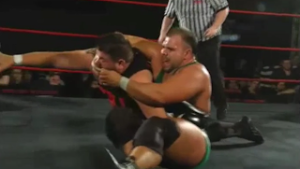 After winning the 2011 "Survival of the Fittest" tournament a year earlier, Michael Elgin found himself in position for a second ROH World title shot after coming up short a few months prior. But unlike his first title shot, Elgin faced a man without honor in Kevin Steen. The crowd was split in support of the first ROH World title match in history featuring two Canadians. The opening minutes symbolized the old phrase "the irresistible force meets the immovable object" as both men tried to plow through the other. So instead of trying to stand and trade blows with Steen, Elgin started tossing the 269 lbs. World champion around like a sack of potatoes.
In amazing displays of strength, Elgin Boss Man Slammed, power slammed, and even delayed vertical suplexed the champion. It would take quick thinking and reflexes to save Steen, and that's exactly what happened as he kicked a turning Elgin into a DDT. This type of action continued from bell to bell with incredible near falls in between. Both men had exhausted their repertoire by the match's end, causing champion and challenger to go super with their finishers. Sadly for Elgin, Kevin Steen was able to hit a super Package Piledriver before Elgin could execute whatever he had in mind, leaving "Unbreakable" broken and unsuccessful in his quest to become the new ROH World champion.
This was an absolutely phenomenal way to cap off what was one of the best ROH shows in 2012. Not only did Michael Elgin have another Match of the Year candidate, but also Kevin Steen proved a lot of doubters wrong by delivering the best match in his title reign thus far. An exceptional match that deserves all the praise it gets with an excellent aura and a big finish.
4. CM Punk vs. Daniel Bryan (World Wrestling Entertainment "Over the Limit"; May 20th; Raleigh, NC)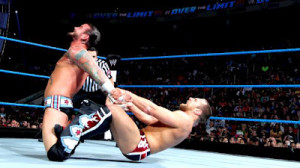 Longtime Ring of Honor and Independent wrestling fans were thoroughly happy when CM Punk and Daniel Bryan not only got signed by WWE, but also became World champions. So when Punk and Bryan found themselves at the top of the WWE world, it was obvious that they would clash like the old days. The difference between their days on the Indy scene and now is the fact that they are worlds better now than they were then. Proof of that came this year as the two men considered by many as the best wrestlers in the world clashed in several matches. But probably none went as smoothly and whet the technical palette of a wrestling fan more than their clash in Raleigh.
It's hard not to call this anything other than art as WWE champion CM Punk and challenger Daniel Bryan worked around the ring flawlessly transitioning from grappling to striking to doing everything in their power to put the other down. The series of moves excited a crowd you wouldn't expect could appreciate such fine wrestling – but it just further proof that talented wrestlers like these two can something no other wrestlers could by doing the exact same thing.
As the match moved past the twenty-minute mark, Bryan found himself in control with Punk stuck in the Lebell/Yes Lock. Using quick maneuvering and leverage, Punk rolled Bryan onto his shoulders so the challenger was being pinned. As the referee counted the unknowing Bryan down, Punk started tapping out. Unfortunately for Bryan, the referee had counted to three in favor of Punk only a millisecond before the champ tapped out.
While the ending left things open for a rematch, it was/is almost impossible for Punk and Bryan to top this beautiful affair.
3. Super Smash Brothers vs. The Young Bucks vs. Future Shock (Pro Wrestling Guerilla Pro Wrestling Guerilla "Threemendous III"; Jul. 21st; Reseda, CA)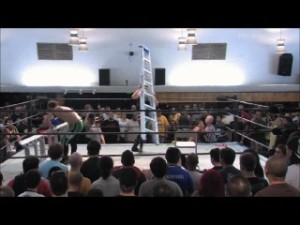 Tag Team wrestling has had a hard time regaining its footing on the major stages since the days of The Hardy Boyz, Edge & Christian, Dudley Boyz rivalry in the early 2000s. During that time, the three teams innovated and made the phrase "TLC" become synonymous with the words "tables", "ladders", and "chairs". On the Indy wrestling scene where men and women try their best to get noticed by putting on the best matches like the aforementioned teams did in the WWF/WWE, three teams went above and beyond during Pro Wrestling Guerilla's ninth anniversary show. The PWG World Tag Team champions Super Smash Bros., The Young Bucks – who the SSB beat to win the belts – and Future Shock of Kyle O'Reilly and Adam Cole met in Reseda, CA to determine the best Tag Team going today in a match where the only way to win was to climb a ladder and grab the belts that hung above them.
Instead of going for the gold immediately, all three teams tried their best to annihilate the other ones with chairs, tables, somersault planchas, double teams, and so many hair-raising moments that someone watching the match would probably have to pause the show and catch their breath. Like their predecessors in the triple team Ladder match history books, all six men looked to create something never seen before. One of those moments included Adam Cole being trapped in an upside-down ladder that was placed in the corner so his partner O'Reilly could be suplexed into the ladder so it crushed the prone Cole. Getting some help from the fans' favorite referee Rick Knox after The Bucks took him out with a ladder, the champs climbed one of the few ladders left in one piece to retain their championship.
If you think any Triple Threat Ladder match you've seen is one of the craziest things in wrestling history, the action and innovation seen here was pure insanity. It's the type of match that you know you'll never see again and actually don't want to because there's now way they, or possibly anyone, can top what happened in front of 400 plus people in Reseda.
2. Hiroshi Tanahashi vs. Minoru Suzuki (New Japan Pro Wrestling "King of Pro Wrestling"; Oct. 8th; Tokyo, Japan)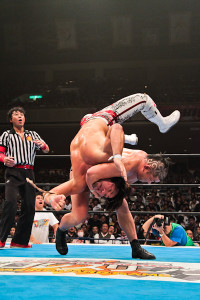 Two of New Japan Pro Wrestling's brightest stars had the opportunity to show the world what they were capable of live on iPPV when NJPW presented their fortieth anniversary show, "King of Pro Wrestling". Tanahashi – who bested Suzuki at the annual NJPW New Year's event – was coming off of a lost in the G1 series to Suzuki; thus earning Minoru his shot.
It was obvious in the early going that Tanahashi wanted to get into Suzuki's mind by mocking him after taking the challenger to the mat, but the champion eventually found himself in a world of hurt when Suzuki targeted his left arm. The champ paid Suzuki back with a dragon screw leg whip that wrenched the challenger's right leg. From that moment on it became a game of chess as both men did their best to make the other submit by wearing their opponent's injured limb. The crowd rose with each successful limb-based attack and every near submission. By the final minutes, both champion and challenger were like the walking dead. Taking away his ability to kick out by using a  dragon screw leg whip in the ropes, Tanahashi executed two high impact maneuvers – a cross body block off the top and the frog splash – that focused on the usage of his body to crash into Suzuki's prone frame and pin his challenger in one of the toughest defenses of his latest reign.
The match is a masterpiece to say the least. Both men made everything look and feel special by focusing on what worked and not trying to build up a series of near falls. For over twenty minutes they brutalized a single point of interest in hopes of securing a submission, but Tanahashi won because of a simple action Suzuki could no longer do thanks to the leg work – a kick out. There's no reason for you not to see this match.
1. Davey Richards vs. Michael Elgin (Ring of Honor "Showdown in the Sun – Day Two"; Mar. 31st; Fort Lauderdale, FL)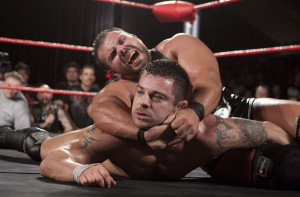 I honestly don't know if I could write anything here better than I did when I recapped the event shortly after it aired. This is from the April 7th edition The ROHbot Report: Winning his Elimination match less than a day earlier, Davey Richards found himself in the ring with "Unbreakable" Michael Elgin and the grim possibility that Elgin had all the tools to stop Richards. The champ knew he had to take Elgin out of his game early, and did just that by taking the fight to Elgin rather than try to test himself against the big man as seen in Davey's past matches against Elgin. Uncharacteristically, Davey got ahead of himself by scaling the ropes when Elgin wasn't hurt, getting tossed to the canvas. It wasn't long after the first bell sounded that Richards was fighting behind thanks to Elgin's power and ability to close the distance on Davey every time the champ made a rush for something.
Richards manned up after Elgin mockingly forearmed him, firing off with some strikes that dropped Elgin due to their accuracy. What would become the story of the match, Elgin fired himself up, countering Richards' strikes and suplexes with impressive displays of agility (an enzuguri) and well-timed power attacks (the fisherman buster on the floor to stop Richards' running kick off the apron). Elgin realized that if he wanted to win, going for broke was a necessity. Sadly for Elgin, Davey realized the same thing.
The two warriors met in the ring's middle, exchanging kicks and knees. Elgin was rocking Davey with side slams and crossfaces, but the champ refused to say die. The ebb and flow of the battle had the fans going crazy, and truly believing history in the making was near – in the same way Tyler Black turned the fans in his favor during his "Take No Prisoners '08" match against Nigel McGuinness for the ROH World title. As Nigel exclaimed that the back and forth display of attrition was everything the ROH World title represented, Davey was doing everything in his power to avoid the Spiral Bomb. But little did Davey know, the Bomb was inevitable. To the shock of everyone, Davey kicked out right before the three count. Elgin kept his composure, turning his failed pin into the crossface again.
As the chants of "Please don't tap!" rang out in favor of Richards, Davey countered the crossface with an Ankle Lock. Nigel vocally expressed the same emotion everyone was feeling as crowd stood in anticipation for a successful submission. Once again, Elgin defied the odds by rolling through. When Elgin got up, his legs gave out on him. Davey turned to see this, kicking Elgin on the jaw like he did Eddie Edwards to win the ROH World title … for a near fall! Elgin hastily rose to his knees, spitting in Davey's face. This act of defiance became Elgin's last battle cry as Richards discus buzz saw kicked his way to another hard-fought victory.
In the end, Richards vs. Elgin was the epitome of a star-making encounter, and most importantly, what ROH is all about. Elgin brought out the best and most unique Davey Richards we've seen in quite some time. In all honesty, all the words can't describe the greatness Richards and Elgin produced in a little over twenty-five minutes. This is pro-wrestling at its finest and Michael Elgin's breakout performance.