Slowly but surely, Absolute Intense Wrestling has been making a name for itself on the Independent wrestling scene thanks in part to the company's fantastic women's division. With long-time Midwest competitor Mickie Knuckles as AIW's Women's champion, the AIW fans wanted to see the match over three years in the making – Knuckles vs. the self-proclaimed "Queen of Wrestling" Sara Del Rey.
The AIW's Women's championship wasn't only on the mind of Knuckles and Del Rey, but also women like Chest Flexor Industries' Allysin Kay and her opponent scheduled for a Number One Contender's match in Cherry Bomb. Can the women deliver when all eyes are on them, or will AIW's fifth "Girls Night Out" offering be an under-whelming affair?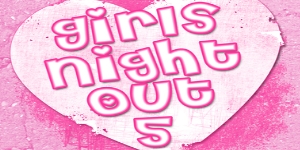 Girls Night Out 5
January 29, 2012
Cleveland, OH
1. Marti Belle defeated Mia Yim
2. KC defeated Luscious Latasha
3. Crazy Mary Dobson defeated Miss Heidi
4. Gabby Gilbert defeated Angeldust
5. Veda Scott defeated Kimber Lee
6. Mia Yim defeated Allysin Kay in a #1 Contender's match
7. Mickie Knuckles defeated Sara Del Rey to successful defend the AIW Women's Championship
Right:
We're Two Best Friends: Chest Flexor Industries representative and all-around "Blasian Sensation" Mia Yim had the opportunity to open the show against her real-life friend Marti Belle. Shockingly, Belle's legs and submission skills grounded Yim during the opening minutes. But it was Mia's kicking ability that turned the tides. For those who haven't seen a Mia Yim match, you must understand that Yim's kicks are as sickening as a right hand from Chuck Liddell circa 2004-2006. Belle survived the onslaught of kicks and holds targeting her left arm long enough to lure Yim into a roundhouse kick of her own. The pace quickened, giving Belle a chance to kick, bulldog and hurricarana in position for her double underhook X-Factor she calls "The Hells Bells" to pick up a somewhat stunning three count.
After the match, fellow Flexor Industries member Allysin Kay attacked Yim – causing a furious Mia to be dragged to the back (and unknowingly setting up something big for later in the night). A really good opener that saw an ending that came out of nowhere. Yet that didn't take away from the action occurring beforehand Yim and Belle obviously had chemistry, setting a fabulous tone for the rest of the night.
Keeping it Luscious: Luscious Latasha made her return to the States after a stint in Japan to take on KC in her second AIW match (her first was a losing effort at the previous "Girls Night Out"). Though Latasha was coming off a tour of Japan, KC was the one working circles around the Luscious one until KC dropkicked her to the floor and spent so much time playing to the crowd that Latasha was able to recover and stop a dive attempt by clotheslining her running opponent. Latasha's offense centered on wearing out the upper body of KC with kicks and clotheslines. The crowd started getting behind KC as she countered a rear chin lock with her jawbreaker. KC used that motivation to clothesline and bulldog Latasha into Cattle Mutilation. KC positioned the hold perfectly, giving Latasha no option but to tap out.
Nothing spectacular or out of the box, but thoroughly solid and worth the time allotted. Though Latasha was more known and respected heading into this bout, KC did a fabulous a job proving why she deserved to be on the show.
Reborn and Rebranded: Roxxi Cotton, who debuted one "Girls Night Out" earlier, returned to the company with a new name and gimmick as Gabby Gilbert. Talking a mile a minute and having the voice of an oiled mouse, Gabby had the opportunity to take on long-time AIW favorite and Flexor Industries' rival Angeldust. The opening minutes were pure comedy as Angeldust proved to be one step ahead of Gilbert by stopping attempted slaps, using the cris-cross rope running technique to take all of the wind out of Gabby, and a well-timed dropkick to send Gilbert to the floor. Angeldust's attempt at a baseball slide cost her as Gabby caught the incoming legs to swing Angeldust into a Gilbert big boot.
Gabby kept the momentum as members of Flexor Industries came to watch the action. Seemingly wanting to make a statement to Flexor Industries at the expense of Gilbert, Angeldust started fighting back to set up the Code Red. Before Angeldust could get the sure pin, Flexor Industries' Dave Dawson jumped on the apron to distract the referee long enough for Flexor himself to throw powder in Angeldust's eyes. The blinded Angeldust fell into Gabby's crossface, having to tap out seconds later.
A solid match that could've shaved off two to three minutes. Gabby's personality couldn't make up for her lacking offensive variety as she dominated Angeldust. The one thing that must be mentioned is the addition of comedy to their match to differentiate it from the rest of the card worked well.
Looking to Spoil: Combat Zone Wrestling standout Kimber Lee had the opportunity to debut against another relative AIW newcomer in Veda Scott. The action started fast and furious with Lee almost pinning Scott before Veda turned things around with a simple knee to the abdomen. From clotheslines to rope-assisted chokes, Veda kept the pace in her favor while trying to knock the wind out of her opponent. Truly innovative moves like a lung blower on Kimber Lee as she dangled across the middle rope left Lee prone to whatever Veda had in mind.
Fighting Scott on the top rope set up a beautiful missile dropkick from Lee that finally gave her a chance to rally a comeback. Incredible maneuvers like the split into a jawbreaker almost put Scott's shoulders to the mat. Both women started trading submission holds until Scott executed the Mindtrip for a near fall of her own. With the crowd angry that Scott almost won, they started really supporting Lee. The end came when Scott tornado DDT'ed Kimber Lee in position for a front guillotine choke. The DDT portion seemingly knocked Lee loopy and caused Scott to lose her grip of the wobbly neck. Instead of sticking with the potential submission, Scott used what worked best and hit another DDT for the victory.
Right with the opener for best match of the show thus far. While Kimber Lee definitely impressed in her AIW debut, Veda Scott was the true star. Scott has it and showed just how good she is from a wrestling and entertainment perspective during this match.
You're Gonna Get Your Nose Kicked in: The Flexor Industries main lady Allysin Kay had the opportunity to wrestle Cherry Bomb for a shot at the AIW Women's title. Come to find out, Bomb was held at the Canadian border and forced to miss the show. Rather than be handed the #1 Contender spot, "AK 47" was forced to take on a woman she knew all-too well – Mia Yim! The ovation for Yim coming through the curtain was only matched by Mia's temper as she used a double leg takedown to initiate a huge fistfight. It didn't take long for the action to spill to the floor where the now infamous Yim kick occurred that ended with Kay breaking her nose. "AK 47" literally ducked into the kick she hoped would hit the steel ring post.
Blood started seeping from Kay's face as she tried to pay Mia back by kicking and kneeing her over and over when the action returned inside. Yim, refusing to be denied, kicked back and almost suplexed Kay through the ring. The strikes of Yim left Kay even more battered and dazed, giving Mia a chance to hit that always-impressive Sky Yim (Mia's Sky Twister Press) to pin her former stable mate and earn a shot at the AIW Women's champion in the near future.
It's hard to say whether or not the broken nose caused this match to go only five minutes, but what can't be denied is the high level of intensity shown by both women during that time. They didn't hold back and the crowd loved every minute of what they saw.
The Match Three and a Half Years in the Making: During the summer of 2008, Sara Del Rey clashed with then TNA Knockout Mickie "Moose" Knuckles that concluded with Knuckles breaking her leg and eventually losing her job in the company. Knuckles got surgery, rehabbed and came back better than ever to win the AIW Women's title. Though Knuckles is known for her Deathmatches and being a "Walking Episode of Cops", Mickie had no trouble grappling with the self-proclaimed "Queen of Wrestling". It was obvious Del Rey was getting tired of being made fun of while being caught in holds (butt bongos, anyone?). Del Rey grabbed the microphone; reminding Knuckles of what she did the last time they met, angering the champion. Knuckles turned this wrestling match into a brawl.
Just when it seemed the champ was in complete control, Del Rey caught an incoming arm to yank her through the ropes. The left arm-focused attacks left Knuckles on the mat and the fans chanting in support of their champion. Del Rey took pride in her ability to flip the pro-Knuckles crowd off with Mickie's own hand during a failed submission attempt. But Sara's cocky nature cost her as Knuckles turned Del Rey's insulting kicks to turnbuckle power bomb her. With one arm, Mickie had no choice but to use kicks as the base of her offensive counterstrike. When Sara tried to respond with a kick of her own, Knuckles ducked the strike to Pumphandle Power Bomb Del Rey for the pin fall victory.
Fantastic way to kick off this show. Though Sara Del Rey is known for being one of the best wrestlers in the world, Mickie Knuckles is no slouch either. This match was a wonderful mixture of grappling, striking, and heart displayed by the champion who had to rally back after Sara's debilitating arm work.
Wrong:
Cool Stuff Can't Make Up For This: Miss Heidi had the opportunity to take on a Mad Man Pondo student in "Crazy" Mary Dobson in an "Absolute Opportunity" match where the winner would get future bookings in the company. Rather than follow her trainer's repertoire by going hardcore, Dobson looked to knock Heidi down. What seemed to be something starting off well quickly deteriorated as both women tried to impress. They did not. Sloppy springboard cross body blocks, sunset flips, and submission holds were the norm. Their attempts at innovation turned into horrendousness (like Heidi's reverse Roll of the Dice/Last Rites maneuver). The match mercifully ended with Dobson hitting a moonsault from the top rope, almost breaking her jaw on the bottom rope while crashing on Heidi's knees for the three count.
Announcer Aaron Bauer said something that perfectly represented what this match was, "This ain't the smoothest match I've ever seen in my life…" Not a good match at all.
Is It A Classic: One important note about this show is how fast it goes by. Excluding the "Guys Night Out 3" matches put on the DVD as "extras", the show barely clocks in at two hours. But as it's always said, quality over quantity. And AIW's fifth iteration of showcasing the company's strong Women's division proved how much quality is in the company. You have a great main event, a bloody brawl, and some enjoyable battles on the undercard that didn't match the action that preceded or followed those matches. If you're a fan of women's wrestling, or quality wrestling no matter the gender, this is a show worthy of being seen.