Background: It as originally scheduled to be AJ Styles defending his X-Division title against Kid Kash, but Kash broke his ankle and was taken out of the match. In a big surprise, Jeff Hardy replaced Kash to face Styles in a then-modern day dream match for the X-Division title.
NWA-TNA PPV #99
Nashville, TN
June 23, 2004
AJ Styles vs. Jeff Hardy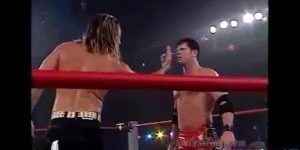 After playing to the boisterous crowd for a few seconds, champion and challenger locked up to test each other's grappling abilities. The fans started to become vocally pro-Hardy as AJ initiated a fistfight. Hardy showed just how hard he could hit by leveling the champ with a flying forearm that gave him a near fall. Challenging Styles to a knife-edge chop exchange, Styles kicked his challenger down prior to setting up the high-low-dropkick combo. A vocal minority was booing Styles as he went for the cover. AJ's plan to work over Jeff's left leg worked against him as he was knocked to the floor in preparation for a Hardy plancha. When the action returned to the ring it became obvious Hardy wasn't used to the six-sided ring as he bounced off the ropes hard after coming out of the corner, putting himself in position for a springboard flying forearm. Firing back, Hardy was able to slam the champion in position for the Swanton Bomb. Styles stopped the challenger's patented maneuver, putting Hardy in position for a superplex. Instead, Styles felt the Whisper in the Wind. And just when it seemed Hardy was on the verge of winning, Kid Kash and his protégé Dallas (Lance Hoyt/Vance Archer/Lance Archer) attacked both men to cause a no contest. Hardy and Styles eventually teamed up to beat their attackers with chairs.
Winner: No Contest (6:58)
Is It A Classic: Well, it was a match. That's not to say Styles and Hardy didn't try, but they had so much working against them including no build and, most importantly, a lack of time. It just felt like they were doing moves in a rushed manner because they knew they couldn't get double or even triple the amount of time necessary to turn a dream match into a memorable reality. This is a pretty disappointing way to not only bring in Hardy, but also deliver on something fans never thought they'd see up to that point.