Background: After successfully defending the WSU Championship against Alexa Thatcher and Melissa Stripes, the retiring Alicia joined her rival (and self-professed "real-life best friend") Becky Bayless to hand over the title to Bayless. Before the title change could be officially sanctioned, Tammy "Sunny" Sytch arrived to settle some unfinished business between with Alicia. Attaining a wrestler's license, Tammy was ready to do the right thing and beat Alicia. It would take the entire WSU locker room to stop the exiting Alicia, giving the fans another title match for the evening.
The Alicia Retirement Show
Lake Hiawatha, NJ
December 22, 2007
Alicia vs. Tammy Sytch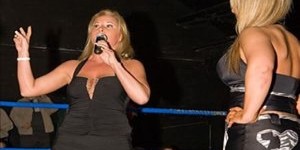 "Primetime" Amy Lee forced Alicia into the ring, leaving her prone to a roll up. Sytch was fighting off both Becky Bayless and Alicia. Stunner on Alicia by the former Sunny gave her the chance to pin Alicia … to become the new WSU champion!
Winner: Tammy Sytch (1:23)
Is It A Classic: Not at all. Two moves and that was it (though it's worth noting Alicia had just wrestled a hard-fought match). WSU probably would've been better off letting Becky be handed the title. But hind set is twenty-twenty. Not matter what happened during the shows that followed (Sytch never defending the title before vacating it), it still doesn't make this match worth seeing.