Background: One year earlier, Amazing Kong made her SHIMMER debut, defeating potential company main eventer and star in the making, Nikki Roxx. The end result was a valiant effort by Roxx that resulted in a big loss. Kong would go undefeated for the next year while Roxx recovered from the loss and started picking up win after win. But the ghost of her past still haunted Nikki Roxx.
Shimmer Volume 14
July 1, 2007
Inverness, FL
Amazing Kong vs. Nikki Roxx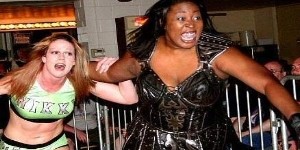 Kong immediately grabbed a chair upon entering the ring. Learning from their last match, Nikki realized that the only way to stumble Kong is to get the jump on her. But even with the hit & run tactics, Nikki couldn't contend with the power or head scissors of Kong. Amazing Kong, seeing that she had everything under control, just toyed with Roxx. This would come back to haunt the monstrous competitor, getting caught in a sleeper hold that seemed to be an answer to significantly halting the onslaught. Kong broke free of the hold, crushing the referee in the process.
With no official, Kong began to beat Roxx with chairs. By the time the ref got up, Kong had done a lot of damage. Somehow, even after the Implant Buster, Roxx was able to block the Awesome Bomb and small packing Kong … for a near fall!
Nikki Roxx blocked the Amazing Press, sending Kong to the floor before using the steel ring post to her advantage. Kong's right arm was caught between the post and Roxx, giving Nikki something to work on. Instead of staying with the arm, Nikki began hitting any big move she could think of – including the Polish hammer and the stunner. This weakened her opponent enough for Roxx to actually body slam Amazing Kong!. It's the female version of Hogan-Andre. But that slam took just as much out of Roxx as it did Kong, allowing Amazing Kong to unleash that spinning back fist when Nikki tried to get Kong off of the mat. Kong came off the middle rope, crushing Roxx with the Amazing Press to remain undefeated in SHIMMER.
Winner: Amazing Kong (14:42)
Is It A Classic: Their first encounter was a one-side thrashing. This rematch featured Nikki gaining a lot more offensive (especially during the match's latter half). It made for a true David vs. Goliath affair where Goliath was able to overcome the fiery onslaught of her opponent and keep her undefeated streak intact.