Background: At SHIMMER Vol. 18, Ariel defeated the debuting Cat Power. Their rematch saw an injured Daizee Haze officiate the bout.
SHIMMER Volume 27
Berwyn, IL
November 8, 2009
Ariel vs. Cat Power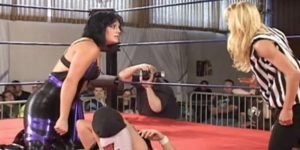 Referee Haze had to reprimand Cat Power's tactics early as Power clawed Ariel's face & back until Ariel reversed an Irish whip to clothesline her opposition. Power threw her knees up, blocking the big splash for a two count. Power's side Russian leg sweep also gained a near fall. In a great show of strength, Power body slammed Ariel to a nice ovation. Power had Ariel stuck on the mat in a rear chin lock. Ariel snap marred her way out of the hold, but ended up being dropped again. Haze was proving to be a very good referee as she kept close to every submission Power locked Ariel in to make sure she didn't submit. Power started unleashing knife-edge chops. Daizee stopping Power's attack in the corner allowed Ariel to fire off some right hands. Power halted Ariel's momentum, but not for long as Ariel started throwing forearms to set up the Three Amigos for a near fall. Power stopped the Dariel, hitting the Cat Nap to even the score between the two.
Winner: Cat Power (9:40)
Is It A Classic: A solid undercard bout that wasn't special or spectacular.