(Important Note: All albums are listed in chronological order by its release date)
Sun Kil Moon – Benji (February 11)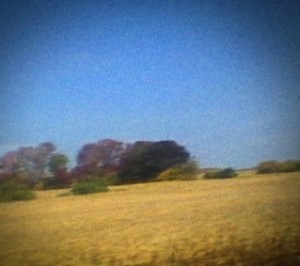 People are born, people have sex, people become emotionally invested in other individuals and circumstances, and, obviously, people die. The last subject is what makes "Benji" what it is. The man behind the "Sun Kil Moon" banner – Mark Kozelek – hasn't been very politically correct over 2014, but his music goes beyond the controversy and focuses on something we all can relate to in one way, shape or form: death.
The lo-fi, guitar-heavy album immediately confronts mortality with "Carissa" – a tribute to his deceased cousin who passed away similarly to his uncle; though his memories of her aren't as profound as he would've hoped upon making the song. But Kozelek doesn't try to single out his own life's tragedies to express his woeful lack of coming to terms with poignant deaths. "Pray for Newtown" is an obvious look at what happened in the Connecticut town when a class of kindergarteners was murdered. Thankfully the album isn't all tears and lost lives. Kozelek mixes things up with "Dogs" by talking about his sexual exploits in great detail. But no matter how hard he tries, it seems Kozelek can't get away from the grim reality that life does come to an end – a reality he admits he won't be able to handle when his mother passes in "I Can't Live Without My Mother's Love".
The thing that makes Sun Kil Moon's latest effort so powerful is the fact Kozelek doesn't try to make himself come across as wiser or more learned from these experiences – he's just a simple musician trying to understand how existence works while telling his story for everyone to hear. "Benji" is an album that not-so-simply embraces the frailty of life and the memories that either fade or remain strong until the person with the experiences meets his or her inevitable end.
St. Vincent – St. Vincent (February 24)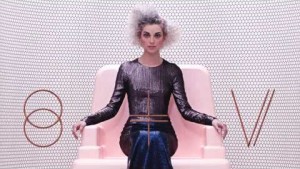 It's very odd to find a musician create a self-titled album some four LPs deep in one's career. But for those who have followed Annie Clark (the person behind the "St. Vincent" persona) and her music, it's pretty obvious "conventional" and "normal" aren't adjectives best associated with her. Throughout her career, Clark/Vincent's sound has mixed the "popular" sound pop musicians have mastered with incredible guitar playing and, at times, oddly experimental. "Experimental" is a good way to describe "St. Vincent" the album.
Kicking off with "Rattlesnake", it's obvious this isn't the type of album one can just sit back and groove out to; yet the robotic, techno nature of "Rattlesnake' is rather addicting. In reality, the slithering of a snake heading toward its prey is a perfect analogy when looking at "St. Vincent". It lulls you into a false sense of security, then strikes. Adding her guitar skills to the following songs and some synthesizing throughout, the whole snake effect is heightened. But Clark doesn't lose the smooth, almost too quiet soul that made her popular even on the smallest scales. Songs like "Prince Johnny" and "I Prefer Your Love" are low tempo, almost haunting as she croons about self-destruction (on both ends of fishbowl) and the unconditional love shared between a mother and daughter respectively. The lyrical content found in "St. Vincent" range from Clark scrutinizing society's recent need to expose everything to the world (mostly through social media) to the simple mysteries of love. It's always great to see an artist test the boundaries of their own creativity while staying true to oneself and his or her audience – especially when an album as wonderful as "St. Vincent" is produced.
CunninLynguists – Strange Journey Volume Three (April 1)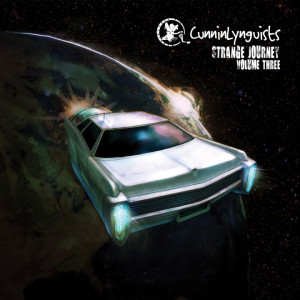 The Kentucky trio Kno, Natti and Deacon the Villain (and former band mate Mr. SOS) returned on their half-a-decade long trek of albums – aptly-titled the "Strange Journey" series – to deliver their first album in over three years. Unlike the previous "Strange Journey" albums, the third iteration comes across as a full-blown release rather than a glorified mixtape (mostly thanks to the hype the band attained thanks to their last LP, "Oneirology"). Producer Kno hits a new level of excellence with his abilities to put a unique stamp on each song.
Look no further than the summer fling-inspired "South California" where the haunting chorus simmers over the song like heat waves floating from the pavement two love birds are walking on. Love and loss, music distribution formats, drunk dialing, the proverbial light at the end of a very dark tunnel, and more are all touched upon; including the terrible ideals and lifestyle choices instilled by entertainment figures through hilarious skits featuring the computer system "Miley 3000".
Another notable feature of the album is the guest features themselves. Almost all of the songs have guests joining the masterful trio. Unlike most albums that get bogged down by extra voices, each guest adds something unique to the tracks without outshining core. "Strange Journey Volume Three" is just like space itself – dark, desolate, rather intimidating, but holds an unmitigated amount of beauty that reflects the depths of one's soul.
Pharoahe Monch – P.T.S.D. (April 15)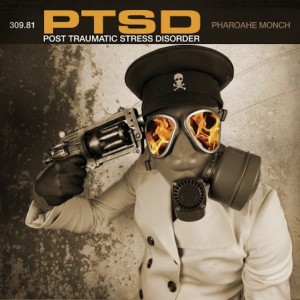 For many, Pharoahe Monch's rise to the top concluded in 1999 with his smash hit "Simon Says". But the New York rapper hasn't just been doing his thing since his first solo album – the man who made Godzilla tremble has released two more LPs since "Internal Affairs". Until 2014, Monch's latest mark on the rap world was a pro-revolutionary/enlightenment record entitled "W.A.R. (We Are Renegades)".
Taking what he started in "W.A.R.", Monch raps about mental illness and the lack of understanding/acceptance of the disease in the African-American culture, addiction (both known and subconscious as perfectly displayed in the apparent Jimi Hendrix-influence "Heroin" where the character portrayed by Monch is angered and almost belligerent about his missing Marlboro cigarettes), government surveillance, and even the fluff-fication of rap (with the latter producing one of the best songs on the album, "Bad M.F.") over bombastic beats only someone from New York could master. "P.T.S.D." is raw, visceral, enlightening, and, at times, incredibly amusing even if that humor is produced through a sarcastic, scathing manner.
Monch's latest release isn't made for those who want to just sit down and hear music. This is the type of album that demands you to stop, listen and look around and within to discover something truly frightening that could be helped or hampered by the actions of an individual.
Nitty Scott, MC – The Art of Chill (May 23)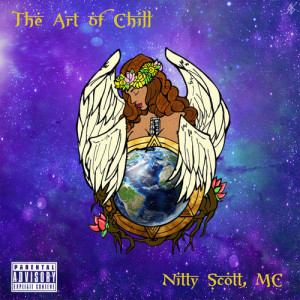 "Born in Michigan, made in Florida, paid in New York," is the way Nitty Scott, MC describes herself, and, essentially, her life up to this point. For many admirers of the self-proclaimed "progressive hip-hop artist", Nitty represents a day gone by in the rap industry. Nitty doesn't rely on her good looks or the standard mainstream female rap tropes that has seen the most talented female rappers be typecast and pigeonholed to make her mark. Nitty Scott is a true microphone controller through and through; spitting with venom on her first EP, "The Boombox Diaries". But Nitty had a greater story to tell through her music and "The Art of Chill" was promised to be the beginning of a new stage in Nitty's career.
One of the brightest spots of the album is how dark it actually gets in the middle of its chillness. Through various interviews and videos, the lyricist revealed her troubled childhood and upbringing that could've resulted in her becoming a negative statistic. Nitty, rather than hide behind glittery, "girly" music glorifying misogynistic tales, embraces her past and creates songs relatable to both women and men. No better example of Nitty not holding back when telling her life story is the "You Can't Blame Me"-sampled "Gone Girl" where Scott recaps her travels from a dysfunctional home to almost succumbing to the temptations of potential fame.
But "The Art of Chill" isn't just about Nitty's life. Scott raps about several subjects including the greater consciousness that we're all a part of (featuring a snippet from the late Bill Hicks' standup), growing beyond conditioned religious and spiritual beliefs, and simply chilling. It's the type of album that a person continuously learns something new every time he or she listens to the it – not only about Nitty Scott, but, hopefully, about one's self. If Buddha or Gandhi were alive today, they would be playing this album constantly.