Background: Following the head injuries Mark Briscoe sustained while attempting to defend the ROH World Tag Team title alongside his brother Jay, The Briscoes were forced to vacate the championship – with Ring of Honor opting to hold a one-night tournament to crown new champions. Having defeated the tandems of Delirious & Pelle Primeau and Roderick Strong & Davey Richards respectively, Jimmy Jacobs and Tyler Black faced fellow "Bracket B" duo Austin Aries and Bryan Danielson not long after The Age of the Fall faction headed by Jacobs kidnapped and emotionally and/or mentally scared Aries' girlfriend, Lacey.
Up For Grabs
Hartford, CN
June 6, 2008
The Age of the Fall vs. Bryan Danielson & Austin Aries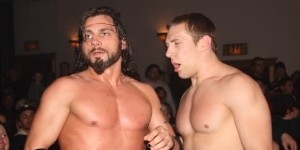 Furious, Austin Aries immediately went after a fleeing Jimmy Jacobs. Jacobs grabbed a chair in hopes of crowning Aries, only to have the chair taken from him by the former ROH World champion. Bryan Danielson couldn't stop his partner from cracking Jacobs on the head with the chair, causing a disqualification in favor of The Age of the Fall. Wow.
Winner: The Age of the Fall (0:54)
Is It A Classic: That was totally unexpected. Sat down in preparation for a nice, potentially long tag team war. Instead, everyone witnessed the advancement of a major storyline undercut what should've been a pretty memorable match.