Background: After Rob Van Dam shockingly won the Total Nonstop Action wrestling's World Championship from AJ Styles a month earlier, TNA fans were given the opportunity to vote for who they wanted to see face the champ in the main event of TNA's anniversary event, "Slammiversary". The fans wanted to see two legends face off by voting for "The Icon" Sting to take on "Mr. Pay-Per-View".
Slammiversary 2010
Orlando, FL
June 13, 2010
Sting vs. Rob Van Dam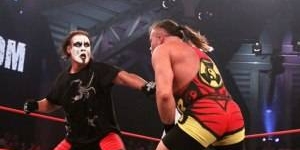 Stern collar & elbow tie up saw Sting shove the champion into the ropes and, eventually, out of the ring so this grappling match could turn into a crowd brawl. The referee tried to reprimand Sting, only to leave the challenger open for some Irish whips against the barricades and the building's back walls. Sting finally brought the action back to ringside following a back drop on the floor and some more crowd brawling, but refused to reenter the ring until he had Van Dam flailing for some space. Not one, but two Stinger Splashes connected … for a near fall in the challenger's favor!
The champion punched his way off the mat, ducking a clothesline before taking himself and Sting down via the spinning heel kick. RVD rallied to his feet, throwing clotheslines and kicks to keep Sting reeling. Springboard cross body block missed for Van Dam, causing a collision between the champ and the referee. Sting, now in control, was able to beat RVD down with that trademark black baseball bat. Before more damage could be done, Jeff Jarrett came to the ring to take the bat and beat Sting with the weapon. RVD took advantage of the interference, using Rolling Thunder … to gain a two count!
Van Dam couldn't believe that Sting kicked out of his follow up pin, let alone avoid the rolling monkey flip. Sting cornered Van Dam for another Stinger Splash attempt. This time RVD was ready, moving at the last second. Stumbling, Sting was prone to the wild kick from Van Dam. The champion quickly scaled the ropes, executing his 5-Star Frog Splash to pick up the victory (though Sting lightly kicked out before the three count).
Winner: Rob Van Dam (10:53)
Is It A Classic: What started off fine quickly deteriorated into another unnecessarily booked TNA World title match. Neither man looked great coming out of this match as Jeff Jarrett came across as RVD's savior rather than a dispenser of justice. The crowd, while not entirely into the match after the brawling, instantly deflated just like any viewer who just got robbed of seeing two of the best from their generations fighting for superiority. Pass on this match.