Background: After many years of being in the same, various companies, former WWE Diva Serena Deeb had the chance to prove her superiority over the woman who refused to wrestle any opponent lower than main event caliber, Rain.
Alicia vs. Havok III
August 6, 2011
Union City, NJ
Serena Deeb vs. Rain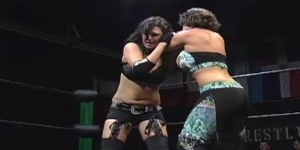 A stern collar & elbow tie up started a feeling out process that saw both women trading holds in an effort to gain a solid advantage. Rather than rely on her natural skills, Deeb threw the first dishonorable blow by turning an arm bar attempt into several leg drops aimed at her opponent's face. Deeb topped her questionable actions after Rain landed awkwardly on her left leg during a leapfrog by clipping the back of Rain's hurting limb. Deeb, showing tremendous strength, deeply locked Rain in the stretch muffler/horse collar. "The Radiant" Rain had to claw her way to the ropes, but found no haven as Deeb held onto the submission until the four count; stomping and kicking Rain's potentially injured appendage before she could move. Showing great fortitude, Rain used her right leg to kick Serena away during Deeb's figure four leg lock attempt. This counter gave Rain the chance to Irish whip Deeb left arm first against the steel ring post!
Both women were working with hurt limbs, giving Rain the chance to turn the tides in her favor. Like her opponent, Rain was using the ropes and the referee's count to her advantage; wrenching Deeb's arm with illegal maneuvers. After another Irish whip, the former WWE Diva avoided an incoming Rain, exploding with the Spear. The attack downed both women thanks to Serena having to use her bad arm and shoulder to execute the Spear. After almost a double count-out, Serena exploded off the mat with right hands aimed at Rain's face. Deeb's Virginia jabs almost knocked Rain out, but "The Radiant" opponent was still fighting through the pain. Even Deeb's single knee gut-buster couldn't put Rain away. Serena screamed in preparation for another attack when Rain caught her with the double knee arm breaker … to gain a near fall!
Rain couldn't believe it; looking to Irish whip Deeb into the ropes after collecting herself mentally. The intended action gave Serena a chance to slip behind an unsuspecting Rain on the rebound. Rain turned around, taking a big Spear. This time, Serena was able to cover her downed opponent, picking up the three count.
Winner: Serena Deeb (12:22)
Is It A Classic: A fantastic technical battle that could've come across better if it happened in front of a more enthusiastic crowd. The fans sat on their hands though both women were giving them gold. A very good first-time encounter between two standouts in women's wrestling during America's Joshi revolution.