Background: Only a few days before defending the WWE Undisputed Championship against The Undertaker, Brock Lesnar took on then-WWE newcomer John Cena in their first one-on-one bout with non-title implications.
Smackdown
Colorado Springs, Co
September 17, 2002
Brock Lesnar vs. John Cena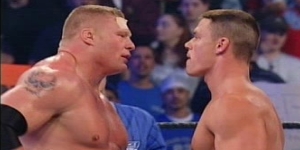 The much bigger Lesnar easily tossed an equally jacked Cena around after the initial collar & elbow tie up. With a smile on his face, the champ demanded John Cena bring some kind of fight. When Cena tried, Lesnar overhead belly to belly suplexed him. Lesnar was almost effortlessly pounding the back and midsection of Cena as the Newbury native struggled to the ropes to save himself. Stuck on the mat in a waist lock, Cena realized he had no choice but to elbow his way to freedom.
The strategy didn't work as Lesnar not only German suplexed him, but also kicked him over and over again. As Lesnar's manager Paul Heyman asked for his client to pick up the pace and avoid an Undertaker thrashing after Lesnar had scared 'Taker's wife into premature labor minutes earlier. Heyman's giving of advice allowed Cena to recover and kick the turning Lesnar in position for a crucifix. Lesnar, refusing to fall, leaned forward so John could land across his shoulders for Brock's F-5 finisher. Of course, the match was over.
Winner: Brock Lesnar (5:50)
Is It A Classic: Just a slaughter by Brock. And this wasn't the same entertaining beating seen in future matches, but a typical squash featuring one main eventer and the future face of WWE.