Background: CHIKARA Pro Wrestling made its internet pay-per-view debut in November 2011 with a main event that saw the crowning of the company's first singles champion. After surviving a rigorous tournament, CHIKARA mainstays Mike Quackenbush and Eddie Kingston earned their right to determine who will be CHIKARA's first Grand Champion.
"High Noon"
November 13, 2011
Philadelphia, PA
Mike Quackenbush vs. Eddie Kingston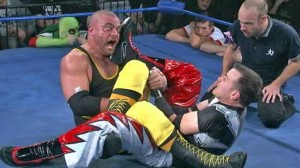 Big fight atmosphere to say the least. An intense lock up ended in a stalemate when both men rolled into the corner. Kingston was noticeably limping when they broke clean. Rather than go hold for hold with the always-quick Quackenbush, Kingston used a simple shove, a forearm, or a knife-edge chop to free himself before Mike could drag him to the mat. Big spine buster by Kingston stopped Mike in his tracks, but his knee took away his chance to make the cover immediately after. Quackenbush saw this, tripping Eddie before slamming Eddie's knee on the ring's edge.
Kingston fired himself up, clotheslining Mike onto the apron. When Eddie went for a suplex from the apron into the ring, Quackenbush blocked the attack, yanking Kingston's leg prior to slamming it across the ring apron again. Eddie was almost put down for the three count early after a leg sweep-double knee stomp. The same thing happened just seconds later when Mike buzzsaw kicked Eddie's head not once, but twice. Rather than got for the pin, Mike started wrenching Eddie's hurt leg. Too confident in his positioning left Quackenbush open for a rear naked choke attempt by his opponent. Eddie didn't get a good grip, allowing Quackenbush to free himself and work over Eddie's leg again. Eddie had to claw his way to the rope so save himself.
The systematic dissection of Eddie's right leg was almost sickening as Mike twisted and cranked Kingston's hurt leg in ways it shouldn't be moved. Eddie used his left leg to kick his way off the mat, back elbowing the incoming Mike in the face. Quackenbush's sunset flip set up Kingston for a knee bar, but Kingston was close enough to the ropes to save himself. The fans were split down the middle until Mike uncharacteristically poked Eddie in the eyes to stop this match from turning into a brawl. As Quackenbush contorted Eddie's body, several of the CHIKARA wrestlers came to ringside. Inverted atomic drop and a big boot from Eddie stopped the running "Lightning", but actually put Quackenbush in position to kick the inside of Kingston's right leg, dropping Kingston again. The look on Kingston's face was almost scary as he slapped his way out of a unique leg lock Quackenbush had him in. A huge belly to back suplex-Lariat combination from Kingston turned Quackenbush upside down. Somehow, Mike blocked the follow up Back Fist to the Future, hitting his Black Tornado Slam … for a near fall!
Scaling the ropes, Quackenbush connected with the Swanton, but didn't get the three count. Both men couldn't believe what just happened, as did the crowd. So many people were now at ringside, including Indy legend Reckless Youth! Kingston found himself in the Lightning Lock as the fans begged for Kingston not to tap out. Eddie did just that, making it to the ropes. Quackenbush sat on his knees, wondering what he had to do next. Eddie stopped another Black Tornado Slam, but not the Quackendriver III. To the shock of everyone, Eddie kicked out at the referee's one count!
Quackenbush didn't lose focus, double stomping the prone Kingston's right knee. In hopes of injuring Kingston further, Quackenbush wanted to double knee stomp Eddie's leg from the top rope. At the last second, Kingston moved out of the way, causing Mike to injure himself. Kingston started kicking Quackenbush's legs from underneath him as the fans got behind Eddie. Mike found himself on the top rope, fighting to block the superplex. When Mike gained his balance on the top rope after knocking Eddie to the mat, Kingston unleashed the Back Fist to the Future on Quackenbush's left leg. Mike collapsed to the mat, prone for the Kondo clutch. "Tap, tap, tap!" ran through The Arena as "Lightning" crawled to the ropes.
Both men found themselves trading right hands from their knees. Quackenbush bounced off the ropes after unleashing a slew of strikes, only to run into a Lariat. Backdrop Driver by Kingston dropped Mike on his head! A dragon suplex from Kingston did the same. Eddie screamed out as Quackenbush staggered, hitting a Back Fist to the Future. Mike Quackenbush was still on his feet! Wounding up, Eddie dropped "Lightning" with another Back Fist to the Future. Falling on top of the unconscious Quackenbush, Eddie Kingston gained the three count to become the first Grand Champion in CHIKARA history!
Winner: Eddie Kingston (17:52)
Is It A Classic: It's hard to put into words the emotion anyone watching this match experienced. It was all about the simple story perfectly told in front of a molten crowd that were supportive of the man struggling for retribution in his life, and his career. CHIKARA's first iPPV main event represented all that's great about pro-wrestling.