Background: It would take months of attacks, confusing title changes, and both teams proclaiming to be the true champions before The Steiner Brothers (Rick and Scott) defeated The Outsiders (Scott Hall and Kevin Nash) for both versions of the Tag Team title. This was a rematch to see who was deserving of the Unified WCW World Tag Team Championship.
Superbrawl VIII
San Francisco, CA
February 22, 1998
The Outsiders vs. The Steiner Bros.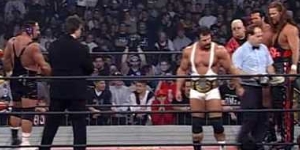 Scott Hall of the challengers came face to face with Rick Steiner after Scott noticeably didn't want to talk strategy; only to throw his toothpick in Rick's face. The action infuriated Steiner, leading to the first Steiner-line of the bout. Hall was already reeling, especially after pounding his fist with right hand. Scott Hall landed on his head following a Rick overhead belly to belly suplex! Kevin Nash tried to come in and jump Rick, but ended up being clotheslined to the floor.
Rick circled his entering brother prior to doing the signature Steiner Bros. pose featuring Scott Steiner standing over his "Dog Faced Gremlin" sibling. All of a sudden, Scott bashed Rick in the back! Scott attacked his brother to a huge ovation! The fans were going crazy as Scott Steiner did the Wolfpac hand gesture before returning to his spot on the apron. Yet, Rick refused to stay down. Rick Steiner was fighting off both opponents until Nash clubbed Rick into his partner's Outsider's Edge. Hall made the cover, winning the WCW Tag Team titles.
Winner: The Outsiders (4:17)
Is It A Classic: This was less of a match and more of a great story told of Rick's toughness after being turned on by his brother. The reaction from the crowd was unreal as another member joined the New World Order, but the wrestling involved will never match the moment that occurred when Scott Steiner began his transformation into the "Big Bad Booty Daddy".