Background: With The Rock looking to defeat her husband Triple H for the WWF Heavyweight Championship, Stephanie McMahon announced the future title challenger would have to face both WWF Tag Team champions (Bubba Ray and D-Von Dudley) in a Tables match.
Smackdown
Boston, MA
March 7, 2000
The Rock vs. The Dudley Boyz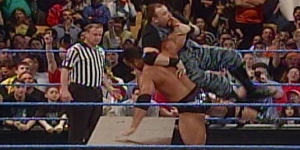 To win, The Rock would have to put both Dudleyz through a table while D-Von and Bubba, obviously, only had to beat The Rock once. The champions tried to get the jump on their incoming opponent, but got caught with several right hands; including one aimed at D-Von's privates. Both Dudleyz felt the power of the ring bell and a steel chair cracking their skulls. Even when The Dudley Boyz tried to leave, The Rock caught them with a pair of clotheslines. As the crowd cheered in approval, The Rock punched D-Von over and over again. Seemingly forgetting about Bubba, Rocky left himself open for a chop block behind his left kneecap.
The Rock was in a bad way, being beaten on until a double team back body drop ended with The Rock kicking and slamming both men. A huge Bubba spear stopped the People's Elbow, taking the crowd out of this match. Rolling to the floor, Bubba Dudley retrieved a table that D-Von helped set up. The Dudley Death Drop failed as The Rock countered with a DDT on D-Von. Jumping off the table, Bubba jumped into the Rock Bottom that sent him crashing through the table!
Rocky exited the ring, looking for a table of his own in hopes of driving D-Von through the wood for a victory. With the table inside, The Rock left the ring to grab D-Von. Bubba slipped behind The Rock, cracking him in the back with a chair. The Rock was dazed and left wide open for a 3D through the table for a Dudley Boyz victory.
Winner: The Dudley Boyz (5:21)
Is It A Classic: Chaotic and wild – a perfect example of that era in wrestling. It wasn't crisp or pristine, but had the fans going crazy from the time The Rock sauntered to the ring until he was driven through the table. Not a classic from a pure wrestling standpoint, but very entertaining.