Background: The was originally supposed to be Arn Anderson teaming with Ric Flair in their rematch with Doom over the NWA World Tag Team title. Flair earned this match by defeating Doom's Butch Reed a month earlier at "Clash of the Champions". Fellow Four Horseman Barry Windham replaced Flair for this title bout.
Starrcade
St. Louis, MO
December 16, 1990
Doom vs. Barry Windham & Arn Anderson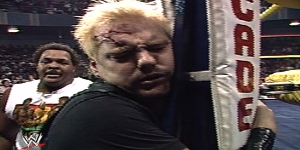 With this being a Street Fight, all four men would, of course, be wearing their street clothes. In Windham's case, that meant a pair of leather chaps. Dey's a clubberin' in Saint Louie, Jimmy! All four men were slugging it out, with Barry hightailing it up the aisle until Ron Simmons slammed him. As Doom's manager Teddy Long watched from the ramp, Anderson tried to whip Simmons with his belt. Instead, Simmons took him down with a belt clothesline to wear Anderson out with Arn's own belt. In the ring, Windham took a big suplex from Butch Reed. Grabbing Barry Windham, Reed slammed Barry face first into the steel ring post to split Windham's forehead. Barry was stuck on the floor, having his face scarred with Reed's belt buckle until he belly to back suplexed Reed on the floor!
In the aisle, "Double A" bashed Simmons in the leg with a chair. Reed was being worked over by both opponents until Ron tried to make the save. Instead, Simmons got whacked in the face by Butch Reed's weightlifting belt. Reed got crowned with a chair. The fans loved every minute of The Horsemen's beat down on Doom. Just when it seemed Anderson had everything in control, Reed busted him open. Doom took control thanks to Reed's flying knee on Windham. Before Simmons could take advantage of the situation his partner created, Windham caught him on the top rope with the Superplex … for a near fall!
Reed sailed off the top, shoulder blocking a rising Anderson. Reed got up, taking a Windham DDT. "Double A" went to crack Simmons with a steel chair, but got clobbered instead. Simmons went for the cover, but Arn somehow kicked out before the three count. Simmons broke free of Barry's grip, clotheslining Anderson. On the other side, Barry used the small package on Reed. The referee started counting both men down … for a draw.
Winners: Draw (7:25)
The fight continued up the aisle as announcers Jim Ross and Paul Heyman tried to figure out what the decision was.
Is It A Classic: While the ending was terrible, everything leading to the finish was excellent. It's the type of brawl you'd show anyone who wants to see some realistic hatred in their wrestling matches. If only it had been restarted and given another ten minutes with an actual winner, people would still be talking about this match.