Background: Looking to blow off some steam after dealing with problems alongside a crazed Randy Savage in their war against the New World Order, Arn Anderson faced relative newcomer to WCW, Chris Jericho.
Monday Nitro
Cleveland, OH
September 30, 1996
Arn Anderson vs. Chris Jericho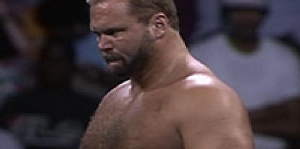 Stern collar & elbow ended with the veteran being shoved against the ropes for a shockingly clean break. Though announcer Bobby Heenan felt Anderson's experience would see Jericho be dominated by the Horseman, Anderson was rocking and reeling in the early going. Anderson forced Jericho against the ropes to save himself from the arm bar, using some shoulder rams aimed at Jericho's abdomen. The strategy didn't work as Anderson took a super kick that sent him to the floor for the flying shoulder tackle.
The only person able to help Anderson was his valet, Woman. Slapping the taste out of Jericho's mouth, Woman left Chris open for Anderson's fists. Uncharacteristically, Anderson jumped off the middle rope, right into a dropkick. Jericho got up ducking wild haymakers prior to throwing a spinning back kick that almost put Arn down for the three count. Springboard shoulder tackle by Jericho dropped Anderson on the apron, as did the flying back elbow when the action returned inside. Jericho was looking for the Lionsault, but took the DDT instead. Three seconds later and Anderson picked up the victory.
Winner: Arn Anderson (5:33)
Is It A Classic: Very good match that was just too short. Anderson and Jericho had obvious chemistry, and could've put on a true classic if given the chance.