Background: This was the continuation of the Mysterio-Malenko battle for cruiserweight dominance.
WCW Monday Nitro
Knoxville, TN
12/30/1996
Rey Mysterio Jr. vs. Dean Malenko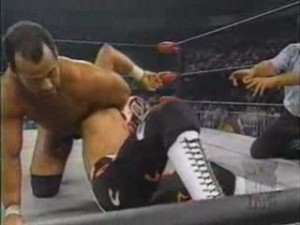 Mysterio showed his technical prowess by actually taking Malenko down and tying him up. Malenko quickly turned the tides, but eventually got tossed to the floor for a head scissors at ringside that forced Malenko to take a moment and regroup. The action stayed close to the mat as both men tried to out-grapple each other. Using his power advantage, Malenko almost flapjacked Mysterio into the lights. Malenko followed that up with a gut-buster that set up some abdomen and leg work on the masked man.
Mysterio not only survived Malenko's holds, but also fought back and hit a springboard dropkick that almost gained him the three count. Sadly for Mysterio, his weakened state allowed Malenko to get up faster than Rey, taking him down with another backbreaker. When Rey refused to submit in the backbreaker, Malenko made a mistake by bringing Rey to his feet and putting him on the top rope. Rey turned a belly to back superplex into a cross body that earned him a two count. Somehow, Rey kicked out of Dean's power bomb counter seconds later. Uncharacteristically, Malenko went to climb the ropes. Rey caught him with a spinning heel kick that knocked Malenko to the floor for a huge senton takedown from the top rope!
Rey rolled Malenko back in for the springboard hurricarana. Malenko countered with the Boston crab, but Rey reversed his counter with a roll up. Malenko kicked out, looking to end Rey with a big maneuver. Once again, Mysterio was able to hit a hurricarana right as the ten minute time limit expired.
Rey asked for five more minutes, but Rey nor the fans got what they wanted.
Winner: Draw (10:00)
Is It A Classic: Mysterio and Malenko couldn't have a bad match together to save their lives, but not every encounter was a classic. This was an example of that as they had another good match that just felt like a notch below their previous battles. They went out there, delivered a fine TV match that got you hyped, but never felt like something special compared to what they've done before.