Background: A few nights earlier, John Kronus attacked "Judge" Jeff Jones. Being a judge and all, Jones hired a, "…judge, jury, and executioner," to give Kronus his punishment – none other than "Sycho" Sid Vicious.
Guilty As Charged
Kissimmee, FL
January 10, 1999
Sid Vicious vs. John Kronus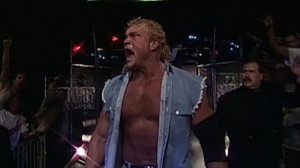 Kronus immediately realized running into "The Master and Ruler of the World" wasn't a wise move as he was choke slammed over the top rope, through a table at ringside! The table exploded upon impact! Grabbing a chair, Sid wrecked Kronus' head and back. Sid rolled Kronus into the ring while the fans loudly chanted, "Power bomb!" Sid didn't make the people wait for long, almost Power Bombing Kronus through the ring for the pin fall victory.
Winner: Sid (1:32)
Is It A Classic: Not at all for its wrestling content, but the atmosphere is almost unreal. You'd think ECW fans would crap all over Sid's appearance and the squashing of one of the men they helped make into a star, but it was like something out of a movie about gladiators in the Roman coliseum. If Sid turned into a lion and ate Kronus, the crowd would've probably lost every bodily function they had.