Background: To continue the rivalry between the ECW World Tag Team champions The Dudley Boyz and Rob Van Dam & Sabu while showcasing the always wild action seen when all four men are involved in a match together, ECW put the Tag Team title on the line in a match featuring both teams in ECW's return to Japan in collaboration with Frontier Martial-Arts Wrestling (FMW).
Hardcore TV
Tokyo, Japan
12/13/98
Dudley Boyz vs. Rob Van Dam & Sabu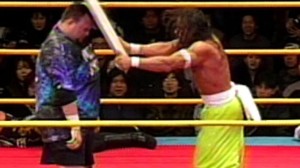 Dey's a clubberin' in Japan, Tony! All four wrestlers spilled into the audience where Sabu and Buh Buh traded chair throws. As they reentered the ring, Sabu used a springboard hurricarana to set up the Arabian press for a two count. When Sabu went for the hurricarana again, Buh Buh caught him before power bombing one of his challengers. D-Von tagged in, laying the bad mouth in. D-Von's mouth got the better of him as Sabu swept D-Von in position for a leg lariat. RVD became the legal man, wearing out D-Von with hurricaranas and kicks. RVD's roll into the monkey flip cost him as D-von moved, executing a neck breaker off the middle rope.
RVD recovered seconds later, kicking D-Von in position for a double team leg drop on D-Von before the challengers hit a double suplex on Buh Buh. Sabu had a hard time attempting the springboard plancha, but eventually hit the maneuver on both champions. Springboard Arabian press by Sabu on D-Von almost gave him the three count. Suddenly, Buh Buh Ray threw a table in the ring that he used to level Sabu. Buh Buh Bomb was used to figure four headlock Sabu instead of pin him. Sabu rolled out of the submission, putting Buh Buh in a camel clutch for RVD's dropkick. The champions rallied back, hitting 3B on RVD … for a two count!
All four men were battling it out until Buh Buh tilt-a-whirl slammed Sabu in position for D-Von's splash. Sabu recovered, using a frankensteiner to send Buh Buh into RVD's Five Star Frog Splash … for a near fall!
Sabu ended up sailing off the top rope to take down the fleeing champions before Van Dam followed his partner's lead. Setting up a table at ringside, Sabu put D-Von on the small piece of wood. Buh Buh saved his brother, only for Sabu to bring the table in the ring. Buh Buh got a hold of the table, crowning Sabu with the item. When Buh Buh Ray turned around, he took a table Van-Daminator. Rolling Arabian Thunder by the challengers … gained them a near fall thanks to D-Von's interference!
D-Von also took the Rolling Arabian Thunder, but rolled out of the ring immediately. Manager Bill Alfonso held D-Von on the table at ringside so Sabu could leg drop D-Von through the table. Sabu grabbed a broken piece of the table, whacking Buh Buh on the head. Sadly for Sabu, it didn't hurt the big man. Superplex soon followed from Buh Buh to Sabu, but not a three count. RVD took a sick power bomb from Buh Buh. Before Buh Buh could go for the pin, Sabu broke a chair over his head. Grabbing another chair, Sabu used the DDT to level Buh Buh. The Dudleyz somehow survived the guillotine leg drop-Five Star Frog Splash combo, but Buh Buh taking a chair Van-Daminator rocked his world. RVD and Sabu quickly made the cover, becoming the new ECW World Tag Team champions.
Winners: Rob Van Dam & Sabu (17:19)
Is It A Classic: Not really. They did some nice moves and stuff, but it just was missing that special something. It's not a bad match at all, and if you can see the bout you won't be thoroughly disappointed, but not incredibly impressed.