Background: In the debut episode of "The Main Event", United States champion Dusty Rhodes defended his championship against Ivan Koloff.
The Main Event
Spartanburg, SC
April 3, 1988
Dusty Rhodes vs. Ivan Koloff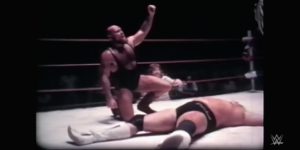 No lock up here as Rhodes stopped Koloff's preemptive strike with a back body drop into the first bionic elbow of the evening. The "U-S-A!" chants were so loud that you could barely hear the commentator as Dusty unleashed his patented strikes that landed both in the ring and out. The first lock up of the match resulted in Koloff getting tossed and his arm wrenched. Getting to the ropes was Koloff, but Rhodes refused to break clean. This infuriated the challenger, kicking Dusty all the way to the floor before slamming him face first against the barricades. Koloff's manager Paul Jones took a chance to bash Rhodes in the face with his riot club. "The Russian Bear" had this one going in his favor as he dragged Dusty into the ring for a leg drop. Koloff had the plan to unleash a flying knee drop when "The American Dream" moved. Quickly locking in the figure four was the champ, causing Koloff to grab the referee. Jones ran into the ring to hit Rhodes as Koloff held, the referee. But Dusty wouldn't be denied as he fought back. Koloff ran into the corner where his infamous chain was draped across the top turnbuckle as Jones jumped onto the apron to distract the referee. The champ took a shot to the throat, falling across the middle rope as Koloff set up for a running splash. Rhodes moved at the last second, slipping out of the ring to knockout Jones before diving off the top rope to pin Koloff with the cross body block.
Winner: Dusty Rhodes (6:38)
Is It A Classic: A fun little bout perfectly made for a TV show debut. While not a classic, it still was highly entertaining in front of a crowd that ate up everything.