Almost one-year prior, Extreme Championship Wrestling made its pay-per-view debut with a historic event. Three pay-per-views later and things had changed greatly. The Triple Threat of Shane Douglas, Bam Bam Bigelow and Chris Candido had partially imploded. The aforementioned Chris Candido broke up his Tag Team champion quality team alongside Lance Storm over Tammy "Sunny" Sytch. Bigelow formed an alliance with ECW Television champion and Douglas rival Taz. And people were begging for Head (and Al Snow, too).
ECW looked to enter the spring of 1998 by giving the wrestling world a historic battle of the beasts featuring Taz defending his championship against hometown boy and former ECW champion Bam Bam Bigelow. Lance Storm looked to settle the score with Chris Candido. And one match was too brutal to air (but did). Lets find out if the minds of extreme completed their goal in creating a classic event.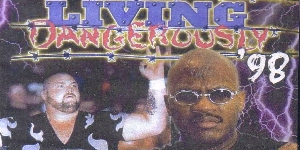 Living Dangerously 1998
Asbury Park, NJ
March 1, 1998
1. Jerry Lynn & Chris Chetti defeated Little Guido & Tracey Smothers
2. Masato Tanaka defeated Doug Furnas
3. Rob Van Dam defeated 2 Cold Scorpio
4. New Jack & Spike Dudley defeated The Dudley Boyz and Axl Rotten & Balls Mahoney in an elimination match
5. Tommy Dreamer defeated Justin Credible
6. Bam Bam Bigelow defeated ECW TV champion Taz to win the title
7. Sabu defeated The Sandman in a Dueling Canes match
8. ECW Tag Team champion Lance Storm & Al Snow defeated ECW World champion Shane Douglas & ECW Tag Team champion Chris Candido
Right:
A Rookie Debut, A Veteran Win: This event kicked off with the first graduate of ECW's "House of Hardcore" training school (and Taz's cousin) Chris Chetti teaming with a definitive veteran in wrestling, yet unproven commodity in ECW, Jerry Lynn. Their opponents were none other than the former ECW World Tag Team champions Little Guido and Tracy Smothers of the Full Blooded Italians. Chetti showed great promise, using his speed and crisp grappling skills to keep both opponents reeling. Lynn followed his partner's lead, allowing Lynn to dive on both FBI members on the floor. With so many bodies, the referee lost control and missed "The Big Don" Tommy Rich clobbering the inexperienced Chetti from behind.
The former Tag Team champions spent the majority of the match working over Chetti until avoided a double team by leg dropping his bent opponents looking to back body drop him. With Lynn tagging in, the Italians found themselves fighting from behind again. Rich, thinking his interference could turn the tides in his team's favor again, entered the ring to swing his flag in Lynn's direction. Instead, Rich hit a stunned Smothers when Jerry ducked. Lynn took advantage of the situation, knocking Rich off his feet before Lynn rolled Smothers up for the three count.
A sold affair in front of a hot crowd. The fans were into everything and really gave Chetti a nice reaction for his debut, making him come across as a true star in the making.
It's Not Too Cold For 4:20: "Mr. Monday Night" Rob Van Dam had a daunting challenge heading into this event as he had the opportunity to take on former ECW Television and Tag Team champion 2 Cold Scorpio (who was currently contracted by the WWF as "Flash Funk"). Scorpio used the fans' support to motivate him in turning this grappling bout into an all out highflying brawl. When RVD found his highflying maneuvers being avoided or countered, he decided to take a page out of his partner Sabu's playbook and implement some weapon usage. Tossing a steel chair, RVD left the ECW veteran loopy and reeling for the next several minutes until Scorpio kneed Van Dam into a jackknife power bomb.
The momentum swung back and forth as both men tried to hit big maneuver after big maneuver. The hit-miss ratio was in favor of Scorpio as the match neared the twenty-minute mark. RVD's Five Star Frog Splash was countered by 2 Cold getting his knees up, while Scorpio couldn't avoid RVD's Van Daminator. Frustrated with each unsuccessful pin fall attempt left Scorpio questioning himself and the referee. These moments allowed RVD to recover, but not turn the tables. What did put Van Dam in the driver's seat was the interference of Sabu after the referee was splashed by 2 Cold. Sabu's Arabian Facebuster left Scorpio on his back and prone to whatever RVD had in. The Sandman eventually chased Sabu away from ringside, but the damage had been done and Van Dam was able to body scissors Scorpio into a pinning predicament to pick up the win.
While not the soundest match from a technical standpoint, Van Dam and Scorpio gave everyone watching a high quality bout featuring great highflying action, brutal strikes, and a moment that produced this gif: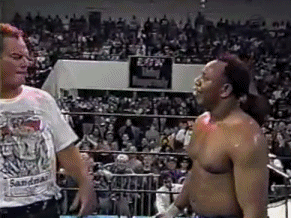 Keepin' it Gangsta: For the first time in quite some time, The Dudley Boyz of D-Von and Buh-Buh Ray Dudley found themselves in a non-Tag Team title bout. After the man with more sexual innuendos than an episode of "Family Guy" Joel Gertner introduced the world to his favorite tag team and their brother "Big" Dick Dudley, The Dudleys were kicked off this Three Way Elimination bout by dominating one-half of their opposition in Balls Mahoney and Axl Rotten. Mocking "The Original Gangsta" New Jack brought out the crazed weapons expert with Spike Dudley (the runt of the Dudley clan) by his side. Of course Jack had his trashcan full of weapons, using them to bust open D-Von and leave Buh-Buh on the ropes.
Actually, their attacks left The Dudleys on a pair of tables that Jack and Spike drove their opponents through by jumping off a fifteen-foot high balcony … and the match didn't end there! The Dudleys eventually recovered and took advantage of Spike's work by DDT'ing Balls through a table in the ring. Following the Dudley Death Drop on Mahoney, the team looking to win this match via a clean sweep had only a hurt Jack and Spike to defeat. The Dudleys' attempt to antagonize the crowd ended with their final opponents breaking a pair of guitars over their heads before Jack finished D-Von with his flying chair-bow drop.
When you see a card with these six men in a match where anything goes, you don't go in expecting a technical masterpiece. You expect blood, chair shots, tables being broken and Dr. Dre's "Natural Born Killaz" playing from the time Jack entered the ring until his curtain call. That's exactly what you had here plus an extremely dangerous double dive.
Hometown Beast: Triple Threat faction member Bam Bam Bigelow found himself on the outs with his group thanks to an upset ECW World champion and fellow teammate Shane Douglas. Bigelow was looking for allies in his war with the group he once was a part of, finding ECW Television champion Taz willing to help only because he wanted to dismantle the Triple Threat. During a tag team bout featuring Douglas and Chris Candido taking on Taz and Bigelow, Bam Bam turned on his partner. Taz, having promised Bigelow a shot at his title before the match, had to now face a true enemy instead of a reluctant ally.
This was made even worse for Taz as he faced Bigelow in Bam Bam's hometown. The ovation for the challenger was huge, leaving Taz in once familiar territory of being the most hated man in the building. Taz seemingly fed off the New Jersey crowd's dislike for him, using it to power his challenger around the ring with arm bars and judo hip tosses. The size advantage of Bigelow seemed null and void as the action spilled into the crowd and Taz suplexed him off the entrance ramp, over the steel guardrail so the challenger hit the first and second row of fans while Taz's head collided with said guardrail. The crowd was going crazy following Bigelow's latter moonsault, Taz flapjacking Bam Bam through a table, and the referee's inability to keep these two brutes from breaking chairs and some of the building's drywall. The champion found himself in an advantageous position when the action finally returned inside, locking on the Taz Mission rear naked choke. Bigelow suddenly fell backwards, sending Taz and himself through the ring!
Chants of, "ECW!" rang out as the referee looked on in shock that both champion and challenger had destroyed a corner of the ring. Thanks to Taz being on the bottom of the fall, Bigelow was able to recover first, pulling Taz out of the crater they had created to pin Taz and become the new ECW TV champion.
A clash of the titans to say the least; topped off by one of the most memorable endings to a match in ECW history. It was like Godzilla and King Kong taking out the Eiffel Tower. Just an incredible big man brawl that could've been the perfect way to cap off the evening's event.
Wrong:
Not Getting What You Paid For: Before the second match of the evening, a video package promoting the U.S. debut and return of Masato Tanaka and W*ING Kanemura respectively. The fans expecting a hard-hitting match featuring two Japanese imports instead watched WWF contracted wrestler Doug Furnas face Tanaka. The crowd died quickly as Tanaka tried to take Furnas' legs from underneath him and stop those blistering kicks followed by a series of messed up maneuvers like Masato's tornado DDT that saw Furnas be spiked into Tanaka's thigh; and Doug unable to properly pick up his opponent for a power bomb, dropping him on his neck. Furnas' manager and "WWF Agent" Lance Wright decided he wanted to dictate his client's attempts at winning; telling him to stop several sure pin falls so he could do more damage. Wright's actions cost his client, causing Furnas to fall to the Roaring Elbow. Of course, Furnas attacked Wright after the match to make things right.
For an impromptu bout featuring two men praised for their similar talents, this match was actually worse than you could've imagined. Outside of the first minute, there's nothing redeemable here.
Wait For it … Wait For it: Coming into this event, Justin Credible spent his time in ECW trying to make a name for himself; not by winning matches, but by humiliating some of ECW's favorite sons and Japanese imports. After putting former ECW World Heavyweight champion Mikey Whipwreck on the shelf with a leg injury, and unmasking The Great Sasuke, Credible targeted "The Heart & Soul" ECW – Tommy Dreamer. Interrupting Dreamer's father's ten-bell salute during a live event, Credible claimed Dreamer's girlfriend (and eventual wife and mother of his children) wanted Justin.
After Jenna Jameson (yes, that Jenna Jameson) tried to unsuccessfully interview Credible, and Dreamer rape kissed Jenna, the fight was underway. Dreamer dominated the early minutes of this bout until he uncharacteristically tried to fly. The big splash by Dreamer missed and Credible took over. Before Credible could win thanks to his tombstone piledriver – That's Incredible – Beulah made her return to low blow Credible, DDT Justin's second Jason and usher the return of Mikey Whipwreck to save her from the massive clutches of Nicole Bass. The wild commotion allowed Dreamer to DDT a stunned Credible and pin the would-be main eventer.
What should've been and could've been a career-defining moment for Credible (making him look credible, [he, he]) turned into an overbooked mess that featured a boring brawl topped off by an even sloppier ending. Not even Beulah and a semi-hot crowd could save this one from being anything short of disappointing. They say a good ending can make a bad match look better. This wasn't the case.
Too Extreme For Air: The Sandman and Sabu were in the middle of a war featuring them putting each other through tables, chairs and barbed wire. For this event, the two hardcore grapplers would face each other in a Dueling Canes match where both wrestlers would be allowed to have a Singapore cane (kendo stick) in their possessions. Why is this in the Wrong section, you ask? Because the match was "cancelled" for being too extreme for pay-per-view. Yet, after the TV title match, Paul Heyman demanded they air the match to bide time for the ring to be repaired. And what you got was Sandman being beaten by a Sabu-disguised Rob Van Dam before the real Sabu wore out his opponent for almost ten minutes. RVD even returned to help his partner finish off his opponent. No gratuitous amounts of blood, no injuries, nothing truly out of the ordinary or worse than what was seen in the Elimination Tag Team match. Yet, ECW promoted this match as the be all, end all of extreme to the point no match could live up to the hype without someone losing a limb.
Main Event? What Main Event: Returning to the live show following Sabu vs. Sandman, the first thing you witness was a crowd full of people shaking Styrofoam heads in honor of Al Snow (who was supposed to wrestle John Kronus, but his match was cancelled). The main event, not featuring Snow, was a tag team break up turned aggressive when Chris Candido believed his fellow ECW World Tag Team champion Lance Storm was starting to catch feelings from Candido's girlfriend Tammy "Sunny" Sytch. While Candido obviously chose the other third of the Triple Threat as his partner – ECW World Heavyweight champion Shane Douglas – Storm entered with mystery on his side. Come to find out, Lance chose the person responsible for championship-quality team's break up to make up his new tag team in Tammy Sytch.
Commentator Joey Styles commended Lance on his pick because Candido would never hit his girlfriend. Come to find out, Storm was being played for a fool because Sytch was on her man's side; not Storm's. But wait, Lance Storm knew "Sunny" would turn on him and had a backup. If you guessed "Al Snow", you'd win the prize of being smarter than a fifth grader. Snow ran to the ring, helping clear it of Candido, Sytch, and Douglas' valet Francine before putting Shane down with the Snowplow. And with that, the show ended with a sea of bobbing Styrofoam heads, strobe lights and shaking camera effects.
Yeah, this was the way this event ended. The "match" lasted less than five minutes, Storm looked like a goof for not bringing out Snow early to avoid being beaten down by two world class wrestlers, and the ending was made not to give this show a satisfying finale, but to set up the next pay-per-view main event. Bad, bad, bad.
Is It A Classic: The brightest highlights from this event are matches featuring mostly wrestling and little nonsense. Case in point: RVD vs. Scorpio and the TV title matches are the things you'd walk away from thinking about the most. Not the rave party at the end or the over-hyped cane bout. Just when WWF and WCW were hitting their strides in the Monday Night War (ushering in the "Attitude Era" for WWF and WCW's eventual demise), ECW (owner and booker Paul Heyman) was trying to throw everything against the wall to see what stuck instead of using smart pacing and making true moments mean something as they had done only a year prior. This is a mildly disappointing show to say the least featuring only two out of eight matches you should go out of your way to see.