The land of extreme was changing dramatically and hastily. With the loss of "ECW on TNN", the company was struggling to make the same waves it did that gained Extreme Championship Wrestling national and even international attention. Stars and World champions were being made a rapid pace as the next big boom for ECW seemed to be right around the corner. Gearing up for 2001, ECW held its first "Massacre on 34th Street" pay-per-view to get everyone ready for what was to hopefully come. Now it's time to find out of they were successful in crafting a classic.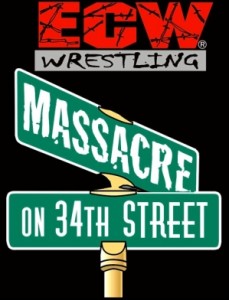 ECW Massacre on 34th Street
New York, NY
December 3, 2000
For Her Services: Former second to Lance Storm and resident "personal bytch" Dawn Marie spent the majority of 2000 aimless and alone with Storm in WCW and his tag team partner Justin Credible siding with Marie's arch enemy in "The Queen of Extreme" Francine. So Dawn Marie had an idea that featured the opening match's winning team of either Simon Diamond & Johnny Swinger or Joey Matthews & Christian York would get the managerial services of Dawn Marie. With more motivation to win, both teams came at each other hot & heavy, hitting some big maneuvers early in the match rather than initiate a feeling out process that would eventually give one team a solid advantage. After some quick double teams like a tandem STO from Swinger & Diamond, the problem solvers seemed to be on the verge of victory by isolating York. But a miscue occurred and Christian had the chance to tag out to a fired up Joey "Mercury" Matthews.
The momentum started shifting in the favor of ECW's relatively new tandem as Matthews took to the sky to dive on both of his opponents. But the damage done to York almost cost his team as he was crotched on the top rope for a big superplex. Thankfully for Christian, Joey was there to not only help his partner from a terrible fate, power bombing Diamond before helping York execute their Rebel Yell finisher (Matthews' frankenstiener into York's Superfly Splash) for the three count. Of course Dawn Marie turned on "her" team, helping set up a sneak attack that resulted in Marie siding with Diamond and Swinger. A nice high octane opener that didn't overstay its welcome and got the hot crowd even more fired up; even though the post-match stuff left a lot to be desired.
Don't Go Messin' With an Amish Boy: To add insult to injury during a previous meeting, The Full Blooded Italians of Little Guido and Tony Mamaluke, who were also the ECW World Tag Team champions, cut the beard of "The Amish Chicken Plucker/Angry Amish Warrior" Roadkill and the hair of his tag team partner Danny Doring. Doring and Roadkill, who had many opportunities in the past at winning the gold, had enough of failure and put their partnership on the line in a match where if they couldn't win the title from the FBI, they'd split forever.
The challengers came into the match ready to win and win fast as possible by going for a mixture of pinning combinations and high impact double team maneuvers. Though smaller than their opponents, the champs' toughness (and the rotund powerhouse Big Sal ready to interfere from ringside) eventually allowed Mamaluke to spring off the top rope and tornado DDT Roadkill on the floor when the Amish man went to start a fight with Sal. Danny Doring became the focus of the champions' offense, being picked apart by maneuvers such as Guido's Sicilian Slice. Hanging on long enough for his partner to recover, Doring was able to fight his way to a fired up Roadkill who was out for blood no matter what. That attitude making Roadkill's blood boil gave him the chance gain a measure of revenge by diving on top of Sal. Guido found himself all alone after Doring literally super kicked Mamaluke off the apron, into the front row; giving the challengers the chance to execute their Buggy Bag double team finisher to pick up the three count and become the new Tag Team champions to a great ovation.
After some shaking opening minutes, the two teams pulled things together and delivered a rather formulaic, yet highly entertaining tag team bout that featured the heroes conquering a pair of fiendish villains the fans so enjoyed seeing lose. Even more impressive in hindsight is the rise of Doring and Roadkill from an odd couple, comedic duo to two of the top talents on the roster.
Bleeding Hardcore Hearts: Like so many individuals before him, CW Anderson looked to make a name for himself at the expense of Tommy Dreamer; bloodying "The Heart & Soul of ECW" during an episode of "Hardcore TV". Anderson wasn't scared in the least when it came to Dreamer's penchant for innovative violence, coming after him with full force even though Dreamer was outwrestling him in this "grudge" match. "The Enforcer" decided it was time to change gears and went after the left arm of Dreamer. Tommy found himself in a bad way, having his arm bashed with chairs, slammed against the steel ring post and having his arm cranked in the wrong direction.
As if Anderson didn't want to injure Tommy, he looked to bloody him as well by driving him groin first into the steel ring post that somehow split Dreamer's forehead even though his face visibly never touched the steel. Showing the tenacity and heart that made him one of ECW's favorite sons, Dreamer fought through the pain; utilizing his patented DDT and Spicolli Driver with one arm (with the latter happening after a little interference from the former "Sign Guy Dudley" Lou E. Dangerously and a confrontation between Dangerously and Paul Heyman). "The Innovator of Violence" was on the verge of victory when his violent nature got the better of him. Dreamer was looking to drive Anderson through a corner-propped table that had the table's legs facing the ring instead of the turnbuckles. "The Enforcer" countered Dreamer's intended attack, executing the Spine Buster to nearly break Tommy in half as Dreamer's body turned the table into nothing but splinters. Anderson quickly made the cover, picking up the biggest win of his career thus far.
While a little more longwinded than it needed to be (featuring some things that didn't make any sense), the match did its job by making CW Anderson look like a hardcore icon in the making by defeating the New Yorker in front of his fans.
Cashing in on a Mystery: Super Crazy looked to bury the hatchet with his old rival in Tajiri and Yoshihiro's tag team partner Mikey Whipwreck by teaming with them to take on Hot Commodity. But it was Crazy that would cost the team a victory and forced Tajiri to remind him just how much they disliked each other. So Super Crazy had the chance to team up with anyone to face the duo of Tajiri & Whipwreck. Kid Kash made his way to the ring and everyone was off to the races as the former TV champion went hurricarana crazy on Mikey while Tajiri and Super Crazy reignite their long-standing feud over international superiority. It didn't take long for bodies to start flying and weapons beyond limbs were implemented into the match. Impressive moments like Tajiri and Whipwreck dropkicking a pair of chairs against Kash's head and Crazy diving at the front row-stuck Yoshihiro had the fans going wild.
Just when it seemed things couldn't get crazier, Mikey looked to break his back while cracking Kash's neck with not only a Whippersnapper (Stone Cold Stunner) into a pair of chairs, but also through a table from the apron. The match kept getting more and more violent as Super Crazy, after having been shoved from the top rope to the floor, felt Tajiri's blinding green mist. With Crazy practically out, Kash found himself fighting through the pain on his own. Going for broke was Kid Kash when he executed a frankenstiener to drive the top rope perched Mikey through a table on the floor! The impressive maneuver eventually cost the team as Super Crazy was now the odd man out for his team, being abused by Tajiri until Yoshihiro buried him under several chairs and a table. Jumping off the top rope, Tajiri double stomped his way through the table to drive the shards of wood and chairs into Super Crazy's body for a pin fall (and more than likely a knockout) victory.
Easily the match of the night and one of the best matches of ECW's final year in existence. Yes, it did go beyond the typical realms of tag team wrestling and reached more toward big spots and crowd-popping moments, but it was ECW bred fun not seen anywhere else out the time. If there's one match worth seeing from the show, it's this one.
Wrong:
Too Cute For it's Own Good: The Hot Commodity representative of EZ Money had the chance to take on a former ECW World Tag Team champion in Balls Mahoney. After a little bit of grappling, the two took things to the next level with high impact maneuvers and even a flying Balls. When things seemed to be going in the same vein as the opening match by being a short, yet effective piece of action when everything started getting too "ECW-like". Both men kicked out of his opponent's respective finishers before mass interference on behalf of Money started causing a mix of miscommunications and Mahoney being pummeled. It would take, literally, three sets of finishers preset by a triple team from the entire Hot Commodity male contingent to put Balls down.
While the two men worked incredibly hard, the need to go completely overboard into what would be called following ECW's demise "indy-riffic" territory took away from the sense of realism that a wrestling match should have.
Obligatory Impromptu Match: Like many ECW pay-per-views in the past, this show featured a match that came out of practically nowhere. Nova ran out following the Money-Mahoney match to stop a three-on-one beating, initiating a match with Hot Commodity's Julio Dinero. Though the match seemed poised to be something entertaining, Nova and Dinero had little in the way of chemistry and were messing up maneuvers left and right. The once hot crowd slowly started to die as the match crept on with Nova executing everything in his repertoire (including an enzuguri to Julio's butt) until some more interference almost cost him. Unlike Mahoney, Nova had backup in the form of Balls himself. Bashing the Hot Commodity contingent on their heads with chairs, Mahoney set up Nova's Swanton Bomb on Dinero to put this match out of its misery.
No More, More, More: ECW World Television champion Rhino put "Little" Spike Dudley on the shelf with a broken leg during Rhino's near unstoppable reign as champion and the last Dudley in ECW was looking for revenge. Spike came in with a plan to avoid Rhino's debilitating finisher "the Gore" while working over his opponent's legs with a mixture of strikes and weapon-based attacks. Sadly, the plan failed pretty quickly for Spike and for the next several minutes Rhino literally beat Spike Dudley around the arena. Spike made a couple of fiery comebacks and actually grounded Rhino after diving on him from the second floor balcony. By the time the action returned inside, Spike had Rhino tied leg first to the bottom rope, using a chair to wreck the champion. During Spike's assault, Rhino's leg got free and Spike was yanked into a chokehold for a very anticlimactic submission victory that featured Spike throwing up afterwards.
While not the most terrible match on the show, this was a very underwhelming affair that looked to recreate the magic of Spike's clashes with men like Bam Bam Bigelow and his fellow Dudley brothers, and failed.
"We Want Sandman!": After winning the ECW World Heavyweight title a month earlier in a Double Jeopardy match, Steve Corino had to complete the task of defeating the most recent former ECW champions in Jerry Lynn and Justin Credible in a Triple Threat Elimination match. The early going saw Jerry Lynn dominate the majority of the action as he started showing more and more signs of his villainous transformation. The fight moved from inside the ring to outside and the fans weren't enjoying any of it, as they were so busy chanting for the only man involved in the aforementioned "Double Jeopardy" match not a part of this bout, The Sandman.
Jerry Lynn's elimination at the hands of arch nemesis Justin Credible (mostly thanks to some mistimed interference from Credible's valet, Francine) brought the match into deep depths of audience apathy as the champion and challenger pulled everything out of the woodwork in hopes of making this a memorable affair. Blood? Check! Chair, cane, ladder, and table spots? Check! A man falling over a balcony? Check! Yet nothing felt exciting or important mostly thanks to the quiet audience and two men understandably growing fatigued with each big fall. Corino eventually picked up the victory with his Old School Explosion finisher to cap off a rather mundane and disappointingly mediocre main event that was hampered by a tired crowd still coming down off the "high" from the semi-main event. At least the fans got their Sandman run-in following the match where The Sandman stole the ECW World Heavyweight title belt.
Results:
1. Christian York & Joey Matthews defeated Simon Diamond & Johnny Swinger
2. EZ Money defeated Balls Mahoney
3. Nova defeated Julio Dinero
4. Danny Doring & Roadkill defeated The Full Blooded Italians to become the new ECW World Tag Team champions
5. CW Anderson defeated Tommy Dreamer
6. Rhino defeated Spike Dudley to successfully defend the ECW World Television Championship
7. Mikey Whipwreck & Yoshihiro Tajiri defeated Super Crazy & Kid Kash
8. Steve Corino defeated Jerry Lynn and Justin Credible to successfully defend the ECW World Championship
Is It a Classic:
Like ECW as a whole in 2000, this was a mixed bag of an event. Outside of the final tag match of the evening, there were no must-see matches coming out of the show that actually lived up to the hype. But the card does feature several very good bouts that make up for the other relatively mundane and forgettable outings. Check out the show for all its good points, but don't expect something you'll care for as an overall package.