Only weeks earlier, Bam Bam Bigelow shocked the wrestling world by turning on his Triple Threat stable mate and friend Shane Douglas to side with Douglas' rival "Ravishing" Rick Rude. In doing so, Bigelow defeated "The Franchise" in an impromptu ECW World Heavyweight title match; becoming the new champion. Though distraught, Shane Douglas shook off the disappointment and challenged the new champion to a match in the former titleholder's home state not far from his hometown. Will "The Beast From the East" make it two for two in title matches against Shane Douglas, or will "The Franchise" avenge a golden loss? Most importantly, will ECW's fifth annual "November to Remember" be a classic?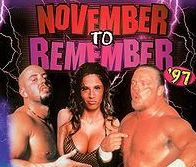 November to Remember '97
November 30, 1997
Monaca, PA
1. Chris Candido & Lance Storm defeated Tommy Rogers & Jerry Lynn
2. Mikey Whipwreck defeated Justin Credible
3. Taz defeated Pitbull #2 to successfully defend the ECW Television title
4. The Full Blooded defeated New Jack & John Kronus, The Dudley Boyz and Balls Mahoney & Axl Rotten to successfully defend the ECW Tag Team title in an Elimination match
5. Tommy Dreamer and Rob Van Dam fought to a no contest in a Flag match
6. Sabu defeated The Sandman in a Tables & Ladders match
7. Shane Douglas defeated Bam Bam Bigelow to become the new ECW World champion
Right:
When in Doubt, Tag Team it Out: The fifth iteration of ECW's annual "November 2 Remember" event kicked off with the "Body Donna" himself Chris Candido taking on wrestling veteran and one-half of the former Fantastics tag team Tommy Rogers. Though poor Tommy didn't even get a proper entrance, commentator Joey Styles put him over hard as a man still in great shape and having the ability to defeat one of the best in the world at that time. The fans, unable to hear Styles, wouldn't have believed him anyway as they crapped all over the opening minutes where the future indy-riffic stalemate devolved into Rogers working over an arm bar (with one fan audibly yelling, "Is this the WWF?") .
Seemingly realizing what kind of crowd he was in front of, Rogers picked up the pace, utilizing some incredible maneuvers including a counter to Candido's electric chair drop into a hurricarana pinning combination. The fans were finally starting to get into this bout when Candido's tag team partner and Triple Threat faction wannabe Lance Storm ran into the ring to attack Tommy. With no rules against interference, the referee watched helplessly as this two-on-one situation. Jerry Lynn refused to see his old friend be beaten like this, making the save and initiating a tag team bout. Bodies started flying everywhere with no tags seemingly needed for the action to continue. The Extreme Thrillseekers picked apart Lynn with double teams until a recovering Rogers caused a miscommunication between Storm and Candido that saw Lance dropkick his partner. Things seemed to be going well for Rogers and Lynn; especially after the doomsday cross body block. Showing superhuman resiliency, Storm stopped Lynn's ascent in the corner, watching his adamant partner to hit the Blonde Bombshell super bomb on Jerry. Storm, taking Roger's version of the Unprettier/Killswitch (he created the maneuver), lay on the canvas as Candido pinned his original opponent via a simple northern lights suplex.
What was looking to be a stinker of an opener turned into one enjoyable piece of business that got the fans ready for the rest of the show perfectly (for better and for worse).
The Triple Threat Explodes: A few weeks earlier, Bam Bam Bigelow abandoned the Triple Threat faction headed by then-ECW World champion "The Franchise" Shane Douglas. The end result was Bigelow defeating Douglas for his championship. Entering a building not far from Shane's hometown, the champ was treated with a completely different reaction from the fans compared to the night he won the gold in Queens. Bigelow seemed unfazed, easily muscling Douglas around the ring until the challenger realized he had to hit and run if he wanted to put Bam Bam on the backburner. With the fans (who were so loud you could barely hear Joey Styles) and his valet/"head cheerleader" Francine cheering him on, Douglas looked for every opportunity to land an attack.
Sadly, most of Douglas' counters turned into perilous predicaments for the challenger. For example, Shane avoiding a running Bigelow gave Douglas the chance to bounce the champion against the turnbuckles. As Bam Bam stumbled backwards, Douglas climbed and sailed off the top rope with a cross body block. Bigelow would catch his flying opponent, power slamming him for a near fall. Douglas' flawed strategy, while not damaging the champion as he had hoped, did start showing signs of wearing Bam Bam out. Fatigue was starting to finally set in as Bigelow's pace slowed more than usual and opened the door for "The Franchise" to eventually hit his Belly-to-Belly Suplex. The attack took too much out of Douglas to follow up and give Bigelow a chance to recover. Instead of looking for victory, Bigelow hoped to dish out more punishment and pain as he had done throughout the match. The champ's intentions would soon come back to haunt him, allowing Douglas to Belly to Belly Suplex Bigelow through a table the champ brought in, giving him the three seconds needed to pin "The Beast From the East" and win his third ECW World Championship.
Shane Douglas gets a lot of unnecessary flak for his talents as an in-ring competitor; Douglas was the perfect protagonist/David to the hulking beast/Goliath bouncing him around like a super ball here. The fans, obviously, were into every minute of the action; even during the challenger's rallying from a rear chin lock (a move that would've seen the wrestlers audibly crucified by the crowd on another night). Just a beautiful match featuring Douglas showing an unparalleled will to survive; showing just how great ECW was when it kept things simplistic.
Wrong:
Defeat the Streak: Heading into "N2R", Justin "Aldo Montoya" Credible was on an undefeated streak; defeating puroresu star The Great Sasuke as well a host of others. His opponent for the evening was former ECW Grand Slam champion Mikey Whipwreck (who hadn't done much of late in ECW; pretty much biding his time for potential bigger and better things elsewhere). After much hype, Credible seemed to be poised for another victory; this time over a former ECW title holder. Instead of dominating Mikey after Whipwreck hurt his right knee simply diving to the floor, Credible needed the help of his second Jason to turn the tides and dominate. What seemed to be an easy night for Credible turned into his first loss in ECW since debuting thanks to an interfering Jason being whipped into the corner Credible was climbing before Justin felt the Whippersnapper (a super Stone Cold Stunner).
Yes, the highly promoted Credible lost to a person treading water. Styles, for some reason, considered it an upset victory though Mikey wasn't the young underdog that learning from Cactus Jack anymore. Justin Credible needed a victory here, yet lost in a not-so-impressive fashion.
Taming the Pitbull: The former ECW Tag Team champions and one of the company's most popular duos The Pitbulls had aligned themselves with "WWF attorney" Lance Wright, turning them into villains. Pitbull #2 had the privilege of taking on the ECW World Television champion Taz in a match that Joey Styles claimed had crossed into personal territory. Why? No one knows. There was nothing more intense or personal feeling in the bout than in any typical Taz squash match as he took a little abuse from the much larger adversary before suplexing his opponent into oblivion and choking him out with the Tazmission. The match lasted a full ninety seconds. Taz wasn't done, beating up Pitbull #1 and a security guard when former WWF wrestler Brakkus refused to face Taz. Move along, there's nothing to see here.
It's A-Me, A-Screwy Ending: The ECW World Tag Team champions of Little Guido and Tracy Smothers (The Full Blooded Italians) had the opportunity to defend their championship not in a match suiting their pure wrestling skills, but to up the violence of the show when they took on the table masters (The Dudley Boyz), the chair swinging freaks (Axl Rotten & Balls Mahoney) and the mismatch team of John Kronus and New Jack (who were tag team-less without their respective partners and decided to form their own union) in an Elimination bout. Rotten and Mahoney dominated the early match with chair shots until the interfering Big Dick Dudley choke slammed Rotten and Dick's brother Buh-Buh Ray Samoan dropped Mahoney. The fans, who were patiently/silently waiting for The Eliminator Gangstas to arrive after several minutes of action, finally got their wish and went absolutely wild as Jack and Kronus mixed weapon attacks and high flying maneuvers respectively.
So you know what happened? Kronus and Jack were the first team eliminated. The crowd died not too long after, watching apathetically until The Dudleys were put out of the match by a miscommunication that saw a powder-blinded Buh-Buh hit the Dudley Death Drop on his own partner. The fans, thinking the only team to have never attained ECW Tag Team gold (Rotten & Mahoney) had a chance to win, witnessed the match turn on its ear thanks to "crooked" referee Jeff Jones refusing to count the sure pin by Mahoney before fast counting Balls when Guido cradled him.
What could've been a perfectly acceptable, crazy tag team match (which it mostly was) turned into an overbooked mess where the fans were taken out of the action when the most popular team was eliminated and watched an ending made for free television, not pay-per-view. So many wrongs about this match.
Another Wasted Night: In 1997, there was a mini-interpromotional feud going on between the WWF and ECW. The feud featured the ECW debut (and subsequent loss) of Jerry "The King" Lawler to ECW's "Heart & Soul" Tommy Dreamer. Also during this feud, former WWF referee Bill Alphonso convinced his client and ECW contracted wrestler Rob Van Dam to support the "enemy" promotion in a personal war against extreme. So Tommy Dreamer faced RVD in a Flag Match where the winner would have his company of choice's flag raised high. Dreamer, suffering from a separated shoulder and broken heel (highlighted by Tommy's right foot actually being in cast boot), took the fight to RVD and drew blood quickly from "Mr. Monday Night". The action was hot and heavy with steel chairs becoming the base of each man's attacks. There were also some innovative counters to Van Dam's patented maneuvers like Dreamer propping a chair on his knees to send RVD abdomen first across the chair as he sprung off the top rope with his split-legged moonsault.
Everything seemed to be going fine with the hardcore action (a low blow into a super DDT, anyone?) when Alphonso stopped Dreamer's sure pin by whacking him in the head with a baking sheet. This began the "Send in the Clowns" sequence where referees aplenty ran to the ring before Jeff Jones (yes, the crooked ref from earlier) returned to wipe them out. Low blows were dished out thanks to Dreamer's valet Beulah and pin fall counts performed by non-referees (Beulah) and wrestlers (a returning Stevie Richards) alike. All of this crazy action eventually led to Richards Stevie Kicking Dreamer, the WWF contracted Phil Lafon and Doug Furnas beating Tommy down, and RVD "pinning" Dreamer after the Five Star Frog splash. There was no official count and the match was ruled a no contest. The four wrestlers who helped down Dreamer would spend the next several minutes beating up both Tommy and Beulah (thanks to Sabu on the latter) as the crowd rightfully booed this travesty of an ending.
This is the type of match you don't want to hate, but can't help it because all of the great action led to ridiculous amounts of interference, a non-finish and felt like just an extended segment leading to the next match. It would've been so much simpler to have Alphonso help cost Tommy the match (remember he's the man wrestling with a broken heel and separated shoulder against a completely healthy opponent), give us an actual finish, then do the beat down when Dreamer tries to get some form of revenge. But no, just be happy with the ECW style wackiness.
It's A T.L. Match: And the "T.L." stood for "Terribly Long". Okay, actually it refereed to the fact tables and ladders littered the ringside area for usage as weapons for this long-running feud between The Sandman and Sabu (a feud featuring Sabu throwing a fireball in Sandman's face and breaking a beer bottle over his head during two separate incidents). The Sandman, who was supposed to make the save for Dreamer during his five-on-one beat down, spent his sweet time rocking out to Metallica and drinking his favorite beers. Tired of waiting, Sabu took the fight to The Sandman by diving through the ropes and knocking him off of his ladder perch. The opening minutes of brutality featuring broken tables and thrown ladders were the only good things about this first-time-ever stipulation bout.
Sadly for both competitors and the audience, the longer the match went on the more both men got tired and started messing up any and everything they had in mind. The simplistic ladder seesaw spot saw Sandman tumble aimlessly over the ladder that neither seed nor sawed thanks to Sabu slipping during a jump. What should've been a huge moment playing off of their previous encounters, Sabu's attempt at a fireball fizzled out like a flat soda. Sabu eventually won without either man having to lose a limb (because the amount of sloppy punishment both individuals took made amputation a certifiable end).
ECW gained a terrible reputation for being nothing more than a garbage company full of lackadaisical, almost masochistic wrestlers. The stereotype was mostly false, but there were times when matches actually helped deteriorate the company's somewhat positive, hardcore image. The first ever T.L. bout is a perfect example of a terrible match that made ECW and its fans look like nothing more than bloodthirsty hyenas who didn't care if something was good or not as long as there were bodies being bludgeoned.
Is It A Classic: As you can see by the litany of wrongs showcased, ECW's answer to "Wrestlemania" and "Starrcade" was nothing short of a disappointment after a stellar build to the event (ECW was on fire in '97). Very few matches have no interference. One of the most highly promoted bouts didn't even have a winner. Most of this show featured the worst of the worst of Paul Heyman's booking style in hopes of making a show interesting. The strategy failed here and created a mess of an event. Check out the opener and the main event elsewhere, but don't bother with the rest.