In 2004, Ring of Honor decided to start working alongside a relatively unknown fellow independent wrestling promotion known as "Florida Impact Pro". With ROH matchmaker/booker Gabe Sapolsky helping craft the shows post the announcement, ROH mainstays and main eventers alike (Homicide, CM Punk, James "Jamie Noble" Gibson for example) would enter the small building in Arcadia, Florida to deliver some quality, family friendly action. But things had gotten less tame and more hardcore when Homicide began a feud with CM Punk over the FIP Heavyweight Championship. In the end, Homicide walked away still the company's champion, but CM Punk was still gunning for revenge. Lets find out if FIP's first night following Homicide completing his quest for redemption is a classic.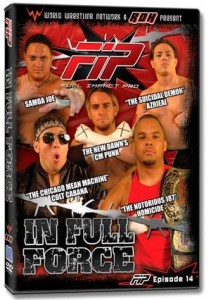 In Full Force
Arcadia, FL
May 27, 2005
1. Steve Madison defeated Jay Fury
2. Antonio Banks defeated Phil Davis via disqualification
3. Samoa Joe defeated Evan Starsmore
4. Samoa Joe defeated Rainman
5. Vordell Walker defeated Jared Steel
6. Tony Mamaluke defeated Don Juan
7. The New Dawn (CM Punk & Azrieal) defeated Roderick Strong & Jerrelle Clark
8. Sal Rinauro defeated FIP Tag Team champion Eddie Vegas
9. Homicide defeated Colt Cabana to successfully defend the FIP Heavyweight Championship
Right:
The Gibson Killer: Steve Madison entered Arcadia with a huge chip on his shoulder by "running" James "Jamie Noble" Gibson out of the company by beating him at the previous event, "Violence is the Answer". Jay Fury, who had some size on Madison, flipped and kicked his way to an advantage until Madison took the low road by choking his opposition after hitting ace crusher out of nowhere. Only a couple of fans appreciated the methodical and at times illegal actions of Steve Madison; who actually removed a chain from his tights to choke Fury behind the referee's back. Speaking of the ref, this match's official seemed to have gotten tired of Madison's continuous chokes (or liked Fury's style) because he made sure Jay could complete a sunset flip by kicking the Madison's rope-gripping hands from the only thing that kept him vertical. The rather illegal action didn't help Fury as his highflying offense eventually sent him into Madison's chain-covered right fist. Power of the punch, indeed; and Steve Madison was able to pick up the three count moments later.
Solid opener that the fans really enjoyed. Madison's old school style actually worked well with Fury, making him look like a true star in the making.
Joe's Gonna Kill You: The CM Punk-led New Dawn faction had a few goals for the evening. One was to introduce the group's enforcer in Samoa Joe. Punk issued an open challenge to anyone willing to take on Samoa Joe. Preliminary wrestler, and a man who looks like he couldn't lift himself off the floor if knocked down, Evan Starsmore decided he wanted to tempt fate. The end result was Evan being slapped around and choked out. Upset over the challenge's outcome, Rainman came to the ring; ready to take on the "Samoan Submission Machine".
Rainman, though ready to fight, was struggling from behind for several minutes until he broke free of Joe's clutches and dropkicked him. Samoa Joe quickly turned the tides in his favor, utilizing several of his patented maneuvers including STJoe (a STO out of the corner). Though Rainman was being beaten continuously, the fans were still behind him. That support gave Rainman the strength to survive Joe's onslaught and fire back with right hands, a leg lariat and the Sky High power bomb. Rainman seemed to be on the verge of pulling off an upset when Joe yanked him to the mat face first. Unable to recover, Rainman was left prone for the Coquina Clutch. Rainman refused to tap out, but the pressure was enough for him to pass out and force the referee to stop the match in Samoa Joe's favor.
Unlike the match before Joe's second bout of the night (more on that one later), this match was believable. Everyone saw Joe as a bona fide monster, rallying behind Rainman before, during and after his comeback. Rainman came across as a true star in the making that the fans could get behind in any situation.
Shooting Through Steel: "The Shooter" Vordell Walker took on Jared Steel for the first time in one-on-one competition after clashing in a multi-man match during a previous show. Steel was seemingly shopping at the same tights shop as AJ Styles during that time, yet was nothing like Styles in the ring. Walker dominated the cowardly bad guy who would make a run to ringside any time he was arm dragged or elbow dropped. The fans certainly didn't care for Steel's offense of clubbing forearms and knee drops, chanting for the downed Walker to fight back.
When Walker found the will to fight, he did so in a smart way. Steel, looking for the lionsault/caperana, met Walker's knees rather than splash him. "The Shooter" was fired up, throwing clotheslines and a big enzuguri kick. Steel was still in this match, but only one move away from taking Walker's Vortex finisher – which hit after Vordell countered Jared's STO attempt. Three seconds later and Walker had another win in FIP.
Nothing truly special, but nothing vehemently wrong either. A solid showing for Walker during a time when everyone though he was the next big thing in wrestling (he wasn't).
Indy-riffic: Former ECW World Tag Team champion Tony Mamaluke was making his FIP debut. The fans were well away of his accolades, and his match with Don Jaun looked for him to showcase what made the Italian a memorable name in wrestling a few years earlier. What started off as a solid grappling bout deteriorated into Jaun attacking the left arm of Tony after a nice divorce court. Jaun went from arm bars to hammerlock slams to make sure Mamaluke wouldn't be able to use his left arm for anything during or after this match. Sadly for Don Jaun, the beautiful ladies of Arcadia distracted him and gave Mamaluke a chance to fight back. The head scissors and front guillotine chokes just didn't have the same force behind them. Mamaluke was desperate, waiting until Juan grabbed him. The Italian used his working right hand to hook the back of Don Juan's head for a small package pinning and the victory.
Once again, nothing truly special, but nothing vehemently wrong, either. The finish came out of nowhere, though and left the match feeling a little anti-climatic.
"Where's the Competition…" (Part 1): The New Dawn of CM Punk and Azrieal were scheduled to face Brian "Spanky" Kendrick and Sal Rinauro, but the faction's enforcer Samoa Joe had other plans in mind; beating and dragging Kendrick to the back as his associates decimated poor Sal. Punk felt the lacking competition for himself and Azrieal needed to be vocalized, unknowingly calling out the team of Roderick Strong and "Mr. 630" Jerrelle Clark. Thanks to Punk's size advantage, The New Dawn held an early advantage by working over the highflying Clark. But, as usual for CM Punk in FIP, his overconfidence got the better of him. The force of Roderick Strong's knife-edge chops and Clark's arm drags not only kept Punk grounded, but also rocked Azrieal whenever he came near his opponents. It would take some quick thinking for Punk to turn things around for his team. Begging for Strong to stop his assault, Punk yanked the future FIP champion face first into the middle turnbuckle.
From the apron watched Jerrelle Clark as The New Dawn isolated and picked his partner apart with quick attacks and even quicker tags. But the fans of Arcadia refused to let their home state boy be not given the energy needed to fight back. Hunter Hearst… ahem, CM Punk's offense seemingly did its job in wearing out Roderick, but the fans inspired him. Following the double knee gut-buster, Strong tagged out to the house of fire that was "Mr. 630". The crowd watched with glee as their favorites (specifically Clark) flipped and slammed Azrieal while Punk broke up pin attempts. Even The New Dawn's Milo Beasley (a wheelchair bound man who became miraculously healed during the match to yank the referee out of the ring) couldn't stop the momentum of Strong and Clark. Like earlier, a quick-thinking Punk would turn the tides, tripping Jerrelle as he tried to suplex Azrieal. "The Suicidal Demon" fell atop Clark as Punk held down "Mr. 630's" legs to prevent a kick out and give The New Dawn another victory.
Easily the best match of the show thus far. Very old school, almost formulaic tag team bout, but everything worked and gave the fans a want to see The New Dawn get their comeuppances.
"Where's the Competition…" (Part 2): Dave Prazak of DP Associates decided to let everyone know one-half of the FIP Tag Team champions Jimmy Rave had the night off. But Rave's partner "Fast" Eddie Vegas (who is legally blind, mind you) didn't mind wrestling tonight. This brought out Sal Rinauro, who too wanted to wrestle but had no opponent after Samoa Joe attacked his partner Spanky. Another impromptu match began with Rinauro doing a great job keeping the Tag Team champion back peddling thanks to his knife-edge chops, forearms, and dropkicks. Even when it seemed Vegas had avoided a suicide dive, Rinauro landed on his feet and scared the visually impaired grappler into the nearby ring post. The fans were loving every minute of this match until Vegas finally took control thanks to a sneak attack set up by Dave Prazak.
The FIP Tag Team champ impressed himself with a variety of chokes, strikes and some big attacks that sent Rinauro flying into the air before crashing against the canvas. Though he enjoyed the beating he dished out, Vegas couldn't help but become frustrated with each near fall. Arguments between "Fast" Eddie and the referee over "slow" counts gave Sal a chance to recover and fire back. Rinauro, positioning himself on the top rope after stopping a superplex, got crotched by the interfering Prazak. Rather than take advantage of the opportunity his manager created, Vegas played around with Sal until Rinauro propelled off the top rope to flip Eddie face first into the mat. Rinauro immediately went for the pin to shockingly pin a FIP champion.
A very solid match featuring Sal being an incredible never-say-die fan favorite that the crowd really got behind. The perfect follow up to the previous tag team bout.
The Hired Gun Backfires: Challenging his inner Terry Gory or Steve Williams with the bellybutton-high trunks, "The Chicago Mean Machine" and CM Punk's best friend Colt Cabana looked to avenge his friend in losing possession of the FIP Heavyweight Championship to Homicide. Actually, Cabana's attacks were reminiscent of the aforementioned wrestling legends, as short open hand strikes became the base off his offense. But competing against the smaller and faster champion put Cabana in a disadvantage position pretty quickly. That's not mentioning Homicide's tendency to test the match's rules by raking, clawing and scratching at his challenger's face. Even when Colt thought he could turn things around, Homicide would flip, free or even punch his way out of a bad situation. Like the previous match featuring CM Punk, it would take The New Dawn's leader getting involved to turn the tides in the challenger's favor. Leading Homicide in a chase around the ring, Homicide ran into a Cabana clothesline.
For the next several minutes, Cabana mixed rear chin locks and elbow drops into his methodical offense while antagonizing the fans that supported their champion. The referee, seemingly upset with Cabana breaking the rules by using his boot laces to rake Homicide's face and constantly arguing with the fans, prevented Colt from using the ropes to stop a sunset flip. Homicide, who failed to make a comeback following two successful cross body blocks, was back in the driver's seat and rocking his challenger with some back elbows topped by a side Russian leg sweep. CM Punk, seeing his man in trouble, looked to stop Homicide from hitting the Lariat. Big miscommunication between Cabana and Punk caused a collision that dropped Punk and left Colt prone to the Lariat for a Homicide pin fall victory.
After the match, The New Dawn attacked Homicide; bringing out Azrieal, Jerrelle Clark, Roderick Strong, Sal Rinauro and the supposedly hospitalized Spanky to make the save. Punk would cut a promo stating he'd never come back. He wasn't lying as CM Punk reported to WWE's developmental territory not long after this event.
A solid main event. Very methodical and old school in nature. For some, this might be a pretty mundane bout. For those who grew up on this style of wrestling, it'll feel like pure nostalgia.
Wrong:
(Heart) Breaking the Bank: The Heartbreak Express of Sean and Phil Davis (with Don Jaun by their sides) came to the ring to brag about their time pursuing the ladies. But things went downhill for the threesome when Jaun took a girl they said was interested in them. And thus ended the relationship between the tag team and Don Juan. Exhausted after the night they spent with the ladies, Sean Davis decided The Heartbreak Express was too good to wrestle in Arcadia. This brought out the future Montel Vontavious Porter, Antonio Banks. Banks, feeling Arcadia was his second home, decided to defend the city by challenging Phil Davis to a match.
What followed was an average match that deteriorated into Banks being beaten on by the, ahem, less developed Davis before deciding he was tired of this crap, hulked up and gave Phil a taste of his own medicine. This didn't lead to a Banks victory, but Sean entering the ring and causing a disqualification. Even in a two-on-one situation, Banks was able to fight off both men as the crowd went wild. While the crowd loved Banks beating back The Express, it couldn't save this match from being mundane and unrealistic.
Is It A Classic: By the Right to Wrong ratio, this would seem like a must-see event. In reality, it's a solid show featuring some enjoyable action; with the tag team bout standing head & shoulders above the rest. The main event will vary from person to person. Outside of the aforementioned matches and Rinauro vs. Vegas, not a lot about this show will leave a lasting memory. It's definitely worth seeing at least once, but not an event you'll have to find today.