2008 was a milestone year for Ring of Honor and Independent wrestling fans. Taken from the fifth "ROHbot Report", I look at CM Punk and Samoa Joe being on top of the wrestling world.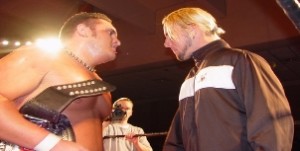 But the biggest news of the week didn't involve a Ring of Honor competitor, but a ROH legend. As many (most likely all) of you know, CM Punk became the World Heavyweight champion of WWE. The big gold belt now sits around the waist of a man who helped make ROH what it is today. With this, two of the biggest stars in ROH history are world champions in the biggest companies in the U.S. Samoa Joe won the TNA World title in April from Kurt Angle to start this already memorable series of events. So what does this mean? ROH already posted a column on their website, stating that this was a great day for Ring of Honor as they helped two of the top wrestlers in the business become recognizable Indy superstars.
ROH can be looked up as a breeding ground for champions. As much credit ROH can take for helping make Punk and Joe Indy superstars, there are several other people that need to be thanked. You know those twenty people that sat in some abandoned armory in the staggering California heat to witness a man named Samoa Joe attempt to make a name for himself? What about those men and women who drove through the snow to watch a young, tattooed kid called CM Punk?
Those people, the people who supported Punk and Joe from the beginning, the middle, and the current, who are truly the ones to be recognized as star makers. If it wasn't for the praise of a certain friend of mine, I might not have gone out of my way to spend my hard-earned Christmas money on ROH tapes back in 2003. If she didn't insist that CM Punk and Samoa Joe was the greatest thing on the Indy circuit, I would've probably written them off as unworthy of my dollars. But I gave them a chance; just like the rest of you.
And now we can be proud because it was our voices that pushed them to give it their all. Yes, Punk and Joe sacrificed for their own goals, but without our support, maybe their sacrifices would've been in vain. Maybe our support for them got into Mick Foley's ear and caused him to check out ROH; going up to Vince McMahon in hopes of acquiring these men not long after. One went to Florida, the other Connecticut. But the results were the same, and we are witnessing a great moment for all of us Indy fans.
Similar to "Wrestlemania 20", where two of the very best this business had to offer stood in the ring holding belts that we always hoped to see them with, we are staring at a moment that we'll never see again. From a personal standpoint, I watched Benoit and Eddie Guerrero rise from the tyranny of WCW to become (officially) the best wrestlers in the world. I've watched Punk and Joe rise from the (then) small pond of Ring of Honor to become (officially) two of the best wrestlers in the world.
John Cena was right when he said that one day we'd look back and remember the moment CM Punk won the World title with a fondness in our hearts. The same goes for Samoa Joe. But for the people who watched Samoa Joe when he was struggling to find his identity. For the people who believed that no matter how he looked, CM Punk was a man second-to-none in that ring. To those people who believed, who supported, who pushed for the money players in this business to give these men, and so many like them, a chance at a big time, thank you.
I thank you as a fan, because before I knew about them, you were going out of your way to cheer or boo them. For you people who walked in the snowy streets of Chicago and the Midwest, and you people who wiped the sweat from your brow up and down the California coast, stand up and pat yourself on the back like your name is Barry Horowitz. Because of your dedication, you helped make World champions and a memory, a moment that will last forever.