Background: Only a few days before entering one of the most hostile environments in wrestling history to defend his WWE Championship, John Cena faced his future opponent's (Rob Van Dam) former tag team partner, the death defying Sabu, in a non-title match.
WWE vs. ECW Head to Head
Dayton, OH
June 7, 2006
John Cena vs. Sabu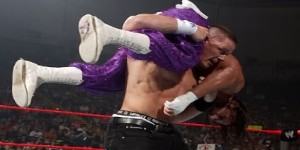 With no fear, John Cena took the fight to the former ECW Heavyweight champion; knocking Sabu on his back with a series of right hands. The fans, mixed in their response to Cena's offense, watched as the champ muscled and punched his extreme opponent around the ring. John Cena had no qualms about breaking the rules in hopes of keeping Sabu down, utilizing chokes during his offensive front. So Sabu decided to play into Cena's game by kicking him in the groin before grabbing a pair of chairs. One steel chair went flying, crowning Cena not once, but twice. Chair-assisted triple jump moonsault landed for Sabu, but didn't put Cena down for the three count. Kicking out of Sabu's pin attempt following Air Sabu put Cena in position for the Arabian face buster. Cena smartly rolled to the floor to avoid a sure pin fall.
"The Homicidal" Sabu dragged Cena to the announce table, leg dropping him not once, but twice at ringside. The madman hadn't lost his focus, rolling Cena into the ring for another attempt at Air Sabu. Cena was ready, catching Sabu in position for the Attitude Adjustment. Rather than go for the pin, John locked him in the STF. Sabu was refusing to tap out. but to make sure Sabu didn't submit, ECW's The Big Show hit the ring; attacking Cena to end this contest with a disqualification in favor of the champ.
Winner: John Cena (5:26)
Is It A Classic: Though not a classic, it's one of those unique, almost unbelievable types of fights you'll only see once in a lifetime. It's sad there wasn't a satisfying ending or didn't get the time a match of featuring two generations clashing for the first time.