You can fall off of Cobo Hall's roof and not only live, but also suffer no injuries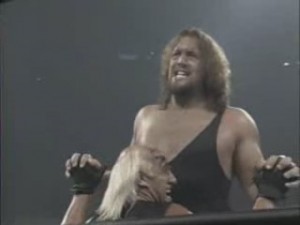 At the 1995 edition of WCW's Halloween Havoc pay-per-view, Hulk Hogan faced The Giant (now The Big Show) in a Monster Truck Sumo battle atop Cobo Hall. Simply put, it was a sumo-wrestling match with two monster trucks attached to each other by its front bumpers. Furious over the loss, The Giant left his truck to confront Hogan; leading to an argument that ended with Hogan accidentally pushing The Giant off of the roof to his seemingly grizzly death five stories below.
The crazy thing is Hogan and The Giant were supposed to wrestle in the main event later in the night; and that's exactly what happened! The Giant entered the building without so much as a scratch after falling off of a building! Seriously, no problems whatsoever. Minutes later, The Giant actually won thanks to some interference and the appearance of a large mummy named "The Yeti".
So don't worry if you shove a giant off of a five-story building. They'll live and be able to work an hour later.