"You'll never forget the name of Goldust."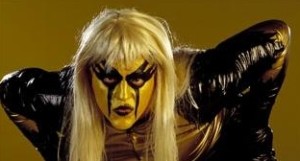 In the fall of 1995, the fans of the World Wrestling Federation were treated to something bizarre. Actually, they were treated to "The Bizarre One". With the hills of Hollywood as his backdrop, a man seemingly auditioning to be a living Oscar award statue graced our television screens for the first time. The golden individual was nothing short of a snake – enticing you with his movements to pay attention before striking. This man reminded us on a weekly basis that we'd never forget his name. And we never did forget the name of "Goldust".
Not long after his debut, Goldust had the world talking. Not just the wrestling world, but the news world, local media, and even religious groups were also condemning the usage of a character whose tactics in the ring bordered on homosexual tendencies. Even when the man behind the makeup came front and center, thus destroying the Goldust persona, the fans that witnessed his actions as the platinum blonde movie aficionado demanded his return.
Though the transformation of Goldust from a movie obsessed, homoerotic grappler into the comedy figure many younger fans grew up with in the early 2000s, what obviously stayed the same was Goldust's ability to keep his actions in your mind and his name in your mouth.