If you have Intermittent Explosive Disorder you can do anything at work and not get fired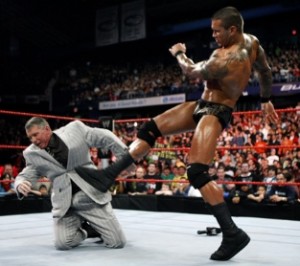 Third generation wrestler and multi-time WWE champion Randy Orton never has been one to follow the rules. In reality, Orton has spent most of his career doing everything in his power to stand atop the WWE Mountain – even if it meant being vilified for his action. But something wasn't right. Though this is a man whose entrance theme talks about Orton hearing voices in his head, Randy never saw himself as mentality unstable … until he took things too far.
On an episode of "Monday Night Raw", Orton confronted his boss Vince McMahon – who was defending his son-in-law and Orton' rival Triple H. On that night that Randy Orton punted his boss' head like a football. The action under any normal circumstances would've called for an immediate termination. But Orton had an ace up his sleeve. The reason for Orton's foul actions over the years wasn't because he was evil. No, Randy Orton had Intermittent Explosive Disorder (IED).
According to the Diagnostic and Statistical Manual of Mental Disorders, the official reference book for doctors, psychiatrists and health professionals, the criteria for IED includes the "occurrence of episodes of failure to resist aggressive impulses that result in violent assault or destruction of property."
For Orton, those "episodes" including spitting on the elderly, knocking fellow wrestlers down flights of stairs, and even kicking his boss' head for a field goal. Yet, with all of that, Orton is still employed by the company thanks to his mental illness.
So if you ever want to act a complete fool at work, make sure you get yourself checked out first. You too could have IED and have the right to kick your boss in the head when he angers you.