A big Samoan named "Joe" can and most likely will kill you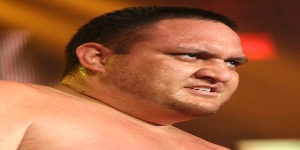 During 2005, a phrase began to pick up steam thanks to independent wrestling crowds. This chant resonated throughout armories, athletic centers, small arenas, and even Universal Studios in Orlando, Florida. It wasn't just a chant or a catchphrase, but a warning; a warning to the unlucky soul who would come face to face with the person responsible for creating such an ominous foreshadowing. That man was and still is none other than the longest reigning Ring of Honor wrestling champion in history, the master of the Coquina Clutch, "The Samoan Submission Machine", Samoa Joe.
Samoa Joe became something of an anomaly during his twenty-one month reign as Ring of Honor World champion. The near 300-pound man mixed his vicious striking and power with beautiful technique, jiu-jitsu style submission, and a penchant to actually fly with elbows and kicks. Joe's reputation preceded him as he moved on to Total Nonstop Action. For the next eighteen months, Samoa Joe decimated the best of the best – from WCW World champion Jeff Jarrett to fellow former NWA World champion Raven. It would take an Olympic gold medallist in Kurt Angle for Joe to taste defeat in TNA. Even in losing, Joe left his mark on Angle to the point Kurt was never the same. Since that night, names and bodies have been added to the pile of destruction caused by one Samoan.
If you ever anger a Samoan named "Joe", or forced to fight/wrestle him, listen to the people around you. Their warning of your impending death is most likely true.