If you hit someone in the head with a sledgehammer it won't kill or even permanently disfigure them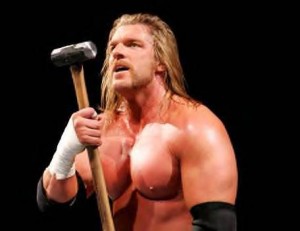 Steel chairs, chains, brass knuckles, and even household items like brooms have been used time and time again in a wrestling ring to bash someone's face in. But in 1999, Hunter Hearst Helmsley reintroduced a weapon to the wrestling world that would forever change your view about an item usually used for construction – a sledgehammer.
During his feud with The Rock, Triple H used a sledgehammer to crush a casket he shoved The Rock into before shattering the knee of Mankind when the masked man tried to save his friend and future tag team partner. But instead of ending it there, Triple H went on to use the tool turned deadly weapon for years, bashing people in the face with it whenever he felt the need to. You want to know what's shocking? No one who has felt the wrath of Triple H's hammer has walked away permanently scarred. Those faces that met metal were bloodied and/or bruised, but never shattered. In reality, Triple H's sledgehammer could be less dangerous than a well-aimed right hook.
So anytime someone comes at you with a sledgehammer while threatening bodily harm, don't fret. Well, actually do fret if they aren't covering the hammer portion with their hand as they swing.