With the recent announcement of independent wrestling star El Generico going through medical testing in preparation to sign a contract with World Wrestling Entertainment, I can't help but think about the wrestling superstar that got away from WWE due to that same testing – Nigel McGuinness. Here is a write up I did for a special edition of The ROHbot Report looking about McGuinness' Ring of Honor career and what he meant/means to not only ROH, but also wrestling.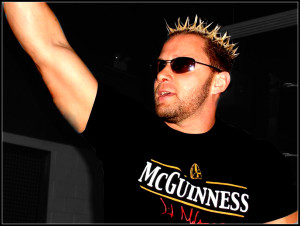 I'm not going to say it surprises me that Nigel McGuinness is getting his shot at the big time. I always knew that one day WWE would come knocking and Nigel would end up accepting their offer. Like Bryan Danielson, Nigel McGuinness now has the chance to become a star on a global level. But there's a lot to think about before we move to the future.
I must say that Nigel impressed me in many different ways since the first time I saw him in 2004. Nigel was different from anyone else in ROH at the time because of his heavily influenced European wrestling style. Over the years, his repertoire has expanded in such a way that it looks like it actually hasn't. Sounds wrong, right? Actually, Nigel's been working smarter and harder than most, and it's ended with him becoming one of the most highly respected wrestlers in the world by those who know about the athletes outside of WWE and TNA. Look at Pro Wrestling Illustrated who gave Nigel the number six spot in its annual PWI 500 – the highest place a full-time ROH wrestler has ever ranked. It's kind of weird to look at all the praise I've given to people like Tyler Black, Davey Richards, Austin Aries, and Bryan Danielson, and then look at Nigel and realize that the reason I haven't gone out of my way to put him over as much as those just mentioned, and so many others, was because he didn't need it.
That's not to say that people like Aries or Danielson needed my words to make ROHbots truly appreciate their abilities. But Nigel went out of his way night in and night out to prove that beyond a shadow of a doubt he is the very best in Ring of Honor, and one of the very best in the world. Looking back at his title runs (that historic Pure title reign included), Nigel had probably to best record of anyone who's ever held a title in ROH. Remember those thrillers he had throughout 2006 as Pure champion – opening his fountain of charisma in the process? Think about all the classic matches McGuinness had over those eighteen months as ROH World champion and tell me he doesn't deserve all the praise he gets. But as good as Nigel is, one most pose the same questions that I used last week when referring to Danielson's departure to World Wrestling Entertainment – will Nigel be given the opportunity to shine like fellow ROH alumni CM Punk, and to a lesser extent, Evan Bourne, Brian Kendrick, and Paul London? Or will he fall by the wayside like Colt Cabana, and to a lesser extent Brian Kendrick and Paul London?
Wait, did I use two of those names twice? When I wrote about Bryan Danielson last week, I was pretty cut and dry about his chances. I noted his lack of size and "charisma" could be a rather large speed bump to overcome in a company that fancies men of larger stature. That's something Nigel has over Danielson. Nigel is near 6'2", nearly breaking the 220-pound mark before his cutting of weight during his past injury. Nigel isn't the biggest man, but he's definitely in a good size range for the WWE Universe.
I also noted Nigel's repertoire has become more about the match, and less about the flash, which is perfect for WWE. Like Danielson it 2008 and '09, it's been as if Nigel has been getting himself ready to make that move. When he comes into WWE (most likely after a FCW stint) he'll be almost wrestling as if he never left ROH; just in shorter bursts or so I hope.
Also like Danielson, Nigel has some good friends in high places. McGuinness has said on many an interview that William Regal is one of the men responsible for him perfecting his European-influenced style that helped him standout from the rest of the Americanized pack. He also has the word of WWE World champion CM Punk. And just like Danielson, I highly doubt that he'll rely on the praises of others to get him over in the eyes of the McMahons.
After studying some of the questions, does Nigel have that same possibility of making it like Danielson? Does he have a better chance or not? I'm assuming that many are saying that McGuinness does indeed have the better chance of the two latest signings because of the visible physical advantages he has over "The American Dragon". But something happened in the past two years that changed my perception of WWE and who could get over when I expected another man to overlap him. And that something was with CM Punk and Colt Cabana.
I truly believed that Punk would've become a star in WWE. He just has "it". But I never expected him to get as big as he's gotten. Before that, before Punk became the champ for the first time, I was waiting for Cabana to debut and use his known goofiness to open doors for him in WWE's changing landscape called the "PG era." Cabana is a great wrestler, has a good build for WWE, and could do all funny stuff Vince supposedly loves. However, Punk is a great wrestler who you wouldn't think twice was a wrestler when he takes his shirt off – something I bet Vince doesn't like (I'm assuming now). It's just crazy to me that Cabana was never given the chance to really cut loose, but Punk did, changing my mind on who from ROH could make it in a big way in WWE.
And while the landscape has transformed in regards to the demographic in WWE, it's also changed in regards to in-ring action. A lot of the wrestlers in WWE work a new version of the "WWE style". Men like CM Punk, Chris Jericho, Shawn Michaels, Jeff Hardy, Rey Mysterio, Edge, even The Undertaker have helped morph the way a big time match plays out in WWE now. Very few matches involving those men have a slow moment. Everything in those matches is high octane and smart. It's not just spot after spot after spot – the slow build to a grand finale that makes the fans go crazy every time. And Nigel McGuinness has been doing that to perfection since his 2006 series with … Bryan Danielson!
And that brings up something I couldn't when looking at Danielson's signing. With both men in the company, maybe even brought up at the same time, they could make each other. Not right off the bat, but down the road, these two could feud over a secondary title and steal the show like they've done time and time again. Like Chris Jericho and Chris Benoit, The Rock and Triple H, and so many others before them, if WWE is smart, they'll "marry" these two and make the fans believe that WWE has "produced" another pair of the world's greatest wrestlers.
Now, if there's one thing going against both men it's their bodies. In a reportedly joking manner, Danielson spoke out last weekend during a Pro Wrestling Guerilla event that he needs the medical coverage only WWE can provide. But "American Dragon" might not have been joking. Danielson needs the advantages of WWE's deep pockets that take care of its boys and girls. I'm guessing Nigel is in the same position. I'm not lying when I say that I worry for Nigel when he steps into a ring, especially after the string of injuries he's suffered in the past year. Hopefully they can stay healthy and do what I just wrote a paragraph ago in becoming the best together on a global stage.
So where does this leave Ring of Honor? Financial troubles, minor and major, have been plaguing the company for the past couple of months. Their top two most recognizable stars have opted to leave. You have to say that right now, ROH isn't in a good place – especially compared to last year when they were actually making money. A lot of people are comparing ROH to the old ECW. The comparisons are pretty accurate with the gaining of TV comes the loss of talent to bigger companies.
"ROH has become WWE's new developmental, just like ECW used to be," they're saying. They follow up with, "Yeah, ROH is gonna get raided to death." So what can ROH do? What does ROH have to do to get those numbers up, to get those fans in, to get those DVDs bought? I came up with a plan last week that had ROH vacate the ROH World title after Danielson wins it at "Glory By Honor VIII" from Austin Aries, have a tournament leading to "Final Battle" before crowning a new, 1st time champion. And the winner would become one of the new faces of Ring of Honor. It would be kind of hard to do that if WWE keeps signing people away, but lets just say that they don't. ROH just doesn't need to make one star now. It can't just make two stars. The brass in Ring of Honor need to put all their efforts into making as many stars as possible so that when people refer to ROH, they can list off names like ROHbots were doing all those years ago.
ROH needs to go back to the fundamentals that made it the biggest independent company in the U.S. They need to make the fans, and the wrestlers, understand that Ring of Honor is the place to be for the best in-ring action your money can buy. It's going to take a lot of hard work and patience, but if doesn't lose too many men, and can keep its eye on the real prize (making money again), then ROH won't go the way of ECW. If not, I honestly don't know if I'll be writing about Ring of Honor a year from now.
Once again, I say congrats to Nigel McGuinness for moving on up. I can only hope he and Danielson have the opportunities to prove why the wrestling world has been bragging about them for so long.
To see the rest of Nigel McGuinness' story, visit NigelWrestling.com and order his documentary, "The Last of McGuinness".