Background: Having made his return to the champion that made him famous, former ECW Heavyweight champion The Sandman was having a good time knocking back a few cold ones and cracking skulls with his Singapore cane. Then The Sandman had the opportunity to come face to face with "The Man Beast" Rhino and a feud broke out where Rhino piledrove The Sandman's wife through a table on the floor.
Heatwave '00
Los Angeles, CA
July 16, 2000
Rhino vs. The Sandman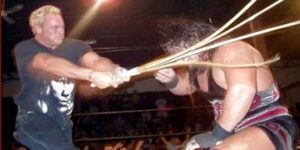 The Sandman opened up this fight by breaking his Singapore cane over the champ's head, yet it was Rhino who knocked down his opponent first courtesy of a clothesline. The former ECW champion fought back with left haymakers that did a better job dropping his larger opponent than the cane did. Taking the fight to the floor, The Sandman retrieved a guardrail that he pitched into the ring. Before Rhino could find out what The Sandman had in mind, the champ attacked him and tossed him into the ring. Fighting through the pain, The Sandman whipped Rhino against the steel guardrail before executing a frankensteiner that dropped the champion across the guardrail! Rhino somehow kicked out of the pin attempt that followed, including a lateral press when The Sandman used a bulldog to send Rhino face first into the steel. Rhino powered his way off the mat, executing a suplex across the guardrail. Somehow The Sandman recovered, slammed Rhino, placed the guardrail across the champ's prone body and tried to press Rhino through the steel courtesy of a senton splash. And just when it seemed The Sandman had this in the bag, Steve Corino and Jack Victory hit the ring to attack both the challenger and the referee. Suddenly, Spike Dudley ran out to help Sandman hit the 3D on Corino after Victory took a cane to the head. Spike – who had his leg broken by Rhino – felt the Gore courtesy of the champion that was topped by a piledriver through a table on the floor!
The fans were on their feet as Rhino and The Sandman tried to rise. Taking the cane Spike had, The Sandman was crowning Rhino in hopes of hitting the White Russian Leg Sweep on the rail. Rhino tripped The Sandman so his opposition hit the rail instead. The Sandman couldn't stop the piledriver on the railing that put him down for the pin.
Winner: Rhino (8:39)
Is It A Classic: That was a fun brawl, though it didn't feel like the most definitive way to apparently end one of the more emotional feuds seen during the dying days of ECW.