Background: After being tested by high-quality opposition like Rain and Malia Hosaka after making her SHIMMER debut, Tenille (the future Emma in WWE) had the chance to battle for the former SHIMMER champion (and WWE Performance Center trainer) Sara Del Rey.
SHIMMER Volume 29
Berwyn, IL
April 10, 2010
Sara Del Rey vs. Tenille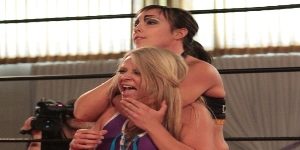 Tenille had a hard time matching power with Del Rey early on, actually angering Sara by getting in "Death Rey's" face. Tenille showed she wasn't one to be intimidated, rocking Del Rey with some stiff right hands. Del Rey quickly regained the advantage, working over Tenille's left arm. The fast kicks of Tenille weakened Del Rey's base; putting the former champion in position for a dropkick. A head scissors by Tenille almost sent Del Rey to the floor. When Del Rey got up after a failed small package, Tenille wanted to rush her again. This time, Tenille ran into a big boot to the chest. Frustrated by Tenille's fighting spirit, Del Rey kicked at Tenille's head. Sara's kicks moved from Tenille's head to her chest, breaking Tenille down. With her arms trapped, Tenille found herself being put in a Japanese stranglehold across Del Rey's knees. Tenille held on long enough to turn the tables, putting "Death Rey" in the chokehold. Freeing herself from the hold, Del Rey ran into a forearm that shockingly dropped Sara … for a near fall!
Tenille was on fire, throwing jabs aplenty. A reverse DDT gained Tenille another two count. Del Rey thought she had a chance to turn this around, but ended up missing the capo kick before being kicked in the chest. Missile dropkick by Tenille … only gave Tenille another two count!
With Del Rey limping after the missed kick in the corner, Tenille hooked Sara in an Indian deathlock. Del Rey seemed to be on the verge of tapping when she grabbed a hold of Tenille, almost pinning her with a small package. When both women made it to their feet, Del Rey almost kicked Tenille's head off. With Tenille staggered, Del Rey had the chance to hit that capo kick. Del Rey grabbed the hurting Tenille, using the Royal Butterfly to end Tenille's night.
Winner: Sara Del Rey (11:11)
Is It A Classic: What appeared to be the beginning of a squash to showcase the ferocity of the former SHIMMER champion turned into a very competitive contest featuring Tenille picking up the victory becoming incredibly believable even though her status on the SHIMMER roster was nowhere near Sara's. A very good undercard bout where both women looked great in the end.